Download Zombie Gunship Survival APK, a survival action game that is guaranteed to keep you on your toes; fight many zombies and try your best to survive an apocalypse.
An In-Depth Description of Zombie Gunship Survival
Zombie Gunship Survival is one of the best zombie survival games for Android users; it is guaranteed to keep you on your toes and have you playing for hours. As a survivor in a deserted where most of the population are now zombies, you must survive an apocalypse by eliminating the horde or zombies from your gunship seat in the AC 130.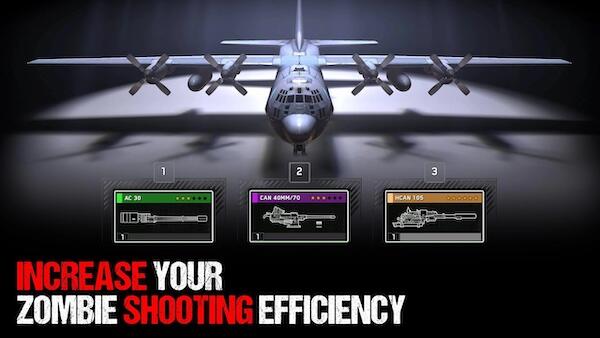 Zombie Gunship Survival was developed and published by Flaregames and released on the 24th of May, 2017. In Zombie Gunship Survival, all players have left is their will to survive and enough weapons to annihilate the endless hordes of zombies; it is either kill or be killed. The Zombie Gunship Survival download process is easy, and the game is available on different platforms such as Android, iOS, and Windows.
Zombie Gunship Survival Guide
The Zombie Gunship Survival gameplay is quite exciting and enjoyable. Players have to fight the endless hordes of zombies from their flying aircraft (the AC 130) and ensure their squad's survival. It is up to them to eliminate the dead and protect the living; the ground troops will fight the zombies from a military operation base while you help them with your gunship seat in the AC 130 (their survival rests in your hands).
Players need to collect realistic weapons to have a better shot at defeating the zombie hordes from above. They can equip their AC 130 gunship with deadly weapons that can cause more damage from above, making things easier for the ground troops (the survivors attacking the zombies from the military operations base).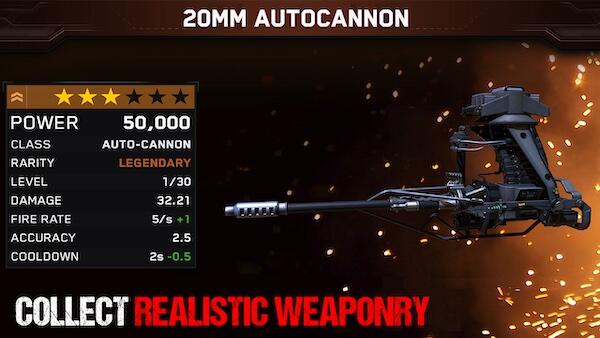 The main point of Zombie Gunship Survival is for players to defend their army by shooting zombies from above. This is because their military operations base is where the survivors are located, so players must upgrade the defenses and buildings. They can loot rewards, gold, and other valuable resources to take back to their base and use them to build a stronger defense system.
When upgraded, the buildings, towers, and walls will be strong enough to keep the hordes of zombies at bay which makes it easier for you to eliminate them from above. Do you think you have what it takes to protect the survivors, help your ground troops, and survive the zombie apocalypse? Download Zombie Gunship Survival to find out.
Features of Zombie Gunship Survival
Now that you know about the Zombie Gunship Survival gameplay let us look at some of its interesting features.
Graphics and Sound Effects: the Zombie Gunship Survival game has high-definition graphics that are guaranteed to give users a realistic gaming experience. The 3D visuals are well detailed, and the lighting is fair enough for a zombie survival game. The plane, weapons, and every other reinforcement used in killing zombies look exactly like the real thing. This will make players question whether they are killing zombies from an AC 130 gunship in real life.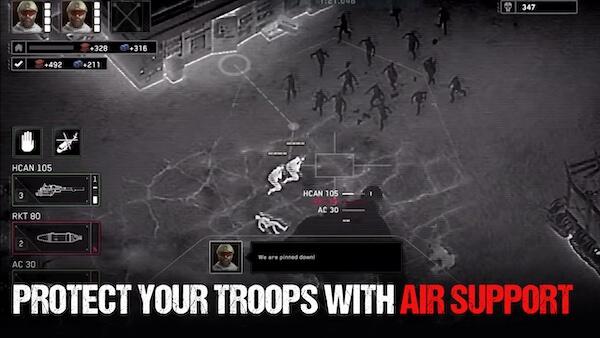 The soundtrack in Zombie Gunship Survival is somewhat eerie, entirely fitting the game's mood and giving a fantastic experience. Also, the weapons sound exactly like they would in a real-life setting. All this goes a long way to show how impressive this game's audio and visual features are.
Levels: like every other game, Zombie Gunship Survival has different levels; the more progress you make, the more complex these levels become. The game starts with you as one of the survivors in the military operations base. Then you get into the AC 130 gunship to source resources and eliminate zombies from above.
You cannot skip a level as you would have to finish the previous one before moving on to the next. Each level has an objective you are expected to complete to succeed. Players get resources and upgrades for their gunship and weapons when they complete a level.
Every level ends with how many medals you achieved based on your performance, with three being the maximum. Players can play previous levels to gather resources and better weapons to pass new levels.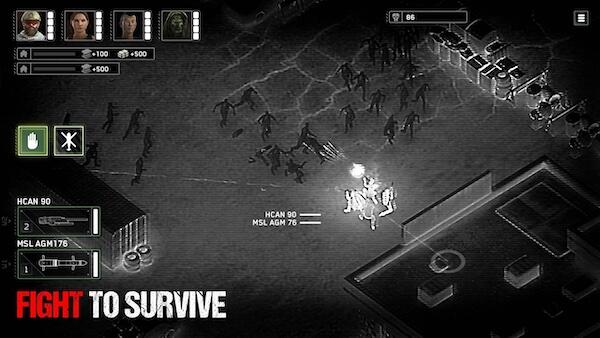 Controls: the controls in Zombie Gunship Survival are simple to understand; with a few tries, you will become a pro in no time. Players cannot start a mission until they deploy their troops; you can do this by tapping on a spot on the map where the troops are to be deployed. Then, the mission can begin.
When you want to shoot zombies, you first need to aim; then, you can tap on the weapon button on the left side of your screen to fire. You can look through your surroundings by using a pinching gesture on your screen to zoom in and out. Remember that weapons can overheat; once this happens, they will need to cool off before you can use them.
Missions: every level comes with a mission that players are expected to complete before they can win. When they complete these missions, they get resources and rewards that they can use to upgrade the buildings in their military operations base. There is also something called defense missions which gives more rewards.
Players can participate in weekly events for legendary awards; they have to shoot the most zombies using different weapons.
Night Vision: in the Zombie Gunship Survival game, there is the military accurate infrared night vision. This is the major display players get to see as they will look at everything through the AC 130's gun scopes. The missions are always at night, so you have your night vision goggles for better accuracy.
Players can collect rewards, including gold, to upgrade their military operations base's defenses, towers, buildings, guns, and weapons. This way, it will be difficult for the hordes of zombies to penetrate.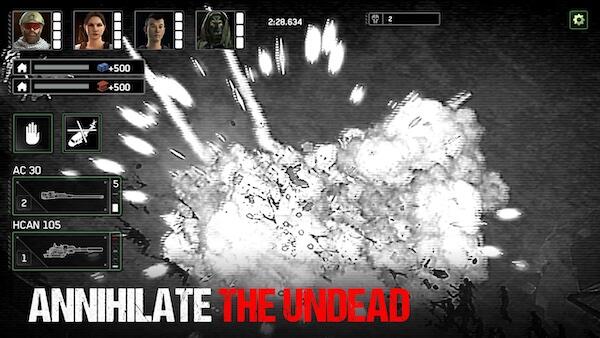 There is something called the titan zombies in the Zombie Gunship Survival game. These zombies have multiple terrifying abilities making them difficult to kill and a great threat to the survivors. It is up to you to use your shooting abilities to eliminate them.
Conclusion
What better way to spend your free time than trying to survive in a zombie apocalypse? It is no doubt that Zombie Gunship Survival is an exciting game with interesting features and is guaranteed to give you a realistic gaming experience.