Download West Gunfighter APK for an action-filled experience. It offers a stylish and exceptional 3D view into the world of gunslingers and horseback bounty hunters.
All About West Gun Fighter
West Gunfighter is a product of Candy Mobile games. The game is a stylish 3D mobile game that mirrors the horrors and thrills of the wild west cultures. It has smooth controls, plots, adventures, and fun twists contributing to the game's high rating on review sites. Players can expect straightforward game elements and easy to learn and play.
One of the most exciting features of playing West Gunfighter is the extraordinary level of freedom players can get. Instead of being isolated by compulsory missions and fixed storylines, players can independently play and navigate the game through various minigames and quests, which are parts of the main story.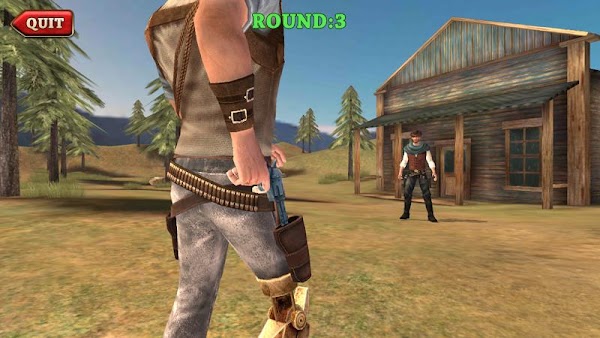 The game also had excellent graphics and animations, which takes you the closest to reality ad you can get. There are zero records of game lags or malfunctions, and players commend the developers for the smooth horseback transitions. You can choose to play as a cowboy or cowgirl, and there are dozens of characters, hundreds of tasks, and an unlimited arsenal of weapons to choose from.
Excellent Gameplay
The game does well with its role-playing, decision-making, and dynamic gameplay players. In addition, it uses rich graphics and excellent animations to draw players into the euphoria of excitement with detailed backgrounds and simulations to match anyone's memory of what the wild west looked like.
Many fans also comment on the freedom players get to make decisions on their own. Unlike conventional games where you stick to a storyline, you can make your own decisions here. And depending on what your choices are, you might get a unique gameplay experience. The details also add to the element of its actions since players can shoot at animals, objects, houses, characters, etc.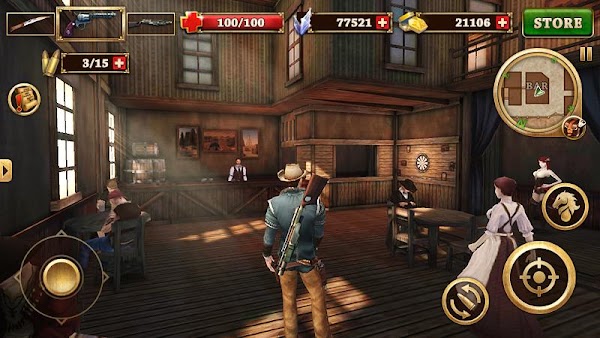 The game adds some sub-games into the ecosystem, which, if released on their own, would make perfect games too. For example, players can decide to play blackjack games, which is an exciting game on its own and increases the player's surreal feeling of being a part of the old western era.
Complete Missions Get Rewards
Of course, the game doesn't force you to go on missions, but it's a faster way to unlock weapons and gain rewards. So, just like in the wild west, you can go after wanted criminals or become a bounty hunter and earn rewards for every hellbound criminal to deliver to the hands of justice.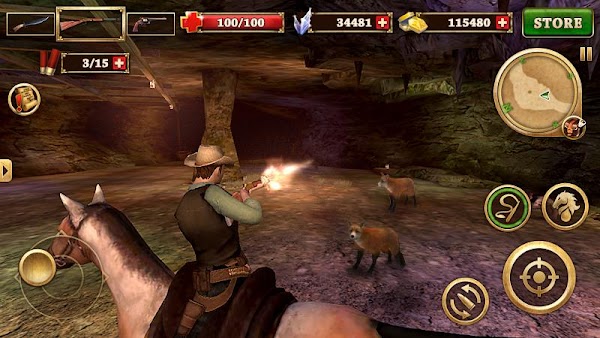 There are hundreds of unrelated missions here, so you won't get bored or tired of playing. Although you can buy game upgrades for faster access to game features such as missions and weapons, you'd have more enjoyable moments if you decide to complete the tasks and get rewarded for your braveness.
West Gunfighter Game Features
You should always have certain game features in action-packed games such as this, and you can count on West Gunfighter not to disappoint. The mobile game comes packed with the incredible game feature, weapons, missions, etc., just as you'd see below:
Game Controls
Unlike regular action games where the screen is filled with buttons and features, West Gunfighter has an excellent layout for gaming and controls. The most important information is well arranged horizontally at the top of the screen, while the lower part is dedicated to the game controls, leaving the main screen for the main action.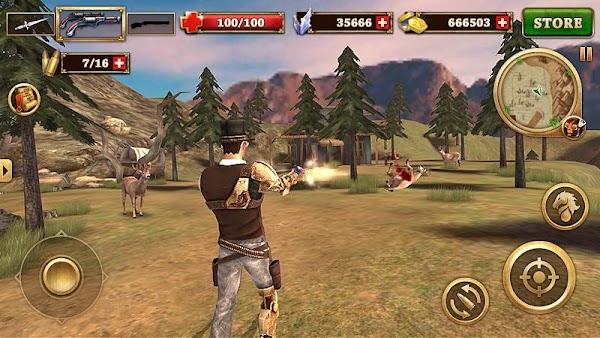 Mastering control is essential in the game because it determines how well you play. The joystick is positioned on the left-hand side, and the trigger/action buttons are on the right. You can also reload your gun and summon horses quickly on the right-hand side.
Missions, Quests, and Rewards
Some quests will reward you with diamonds, while others are not as valuable. The advantage here is that the rewards are not fixed, so the game rewards you based on how well you do during the mission. Some actions such as headshots, weapon use, duration, and others can influence how high you get ad rewards when you play.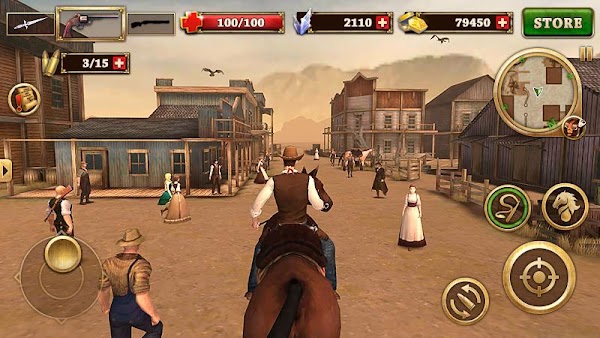 You might also get more rewards depending on how many enemies you put down, coins you spent, and achievements you complete. Unfortunately, the game missions and quests are not similar, so you get new experiences every time you play, though you can count on the tasks to keep getting more challenging the more you play.
Game Upgrades
The most important things to have in the game are ammo and blood vials. They determine how you defend yourself and protect yourself during your missions. The two-game features are cheap and can be bought with the in-game currency. In addition, there are upgrades provided for both as you continue to play.
You can also upgrade weapons and buy blades.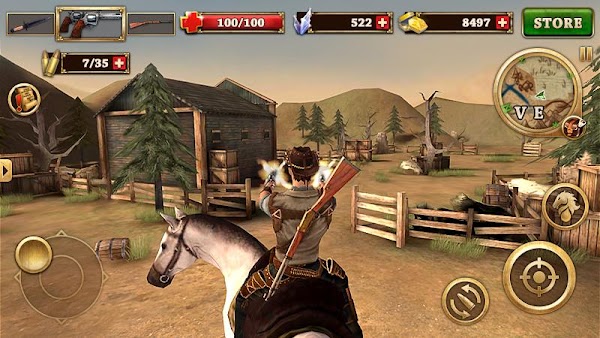 Several weapons on West Gunfighter match the guns you'd see if you travelled back to the wild west era. These weapons include:
Colt Revolver (which is your default weapon)
Remington Revolver
Peacemaker
Riot shotgun
Thompson Rifle
Double Peacemaker
Double Schofield
Valance
Clanton
William
Hedley
Angel Eyes
Calvera
Double Sawed-off Shotgun and many more
Minigames
The game has blue markers on the map during gameplay, which denote minigames. These are different games you can play to pass the time or have some fun asides from the main game attractions. Minigames usually allow you to stake your in-game money, and you'd get rewards based on your wager. Check out some of the minigames you'll be playing on West Gunfighter: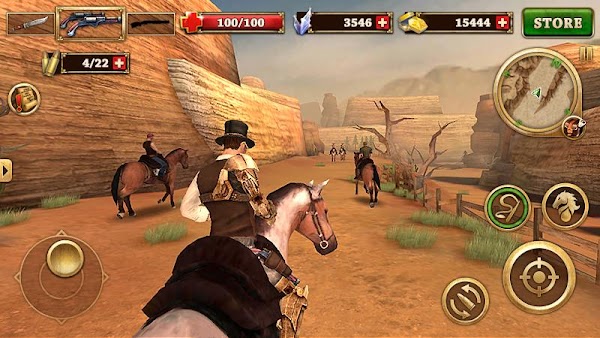 Quickdraw: Like the real-life game, you get to test your reflex and ensure your crosshairs are continuously round and green when you draw.
Blackjack: You can double or lose your wager when you bet on blackjack games.
Race: If you're a natural horse rider, try racing against time and difficult hose riding controls.
Darts: Practice your targeting with dart throws. You can also win or lose money here, depending on how many attempts you take to reach your goals.
Conclusion
The game embodies exceptional graphics, gameplay, and other exciting features. It's also interesting that the game is free, and players can access it offline anytime they want. So get the most exciting wild west experience when you play West Gunfighter.