Download VyprVPN APK now! It is a reliable, secure, and easy-to-use virtual private network. Stay secured as you surf the web, keeping your data items and peripherals safe.
Vypr VPN: Private and Secure VPN
The Internet is a wild place. A wilderness filled with all sorts of unseen peril and danger. As a result, individuals and corporations set up protective measures to shield their data and belongings from online creepy crawlies.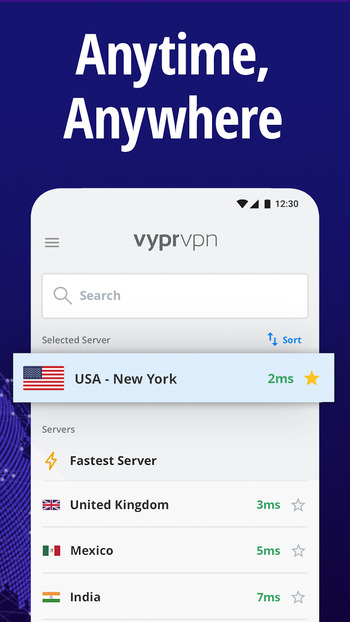 These protective measures will sometimes prevent certain people from a specific part of the world from accessing certain online pages. This is done through the means of IP addresses which show the part of the world you are browsing from. This is why you need VyprVPN. VyprVPN allows you to browse the internet safely, hide IP addresses and stay anonymous.
A virtual private network like VyprVPN allows you to use the internet with zero worries. Internet users have complained about malicious websites that pry into your data to siphon sensitive items. These websites are everywhere, and with the way mobile phones are structured these days, chances are that you may have come across such websites.
VyprVPN is built specifically with the latest software items to keep hackers from penetrating your device security system. Enjoy easy access and top-notch protection, backed by an extremely easy-to-use interface. A VyprVPN download is a step you need to take your browsing experience to the next level.
VyprVPN is easy to use, with over 70 locations to choose from. With your IP well and safely hidden, choose a location from the numerous pre-installed options on the application. Break the chains of restriction and browse from any part of the world on your mobile device.
The numerous functionalities of VyprVPN are made possible by its awesome features; some of these features include:
Features of VyprVPN
Free 3-day Trial
A VyprVPN free account only lasts for 3-days. The 3-day trial period allows you to enjoy its amazing features for free. After the 3-day trial period, you may have to go for a VyprVPN premium account. The 3-day free trial arrangement allows users to see and understand what they would be paying for.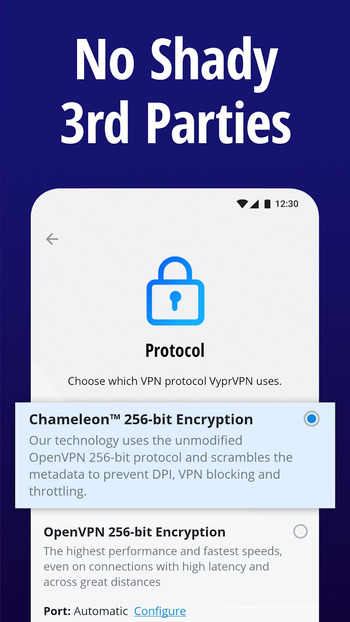 VyprVPN premium package opens you to more possibilities than the free version.
Zero Logging Ability
It is common knowledge that developers look for ways to monitor users' devices and sell the obtained information to third parties. The obtained information can be used to access your files, clone your emails, or retrieve any form of data that could put you and your livelihood in danger.
This is not the case with VyprVPN. VyprVPN comes with a Zero logging policy that guarantees the safety of your data, ensuring that it isn't transmitted improperly without your consent.
Strong Unblocking Feature Using Chameleon Protocol
Another amazing feature of VyprVPN is its strong Unblocking feature. The strong unblocking feature is meant to help you get past firewalls. With the help of the Chameleon Protocol, VyprVPN scrambles your identity to protect you, ensuring you stay safe from ISPs and governments.
This is even more important in our present world, where work files are kept online. VyprVPN keeps your items guarded as you move files from your phone to the cloud or your personal computer.
Versatility and widespread use
VyprVPN can be used for laptops, mobile phones, and even your Smart TV. With a shared hot spot on your mobile device, all your peripherals can access the Web. Keeping track of activities on your various devices can be stressful. More reason why you need a reliable filtering setup that ensures the safety of all your items.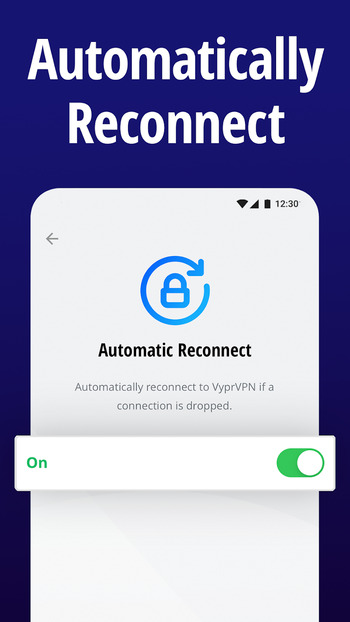 VyprVPN does this and more. Regardless of the number of networks added to your WiFi hotspot, VyprVPN maintains the safety of each device. The speed of transmission is retained with proper signal strength on each device.
Kill Switch Feature
Internet traffic is not dependent on when you are actively using your phone. Most phones stay connected to the Internet even when the phone is switched on but not in use. VyprVPN comes with a kill switch feature that switches off the Internet connection when the VPN is not in use.
Switching the VPN on and off can be tiring, and this feature helps you avoid turning on your Internet without the VPN. This allows you to stay anonymous every time you go online.
Reliable Support Framework
Network issues are inevitable. There will always be a time when we need help using different devices and applications. VyprVPN is backed by a support team that promptly attends to your questions and queries in record time.
The support team is available 24 hours, 7 days a week. Various channels have been made available for contact on any issues you encounter while using the application.
Improved Gaming Experience and Ad-free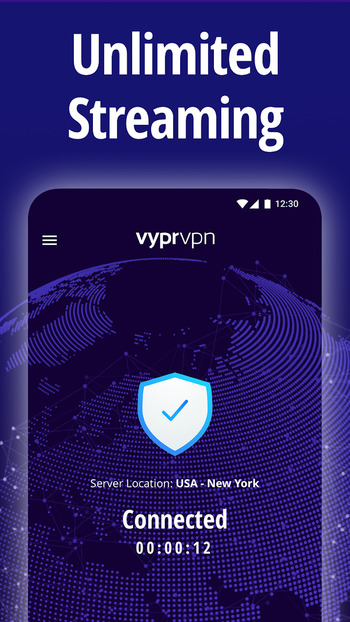 Online games are fast replacing offline games. Features like cross-platform gaming that allows players in different locations to play against each other or together garner fans from all parts of the globe. To get in on the fun, you need a reliable network infrastructure that maintains consistency even with an increasing workload.
VyprVPN helps you to achieve this in a stress-free manner. With VyprVPN you defeat throttling created by service providers.
How To install and Use VyprVPN
Enjoying the amazing services of VyprVPN is quite easy. Follow the steps listed below, and your journey begins:
Open your mobile phone App Store
Search for VyprVPN
Locate the application with the VyprVPN icon as seen on this page
Tap Install
Read the permissions listing (don't skip it, go through it)
If you find the terms acceptable, click accept and move forward. If not, your journey ends here.
Allow the installation to complete
Sign Up/Create an account
Enter your VyprVPN login details
Select a location and enjoy!
Conclusion
VyprVPN secures you in more ways than you can imagine. It protects your privacy while shielding you from malicious websites and other unsavory online vermin. Protect your phone today and safeguard yourself from the ever-growing world of the internet.


Join Telegram Group
Download VyprVPN APK now! It is a reliable, secure, and easy-to-use virtual private network. Stay secured as you surf the web, keeping your data items and peripherals safe.