Download Phone by Google APK to use your smartphone's official Google dialer app. Access contact lists, identify callers and avoid spam with Google Phone.
About the App
Google has been known to deliver quality for many years, so it developed a dialer app for its Nexus phones. Unfortunately, this app was only available for certain people using Google's phones. However, the recent trend of open software has made Google release the app to the public, so anyone can now use the dialer on their smartphone.
Hence, Google Phone is an excellent dialer app that lets you manage all your contacts and calls in a single interface. You can call and receive calls with the app and access the impressive features and stylistic additions Google added to the interface to ensure users are satisfied.
The app is similar to regular phone apps, while it still has other features that will be difficult to find on common apps. In addition, the app has some amazing distribution and access to most of its components, which is challenging to compete with, making it one of the most helpful dialer apps you can opt for.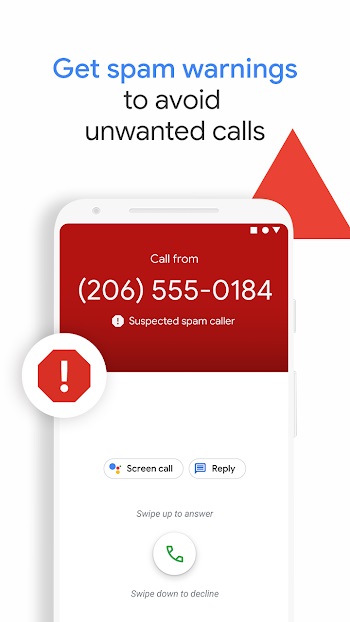 One of its many features includes the ability to access the caller ID from Google's phone directory, so even if you don't know who's calling, you can always count on Google to help you provide their name. You'll, therefore, always know who's calling regardless of whether they are on your contact list or not.
So, for example, if a small business company reaches out to you, you'll already know who they are as long as they have their number with Google. The app also makes it simpler to block specific contacts, check voicemails, access nearby places and check the contact information for any service you need in your area.
The app is one of Google's many products and is free to use. You can install it on Android phones, supporting over 47 languages worldwide. The content rating is for 3year olds and above, which makes it widely useable. The app has over 1 billion downloads on Playstore and an impressive rating of 4.6 from 11 million users.
Why Use Phone by Google?
Google by Phone has been around for a while; however, not everyone uses it because it's from Google. There are many distinctive and valuable features on the app that makes everyone want to ditch other dialer app and install the Google Phone on their devices. Here are a few of these reasons below:
Protect Yourself from Spam
This is perhaps the app's most helpful feature because it's what most dialer apps lack. It's also a feature that most users love and would always want to have on their communication platforms. The feature protects users from getting spammed with calls and messages. Hence, all phone calls from numbers of unknown origin or advertising companies are automatically regarded as spam. And even though you won't know this, Google hells you keep them from spamming you with their calls.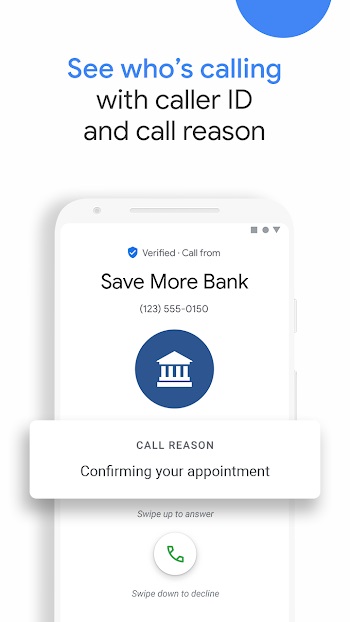 Any number noted to make too many daily calls is also qualified as spam. So, you can block them from calling you ever again if you check the spam. Hence, this will also allow you to spend less time attending to meaningless issues from spam. In addition, it helps you avoid phishing calls, one of the major issues users have been facing everywhere in recent years.
This feature on the Phone by Google lowers your chances of getting involved in a scam or losing your property and information to bad guys. You can also use the alert by SMS feature to check your blocked calls and keep a tab of blocked contacts and blacklisted numbers.
Identify Callers
The app has one of the best interfaces for businesses too. So it's pretty easy to know who's calling you or who you're calling before you receive or call respectively. As soon as you register your number on the app, you'll be issued an ID allowing Google to identify you anytime you call someone quickly. So, you don't have to find yourself staring at an unknown number since you'll be able to see who it is from their ID.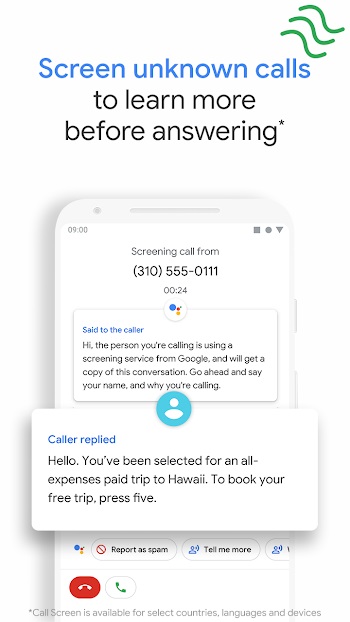 If you don't see a name, it means Google doesn't have their ID and is marked as a potential threat. You can block or reject their calls, so they don't bother you again. If you set the app to reject unknown numbers, you might miss important calls, so it's smart to allow all calls to enter and then decide on which to receive and leave.
Control Brightness Levels
Regular dialer apps often come with light mode as a default setting and can't be changed. However, with the recent appeal users have for brightness mode and dark mode features, it's apparent users are beginning to love the feature. It's also ideal for anyone with weak eyes to use lower brightness since they might find the light mode too sensitive.
Hence, you can use the Google Phone on various brightness levels. In addition, there is customizable light and dark mode, which you can set manually or automatically adjust to suit your preference. You can also switch to the night mode when using your Phone.
Blocking and Blacklisting
Many companies are advertising agencies and marketing agents trying to reach out to potential customers. They might be able to get your number from a third party and then place a call directly to you. You can easily blacklist them if you already know they are from these companies.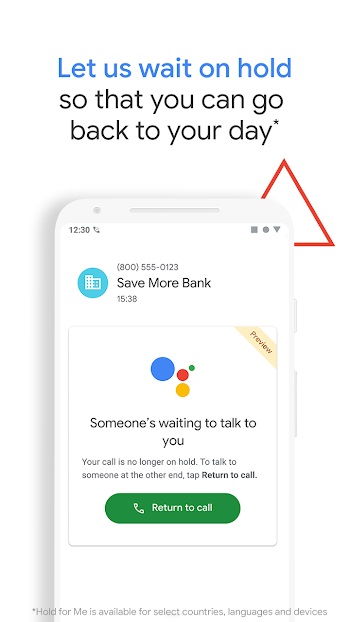 Phone by Google helps you do this since it divulges their identity while the call is incoming; if you aren't sure who's calling, however, you can leave a message through the call screen. You can also create personalized messages with SMS as an automatic reply to such calls.
Conclusion
Phone by Google is an app worthy of having on your device. The app already has a database for millions of users, so it's easy to identify anyone calling you. It also has some of the latest features you can expect on a phone app.