Download Tasker APK for an easy way to carry out your tasks in a defined manner. Bring the 'smart' to your smartphones by adding this application to your list.
What The Tasker App Does
Tasker is an Android automation application that helps in performing actions on your mobile device based on the user's instructions. It permits plugins and connections to third-party apps. It is not a free app, but you can get a 7-day free trial version when you download it.
When the conditions are met, it triggers certain actions. For example, plugging your headphones in can trigger launching your music app, connecting to your wireless network can dim your screen brightness, et cetera. It is so easy to get excited about Tasker because, with it, the possibilities are a lot.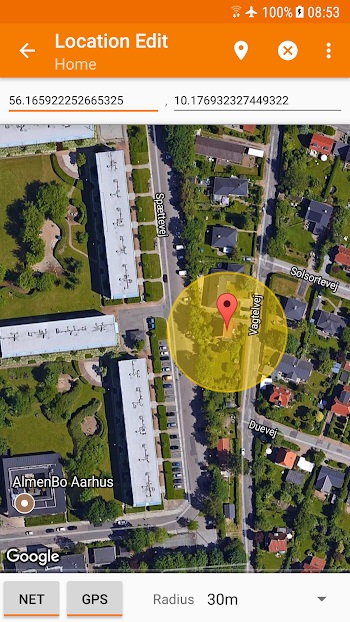 Tasker helps you get your money's worth in your smartphone. It takes advantage of the flexibility of the AndroidOS and offers a way to adjust its features to do more for you. As a result, your daily activities don't have to come with so much stress because there's an app that makes everything better.
Tasker works like a cooking recipe. To create a meal, a specific combination of ingredients is required. Likewise, specific conditions must be met for Tasker to run your tasks. However, that's not all it does for you. So let's take a deep dive into what else Tasker has to offer.
Features Of Tasker
Tasker's features are its strengths. It was created to make your life easier, and these attributes help it do this efficiently.
Triggering Actions: Tasker provides you with over 350 actions that you can combine to trigger its automation. When an action is performed to meet a condition, it triggers Tasker to perform a task. Examples include lowering volume levels and meddling with the Wi-Fi connection.
App Creation: Tasker lets you create custom applications using a Tasker App Factory feature. The app you create can be sold to or shared with others. You can also create a custom screen recorder with its space on the app's navigation bar. The start and stop buttons of the recorder will always be on the navigation bar once created.
Public Sharing: Tasker has a unique net file sharing system hosted on its server that allows you to export your profiles, tasks, and projects as a link. When you mark the shared file as public, you can share it with other Tasker users.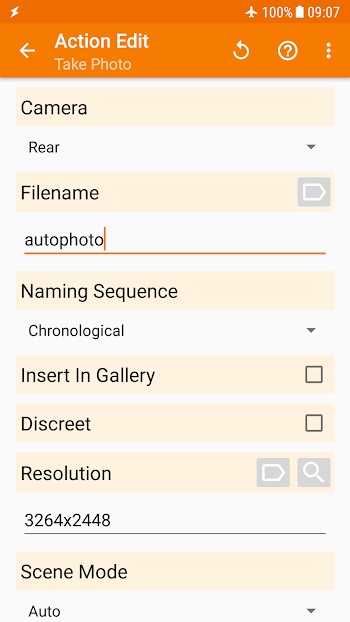 Automations: Tasker automations are only possible when you have profiles. Users have to create profiles to run the tasks on their mobile devices. Then, you get to automate tasks based on defined contexts. You can also create an 'exit task,' what the phone does when the condition for the task is no longer met. For example, you can create a profile that increases your screen brightness to 80% between 9 am and 6 pm but reduces the brightness to 20% after 6 pm. Tasker also automatically backs up your files to your drive or chosen folder.
Scenes: This is a personal user interface that Tasker lets you create to display the information of your choice. You can add notifications, control buttons, and a navigation bar here.
Pricing: Tasker costs $3.49 on the Google Play Store, but you can try it costless for seven days before you buy the paid one.
Tasker is an app for everyone. If you're using an Android phone or tablet, you need it. It gives you extra control over your device, so you don't have to spend time on these tasks. In addition, you can connect it to other smart devices in your home to automate their tasks.
Tasker Mini Tutorial
This process starts with a download of the application. After that, you can get the app from your app store or the official Tasker website. Tasker has a simple user interface, but working with it can be hard for some reason. Learning its workings will take some time, but it's worth the time because of what it helps you with.
Automating simple tasks are easy enough, but the more complex tasks will take more work. Just know that when it comes to Tasker, you need to learn about profiles, tasks, scenes, and vars. The profiles tab is where you define the conditions that need to be met before you can trigger the app to perform a task.
The tasks tab is where you create the action that will be executed when the conditions are met. Tasks include call automation, sending an SMS, backing up files, deleting files, and so much more. Scenes are where you create custom user interface components.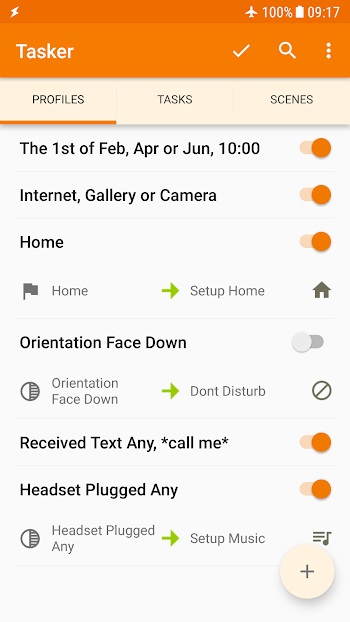 Vars is a tab used for managing variables that can be shared between tasks. The values are system information connected to the actions that must be performed. For example, these values may include screen brightness, battery level, and current time. Values can also be used as conditions to trigger tasks.
This tutorial follows the time and screen brightness example mentioned earlier. When you launch Tasker, go to the profile tab and click the '+' icon to create one. Next, tap' Time' to set the time to trigger an increase in screen brightness by 9 am and a reduction by 6 pm. After setting the time variables, go back to your app home screen to add a new task.
Click on 'New Task' and the '+' icon and go to the 'Display Brightness' section. Set the display brightness to the required levels. Return to the Tasker home screen. The app automatically saves your edits and causes your phone to perform the appropriate actions at the set times.
Conclusion
Tasker is a good opportunity to explore the many things you can do on your Android. It can be a bit scary at the beginning, but you get the hang of it after a while. The free trial period is so useful for this. You get to learn the workings of the app without paying for anything.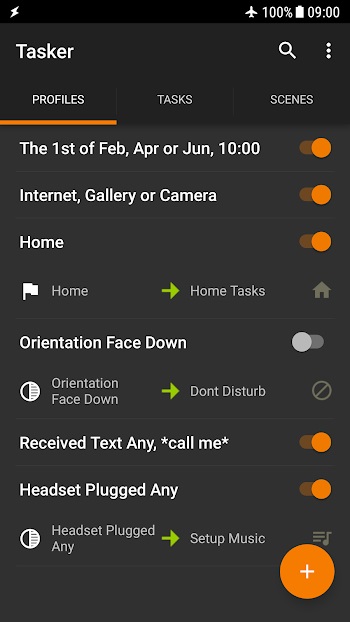 The basics are explained in the tutorial section above. You can't get stranded when you download the app. There will always be resources to guide you, especially on the Internet. The official Tasker website also answers questions when you start using the app. Taskers offer you an opportunity to not waste your time, and you should take it.