Download University Empire Tycoon APK. Dive into the world of a university Vice-chancellor in this awesome hyper-realistic simulation and build your citadel.
University Empire Tycoon
Have you ever wanted to play the role of a Vice-chancellor? Or desired to control a college or university? Are you looking for something different, a beautiful gem that has not been discovered? Then University Empire Tycoon is for you. Pursue excellence, business, and academic passion in this wonderful simulation game. Merge your tycoon and academic skills and whip the university back to premium condition in no time.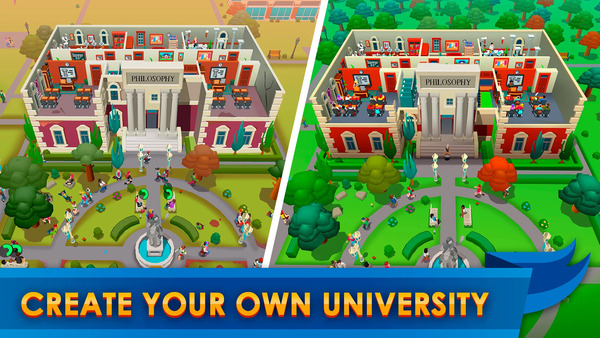 University Empire Tycoon Description
Codi-games published the University Empire Tycoon game on the 17th of March 2021. It is a single-player, university-simulated game that requires logic and reasoning. The environments, buildings, and audio are created to create a typical school to make the player take the role of the school Vice-chancellor.
University Empire Tycoon has excellent graphics that let one take control of every process involved in building a world-class center of learning, University Empire Tycoon is easy to play and understand. With an explanatory in-game tutorial to guide the player in their journey, the game ensures players are having a good time.
Being relatively new (it was launched in 2021), the university tycoon, despite being mild in popularity, has amassed an impressive 4 stars out of 5. This rating comes from the reviews of over 35,000 people who played the app and witnessed firsthand the awesome nature of the game.
University Empire Tycoon Tips and Guidelines.
The game starts with you as the head of a minor college with only a humanities department; frustrated and angered by the lack of luster in the environment, you begin building your school from a single department to a world-recognized institute of learning. The school is yours to design as you see fit. You can employ tutors and professors, admit students into various departments you have prepared, and collect students' fees.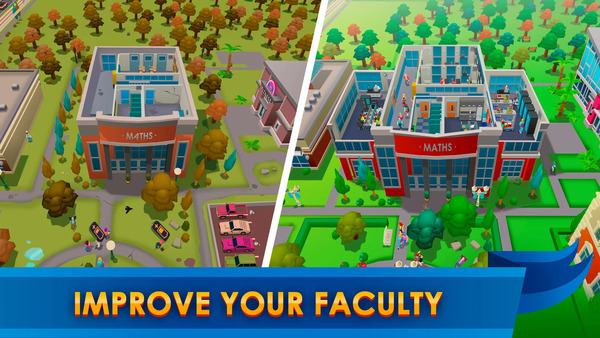 UET depends on many sessions as it takes time to collect funds generated from each department and student's fees.
A few key points to note as university empire tips.
Do not turn off the income multiplier
It would interest you to know that the Grants and tuition from students that come to your school are the major sources of income. These are then combined and result in the hourly revenue one receives.
A boosted income limit exists. It is gotten by players seeing an ad and then getting access to 10 mins income boost.
Occupy all areas of your campus.
Always think of how to increase optimal projects or energy capacity. One way to achieve this is to prioritize certain structures over the rest. The Dean's structure is one of the highly prioritized structures, it is the central unit of your school. Remember, some facilities are essential while some others are essential.
UET is very addictive by the minute as you upgrade the installations of your university.
A good dean, lecturer, and professor is not overestimated. Selecting a good dean would help guarantee control in your university.
Features
The game boasts some unique features for its kind that would make the time spent on it enjoyable.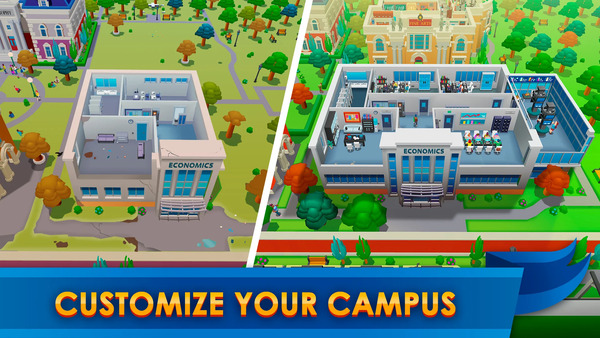 Hyper-realistic 2D graphics design
Easy acceptability:
Having gone by several names, it would seem that a simple search of
University empire max level
University empire unlimited gems
Unlimited empire tycoon idle
University empire tycoon tips
University Empire game. and many more.
Gameplay
After installing and launching UET, a tutorial called the University Empire tycoon guide, would immediately open to the player. For a brief moment, the game would guide the players through all they need to do and how to go about it fully.
Take control over the school's affairs and regulate how buildings should be placed. What type of building and what position is best for it.
In University Empire Idle Tycoon, you have to hire severally distinct professors that match the degrees you offer. Therefore, you have to note the current staff to give offers and try to invite these tutors to your faculty. In addition, as the game progress, you will grant more degrees and certifications n your academic requests.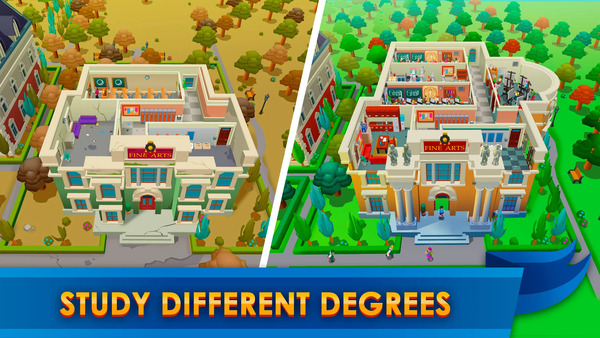 University Empire Idle Tycoon has clear visuals that allow you to control each procedure. When you exhaust your available budget, you will boost the learning environment of each lecture hall to promote your students' comfort. Next on the list is you can gradually hire distinguished professors that will improve your new institution's academic status and prestige.
Perhaps you require some extra rubies in the game; bonus missions are rewarded highly. One way to do this is by enrolling some new students in your designed lecture halls. Pick undergraduates who excel in specific areas for specific competition types to raise your chances of winning the competition.
Another option is for you to use the cash grant offer that comes up occasionally. Ads reward those who spend a few minutes watching them; the best part is that they are seen multiple hours a day. It is obvious that your selected undergraduates will win the competition, but to ensure their victory, competing in easy contests is the way to go. You also need to ensure that you choose the best undergraduate for the competition. You can determine their level by balancing their points and their number of smiley faces. These two features need to be as high as possible.
Conclusion
University empire tycoon is a simulated app for colleges or universities. It features growing your small school to a big one, powering up school structures and departments, upgrading staff, and attracting students to come and register. Ideally, the difficulty level of disciplines for students is 30% when players start the game. It is a fun and addictive game with great simplicity, regardless of experience with simulation games. More than just another simulation game, University Empire Tycoon is a leadership determiner to let one know how well they will fare in a leadership position.