Download Dragon City APK latest version to train your dragons and build a city. You can battle other players and gain amazing rewards and abilities for your dragons.
About Dragon City APK
Dragon City is an addictive game that requires players to train and raise their dragon and create a city of many other dragons on floating islands. The gold the dragons produce during building the city can be used to purchase and upgrade habitats and buildings. On the farms, a player can use gold in place of food, which can increase the dragons' level, increase the production of gold, and make them stronger – depending on the rarity of the dragon in question.
Besides training and raising dragons, you can also use your dragons to fight other player dragons via League Battles. Winning these battles can award you such resources as Foods and Gem, which can come in handy while playing a faster game.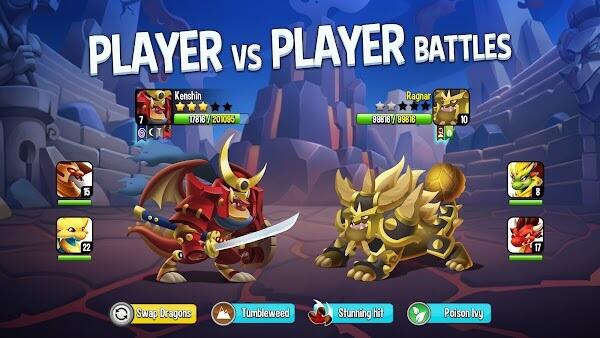 You can also participate in special events that allow you receive new and exclusive dragons. There are several events with varying requirements before a player can get them.
When you have reached level 27 in the game, you will come across the Ancient World – a world where you can exchange your gold for crystals (diamond, onyx, emerald, topaz, sapphire, ruby) which you can get from mines and use them to summon ancient dragons.
Dragon City Set-up
The game possesses 14 element types, and your dragons are fitted with about 4 elements from which they can learn moves. Elements include Wind, Primal, Legend, Pure, War, Light, Dark, Metal, Ice, Electric, Nature, Sea, Flame, and Terra.
In the update of the ancient World, 6 extra elements have been included: Soul, Dream, Happy, Chaos, Magic, and Beauty. In addition, a special dragon element update was included on the 10th Birthday Update.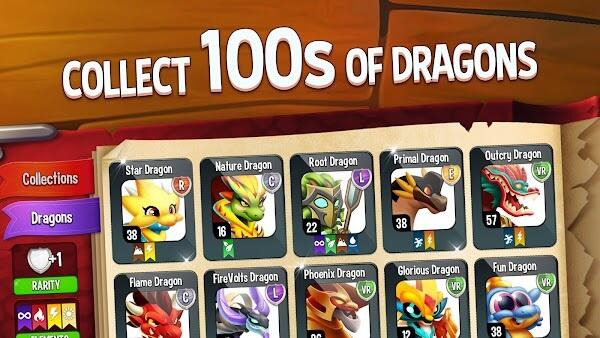 Before this, there were 5 rarities of dragons that a player could collect – Legendary, Epic, Very Rare, Rare, and Common.
Another dragon rarity known as Heroic was released on April 15, 2016, and it was introduced with the first heroic dragon known as the HFD (High Fenrir Dragon).
As Dragon City is updated weekly, there will be an increase in the number of available dragons to play with. We all know that dragons are picky, fickle mythical creatures that will want to live in your city and hoard all the treasure in it. In this case, however, the dragons provide the treasure, depending on how much you use them.
Dates of Release
The first release of Dragon City was in 2013 for Android and iOS, and Facebook was its first release platform. The Microsoft Windows version of Dragon City was released on February 26, 2019. As the game gained momentum and became available on app stores and many other platforms, the Facebook version of Dragon City was closed on February 2, 2020.
Dragon City Gameplay
Are you ready to stay at the top of the table by becoming a Dragon Master? Dragon City is the hottest dragon game, where you collect an abundance of adorable fire-breathing dragons. Your task is to train them to your will and fight to claim the title of the top Dragon Master.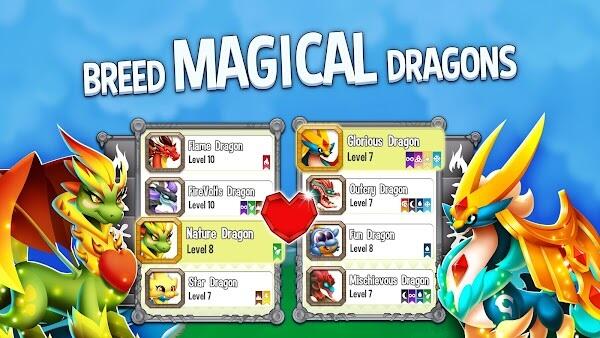 Dragon City is playable on all devices, such as Android, iOS, and Windows. This is a fun game that both kids and adults enjoy playing, thanks to its charming gameplay and lush graphics.
The central idea of this game is for players to use their dragons to build the cities of their choice on an island. While building, players must fill the cities they have built with habitats, buildings, and more dragons.
Another way of leveling up is by feeding your dragon enough to increase its strength and be much more active. You can train your dragons and teach them new skills as they evolve.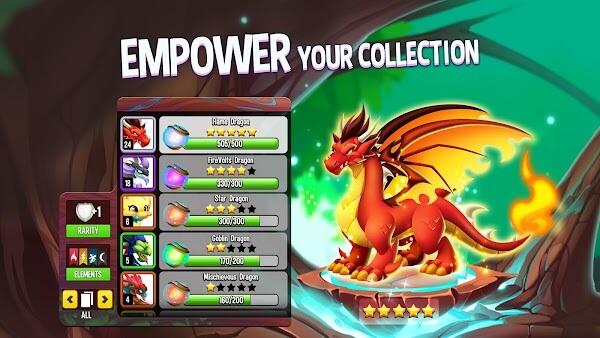 Collect Hundreds of Dragons
There are more than 500 dragons with different rarities and elements. These rarities and elements empower the dragons and make them do incredible things, and a player will also use them to complete the Dragon Book. The more you play, the more you collect awesome dragons. You can even be the top collector of dragons in the game and level up.
Besides training, raising, feeding, and collecting dragons, you can also use your dragons to fight other dragons in the Dragon League. This is like the Battle Royale, where you try to overcome exciting challenges and win the tournament. While battling other players, you can win lots of cool rewards.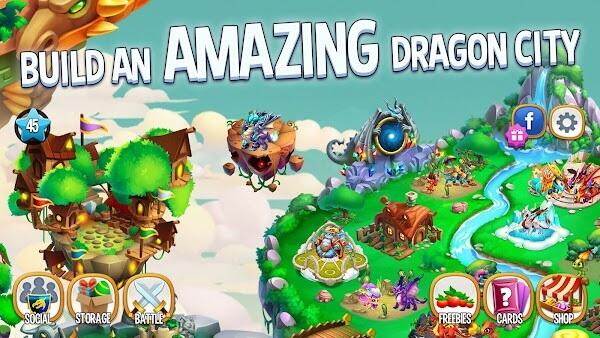 You can join an alliance by playing alongside other Dragon Masters. Here, you can interact with other players in the chat, unlock special rewards, learn about some new and impressive tricks and features, trade Orbs, and participate in Alliance events.
Features of Dragon City
Battle with other players to win the Dragon Book. There are more than a thousand incredible dragons to breed and collect for the growth of your Dragon City.
New dragons are introduced to the game each week through special islands and breeding events.
Design your dragons with impressive Dragon Skin from special events
Explore the Dragon Quests and battle against other Dragon Masters in the game's player-vs-player Arenas to collect special dragons, claim Warrior's Chest, and move up the leaderboards.
Invoke dragons to your city from a mythical and magical world in the Tree of Life, and then you can try how skillful they are.
Collect orbs and give extra powers to your dragons.
Unlock high-level game features such as the Ancient World and build the Guardian Dragon Towers.
Conclusion
Dragon City APK unlimited everything is a game that is free to download. You can also play it freely. However, you may have to buy some in-app items with real money. But you can disable this feature if you do not want to spend your money. All you need to do is to turn off the in-app purchases in your tablet or phone's Settings.


Join Telegram Group
Download Dragon City APK latest version to train your dragons and build a city. You can battle other players and gain amazing rewards and abilities for your dragons.