Download Junkyard Tycoon APK and get busy with your new business! This interesting garage simulation game is designed for unlimited fun in the junkyard business.
Description of Junkyard Tycoon
Junkyard Tycoon is a car business simulation game developed by Lana Cristina and released on the 14th of September, 2018. The game is based on the fact that you're a businessperson trying to salvage your junkyard business and is targeted toward those who enjoy vehicles, business or simulation games.
In Junkyard Tycoon, you do what a standard junkyard does. This involves buying, detaching, selling, and making a profit. The more you buy and sell, the more business booms, and you can become a magnate in the junkyard business. You can also repair cars and sell them as used cars to profit even more.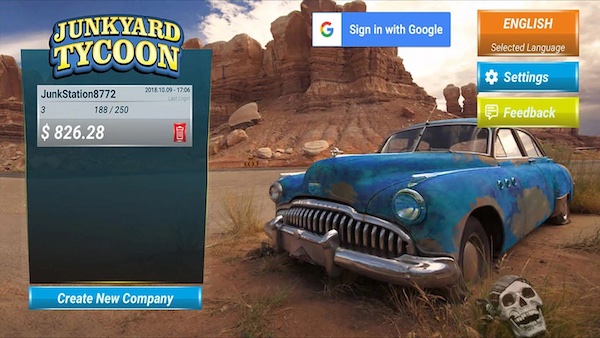 Junkyard Tycoon allows players to test their business skills and see if they are good at making money. It's an interesting salvage business game that will keep you busy from starting. The game has surprising features like buying superhero vehicles or going to the casino to earn more.
All in all, it's the perfect choice for those who want to play a business strategy game. You need all your focus to ensure you gain income without spending too much on expenses.
Engaging Gameplay for Car Lovers
In Junkyard Tycoon, you run a garage where you buy old vehicles and sell the parts at a high price. Although the gameplay appears simple, you need to consider many moving parts, especially since it's simulating a real junkyard business. So, you can expect to be pretty busy.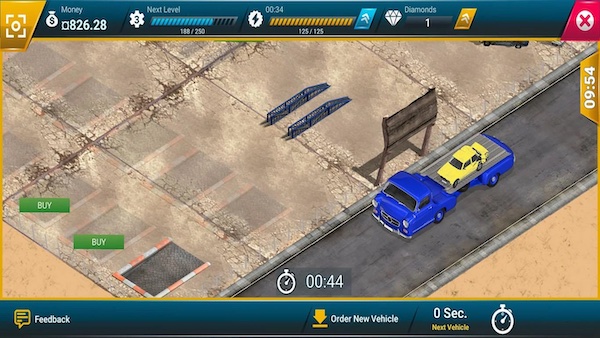 Luckily for new players, Junkyard Tycoon starts with a tutorial which covers all you need to know about running your business. It's important to pay attention since this will teach you how to buy vehicles, detach them, fix them, sell them move parking slots and more.
The basic objective of the game is to grow your garage by adding more vehicle ramps, parking slots and buildings. But to achieve this, you need a lot of money. This is why you need to sell the vehicle parts at a high price even after buying them reasonably before separating them.
The main process is to buy scrap vehicles, detach the parts, and collect the different items. These include scrap material, the car battery, engine, and more. Next, sell the vehicles for cash. Using the money, you can unlock the buildings on the game and use that to upgrade your garage.
You can buy cars, trucks, tractors, and superhero cars at low prices and sell their parts to make good money. The game also allows you to repair scrap cars and sell them as used cars. As you scrape cars, you will be rewarded concrete as extra material.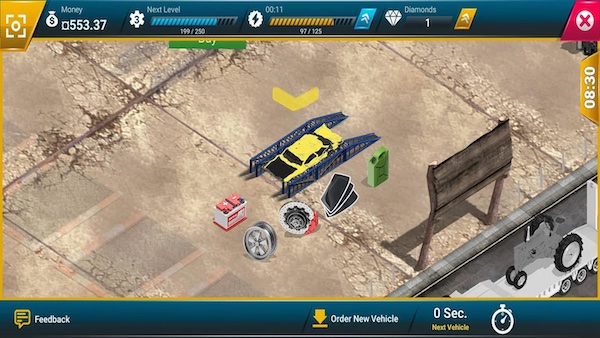 Concrete is one of the rare but important materials offered by the game. It is only provided randomly after you finish scraping a car. Aside from concrete, the premium in-game currency is diamonds. You can get diamonds when you sell car parts and watch ads. As you hoard them, you can buy buildings and other materials you might need to move your junkyard business forward.
It would be best if you also had glass and nails, which are under scrap materials. You might be tempted to sell them immediately, but saving them allows you to turn them into valuable items you might need later in the game. You can focus on selling engines, car batteries, and other parts.
Buildings to Look Out for in Junkyard Tycoon
There are different buildings and ramps that you will see when you start playing Junkyard Tycoon. These buildings are locked from the beginning, but as you earn more money, materials and diamonds, you can unlock them and expand your business. These include: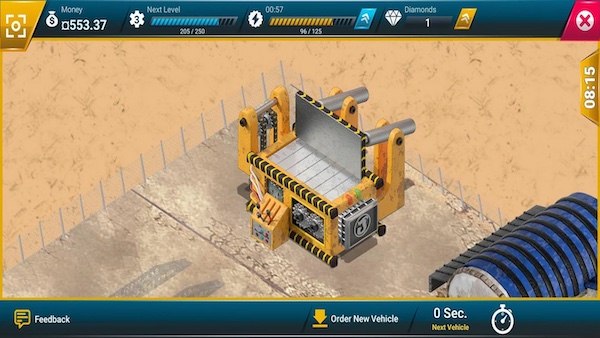 Park Slots: You need park slots for you to buy scrap vehicles. The game starts with a minimal number of free slots, but you need more. As you get more parking slots, you can buy cars to keep there until you scrape them, thereby growing your business.
Vehicle Ramp: You also need a lot of ramps because this is where the detaching takes place. Move the vehicle from the slots to the ramps, detach them, and collect the parts.
Warehouse: Junkyard Tycoon starts players out with a limited capacity warehouse where you store all your scrap material and other miscellaneous items. The more you scrape, the more space you need in the warehouse. So, it would be best if you upgraded the warehouse often.
Car Baler Machine: You need the machine to convert vehicles to scrap material, and you should focus on earning money to buy more so that you can scrape more than one vehicle at a time.
Casino: In the casino building, you can use casino tickets to earn free rewards. These include more tickets, vehicle parts, money, items, energy points and more. This is one of the unique parts of the game.
Stockroom: This is a place where you sell vehicle parts. The more vehicle parts you get, the more you need to expand the stockroom and get more space.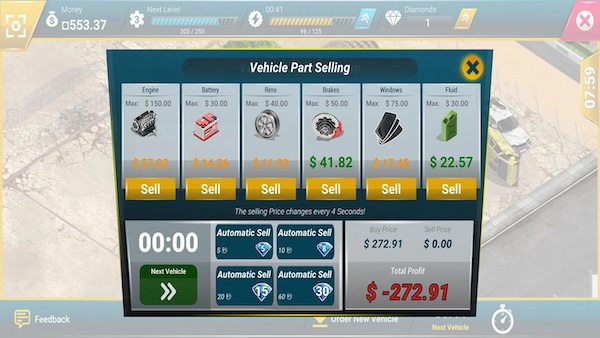 Factory: In the factory, you can create useful items with scrap materials, which is why you shouldn't always sell glass and nails. Before using the factory, you need to earn money to fix it.
Institute: This is where students learn about the system of automobiles and how to fix them. You can grow your junkyard to include the institute.
Arena and Race Ground: You need to repair the arena for a high price. After this, you can race against other places and place bets.
Conclusion
Junkyard Tycoon is the ideal car business simulation game for those who want a strategic and engaging mobile game. It will keep you interested as you try to expand your garage business by adding more parking and ramp slots, expanding the warehouse and stockroom, and unlocking more buildings. Keep on buying vehicles and selling their parts, and you'll dominate the industry in no time.


Join Telegram Group
Download Junkyard Tycoon APK and get busy with your new business! This interesting garage simulation game is designed for unlimited fun in the junkyard business.