Download Idle Magic School to bring your Hogwart dreams to life. Here, you're the one who makes the magic happen. You'll get to do everything Dumbledore did and so much more!
Welcome To Idle Magic School!
Have you seen the Harry Potter movie series or read the books? Idle Magic School brings you to a world similar to what you see in them. What's more, you get to create this world!
Idle Magic School is a simulation game where you build a magic academy. Everything you do in this game revolves around your goal of having the most successful academy ever. The school is located in a magical forest with wonders for you to explore.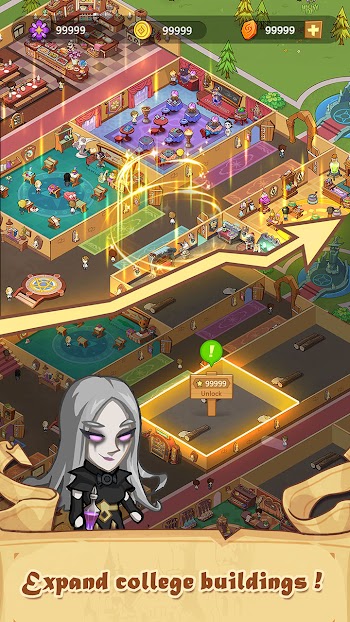 The magic here just elevates all features and makes them more attractive. Characters go on missions on behalf of their school, and you get to play these characters and engage in thrilling battles.
You'll also play the principal role, running the school and making decisions that affect the school significantly. In Idle Magic School, you'll battle priests, witches and wizards from other schools and even your school in challenges which come with prizes.
A Peek At Idle Magic School's Gameplay
The first item on your list is erecting the buildings in the academy. From here, you'll go on to expand buildings, open classes, upgrade courses and set up your school on new campuses.
You also have to recruit students, teachers and administrators to fill up your school and get it up and running. Then, you'll supervise the training of the students to become witches and wizards with impressive skills and talents.
You also get tuition! What's the point of pouring your time and energy into a project if you're not getting some form of reward? The higher the number of your students, the more tuition you receive. When running your school, you must create a strategy that works for you. An example of a reliable strategy is focusing on students from pureblood families.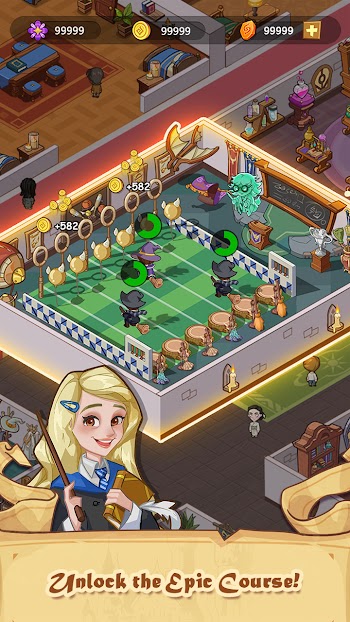 Since they have deep roots in wizarding traditions, it does not take too much time to explain the courses to them. This strategy might seem unfair, but it works. Promising results from your students improve your school's reputation, so this is the greater good you should consider when creating your strategy.
It is also important to diversify as you progress. You don't want to seem biased. Once the pureblood kids are taken care of, shift your attention to the children from mixed families. They are called Muggles in the Harry Potter series. These are children with one wizard/witch parent and one human parent.
This Game's Fun Features
Idle Magic School has beautiful 3D graphics and animations that will capture your attention immediately after you open the game. This feature immerses you into an aesthetic world of vivid colours and character designs. This is not the most fantastic thing this game has to offer. Let's explore the other features, shall we?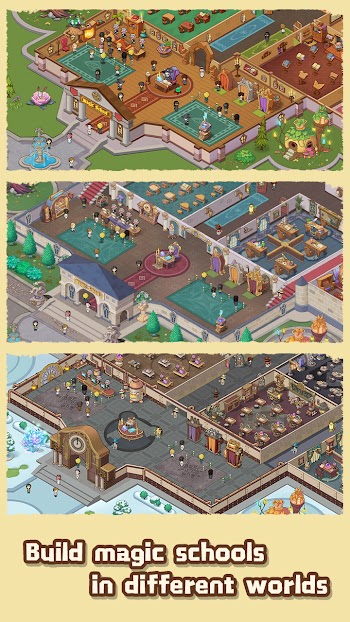 Idle Mode: The game is not called "idle" for nothing. This feature lets the school run and generates revenue when you are offline. Everything goes on the same way it would if you were online. The game is not left on hold, waiting for you to return. Instead, progress is made while you are away. This saves you lots of time.
Upgrades: After completing each stage of Idle Magic School, you'll receive rewards which may come in the form of gold coins or special items. You can use these to expand your school, unlock campuses and make upgrades. For example, with gold coins, you can upgrade the magic trees in your world and use the fruits to upgrade your wizards and witches.
Currencies: Idle Magic School provides you with two types of currencies; gold coins and magic stones. At the top of the screen, the number of gold coins you have is shown. As your students learn, you earn gold coins for the activities they take part in. These include studying in the classrooms and passing their exams. Magic stones are particularly useful for triggering upgrades. For example, you can use them to improve the magic tree and the vending machine and even recruit special teachers for your students. Gold coins are the general currency, and the magic stones are special.
Offline Earnings: The idle nature of this game does not only save time but also generates offline income. When you return to the game after a period of absence, a pop-up shows your offline income. It is usually made up of gold coins. You can multiply this income by watching an ad before you continue your game.
The Chapter Map: This shows the locations of all your academies and their progress. You can build schools in five locations: Magical Forest, Winter Lands, Country of Water, Shadow Islands and Heavenly City. Each location has features peculiar to it. For example, Shadow Islands is a land full of sin and in need of cleansing magic.
Settings: The game's settings feature lets you adjust the sound, language and purchase options.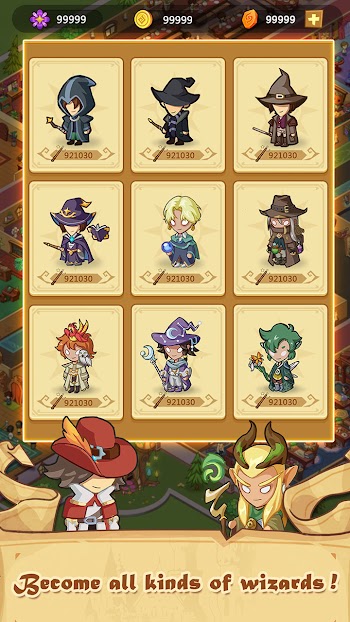 The school itself also has so many spots to you have to familiarise yourself with. The registration office is the first place students must go to be registered by the administrators. The magic transformation rooms are there for the Muggles. They must be transformed into wizards before they can start their magic courses.
The classrooms are the most important buildings in the school. They're also the first to be built. The types include potion class, divination class, advanced spells class and defence against the dark arts class. The last class type should ring a bell if you've watched or read the Harry Potter series.
Conclusion
In March 2021, Longames released idle Magic School. It is no surprise that the game has received over a million downloads since its launch. There's so much to do in Idle Magic School. Some may even say there's too much to do, but you don't have to go through the entire game in one day.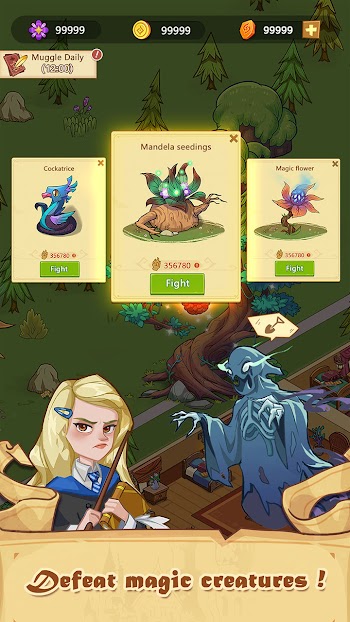 This game offers a fun mix of management, adventure, magic and battle. The central theme is high school adventure. What makes it unique is the element of magic. It makes everything better. Sounds like fun, doesn't it? It sure does! If you're into magic-themed movies, you'll like this because, in a way, it feels like you're writing your own little movie.