Download House Flipper APK latest version to renovate houses and make a profit out of their sale. It has lots of activities and rewarding gameplay.
Overview of House Flipper APK
Do you want to be a flipper? House Flipper APK for Android gives you the chance to become a one-man renovation crew. Buy, repair, and upgrade devastated houses. Give them a lifeline and flip them at profit!
Haggle with customers, suppliers, and real estate agents. Advertise your flipping houses business online. Polish your eye for detail and design to create unique and beautiful homes.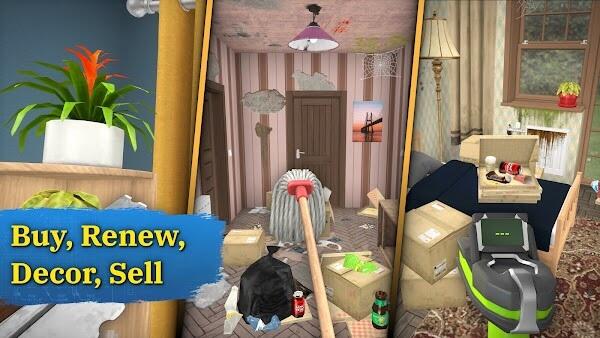 The gameplay is based on real-world renovating and flipping houses business tips. If you always dreamed of being your boss and making money by buying low and selling high, House Flipper is the game for you!
An Innovative Gameplay
In House Flipper you will use realistic tools, faithfully reproduced from their real-world counterparts. You will fix plumbing and electrical systems, tear down walls and apply a fresh coat of paint to hundreds of houses waiting for you to bring them back to life.
You must be patient, though – each job requires precision and a lot of work. But the outcome is worth it!
A Huge Market to Flourish In
Every house has its unique character, which you need to bring out by matching the style and furnishings to the tastes of potential buyers. You will learn how to identify quickly what needs to be done and how to do it efficiently.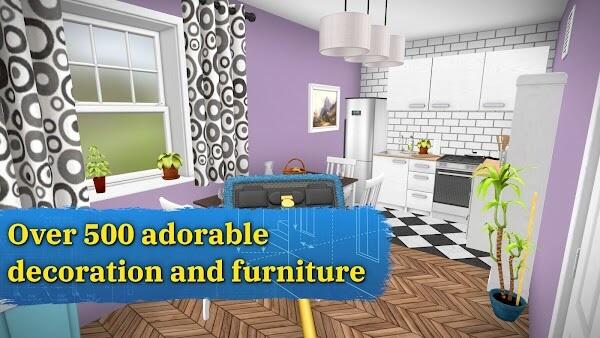 You will also need to haggle with customers and real estate agents, who will give you new job offers. Build your house flipping empire and become the star of home improvement!
Outstanding Features of House Flipper APK
Jack of All Trades! In this game, you take up the roles of designer, architect, and constructor all at once. Plan the design, renovate the house, and furnish it to your customer's taste. Always ensure that you do a good job to get good ratings!
Dozens of Tools at Your Disposal. You will have access to over a hundred different tools, all modeled after their real-world counterparts. From sledgehammers and power drills to saws and screws – everything is included!
A Huge Variety of Operations. In House Flipper, you can do nearly anything that needs to be done during a renovation. You will rip down walls, lay tiles, and install windows and doors. You will also have to take care of the electrical system and plumbing!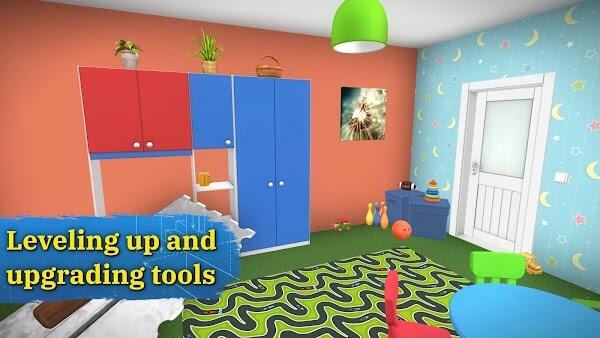 Furnish the House to Your Liking. After you do the repairs, it is time to furnish the house and make it look cozy and inviting. Pick from a wide variety of furniture and decorations to create the perfect home for your customers!
60 FPS Gameplay. The game runs smoothly on most devices and at a consistent 60 FPS. This allows you to fully enjoy the gameplay and experience all the features without lags and glitches!
Realistic 3D Graphics. This game features beautiful and realistic 3D graphics, a joy to behold. The attention to detail is amazing, and you will feel like you are really in the middle of a renovation job! You'll see all the elements of a real house renovation!
500+ Decoration Options. You will have access to over 500 different items to furnish your houses. From carpets and curtains to sofas and beds – you can find everything you need to make your customers happy! You will also have luxury items, including a nightstand, TV cabinets, armchair, commode, and more!
Diverse Characters. You will meet Eleanor Moore among other customers. You will also have beautiful animals that you can pet, including a dog and a cat.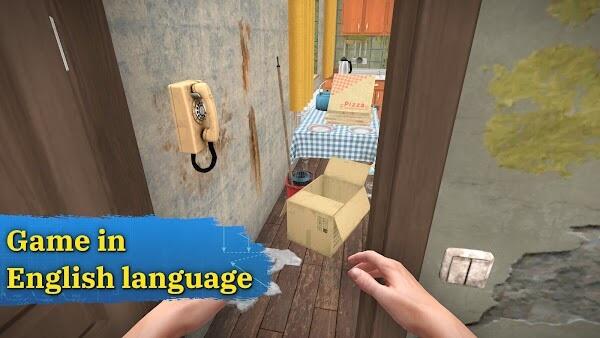 Handle Unique Artifacts. You will have access to an art connoisseur's museum, where you can find unique and precious artifacts. Be careful with them, though, as they are very fragile!
Take and Complete Orders
Your goal will be to become the ultimate fix and flip master by taking various orders and completing them within the set timeframe. You will have to renovate, design, and furnish houses to the taste of your customers, who will give you ratings based on your work. The better your rating, the more job offers you will get!
You will meet jovial and demanding customers, each with a unique personality. You must learn how to deal with them to get the best results and earn the most money!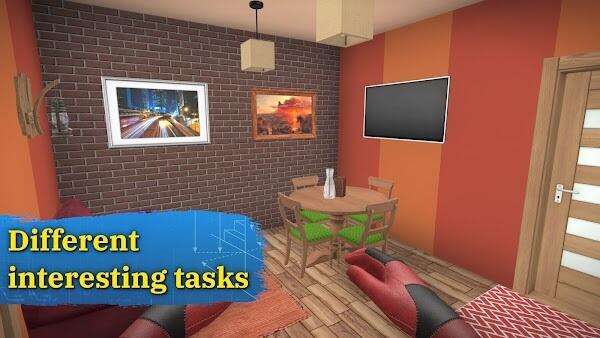 In House Flipper, you will start from the bottom and work your way up to become the ultimate house flipper! The sky is the limit – it all depends on your imagination.
Flip and Make a Profit!
You should not take your eyes off the prize – your goal is to make as much money as possible by flipping houses!
You will have limited time and money to complete each job. As such, you must use your resources wisely. Plan your work carefully and always put the needs of your customers first!
The market is ever-changing, and you will always be on your toes. Keep an eye out for new trends and technologies to ensure you are always ahead of the competition!
House Flipper APK Download
If you want to fix and flip houses fast, you should download House Flipper APK latest version. This version is improved to offer unrivaled gameplay. Here are its unparalleled features: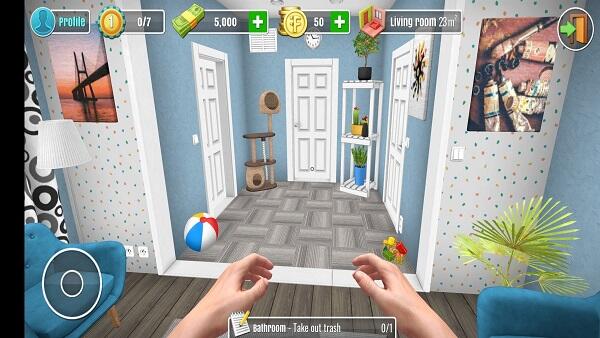 House Flipper APK Unlimited Money. This feature offers an endless amount of resources. All the game features will be from the get-go. You can use this money to buy any property, furnish it to your liking, and sell it for a profit!
No ads. House Flipper APK 2022 is clutter-free. The UI is also optimized for an immersive experience.
Improved Gameplay. The House Flipper APK unlimited coins version is tweaked to offer the best gameplay experience. You will enjoy smooth and lag-free gameplay on most devices!
House Flipper APK Unlimited Flip Coins. This in-game currency can be used to buy premium items, such as luxurious furniture and decorations. It will also allow you to skip the waiting time for renovations!
Conclusion
Flip houses and make a profit in House Flipper APK! This game is the perfect blend of realism and fun. With its beautiful graphics and unforgettable gameplay, you will be hooked for hours on end!


Join Telegram Group
Download House Flipper APK latest version to renovate houses and make a profit out of their sale. It has lots of activities and rewarding gameplay.