Download The Escapist APK, a unique and fun prison break simulation game. Think creatively, adapt to the prison environment, and do whatever it takes to become a free man again!
About The Escapist
The Escapist is a unique sandbox game of a prison jailbreak simulation. It centers around a prison setting where the main character's mission is to escape the prison walls and gain freedom. The game sets many obstacles and difficulties to hinder your escape and can be labelled as an exceptional thriller game with mind-blowing gameplay.
The Escapist was released on the 2nd of March, 2014, for Android and iOS devices worldwide. The game was offered and published by a gaming company called Team 17 Digital Limited and had been doing exceptionally well since its release. The Escapist, however, requires a device with the minimum operating system of an Android 4.2 and above to function maximally.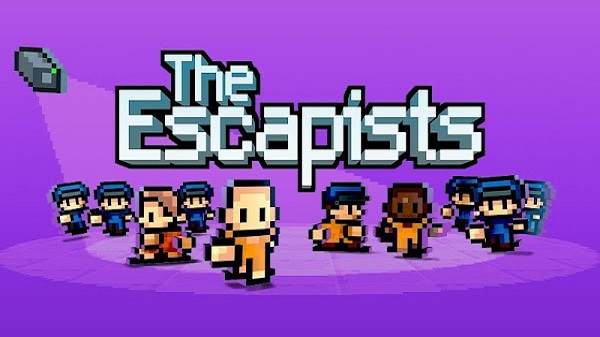 The game has gathered quite an active fan base, has amassed over five hundred thousand downloads on the Google Play Store alone, and has also amassed high ratings and good numbers of positive reviews on app stores.
The Escapist is a very stimulative game in the strategy genre and requires a high level of focus and strategy to succeed. The player has to figure out many creative ways to manoeuvre the game and eventually succeed. The Escapist is one of many games that provide easy gameplay yet keep the players hooked.
Storyline and Gameplay
The player has been convicted of a crime and is currently serving time in prison. However, the main mission is to escape the four walls of the prison and become free once again. Therefore, you have to make perfect use of all the available resources you can find and make a clear break from the prison walls.
The security is tight, and the gaming atmosphere is set just like in a real-life prison scenario. There are guards and wardens at every turn, duties and routines to carry out, and many other events and situations to stand in your way. It can be quite tricky to get past the security system, but with the right gaming skills and prowess, you'll easily attain victory and become a free man again.
The prison has rules and regulations that must be followed adeptly. As an inmate, you must carry about your daily tasks, perform labour tasks and clean up duties, shower, work out, and basically act normal to avoid arousing unnecessary suspicion. You should also avoid stirring a commotion within the prison walls to stay out of the eye of the guards.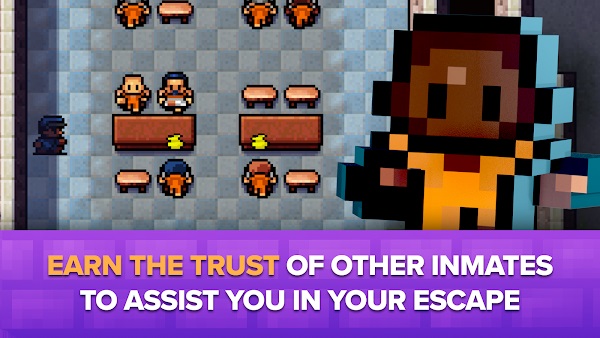 To secure a clean break out, you must first be very observant of your environment and study the likely places and routes from which your escape can be easily made. Never lose sight of the goal, and keep looking out for the most strategic places to make your escape. The guards are always suspicious, so be careful to go about your plans without getting caught. If you get busted, it could spell serious doom for you.
There are dozens of tools waiting for the smart inmate to use them best. Unlock your creative prowess and make unimaginable tools and weapons out of everyday utensils like knives, forks, and spoons to forge your escape routes and dig through the prison walls. You cannot complete your objective in one day, so your game requires a while of hard work and consistency to eventually pull through with your motive.
You should also maintain good relationships with your fellow inmates as they could serve to assist you in your time of need. You could trade resources, receive worthwhile information, seal alliances with inmates, and speed up your escape process. You can also gather many inmates and add them to your gang. Form your formidable cartel of loyal members, and you can even become the king of the prison.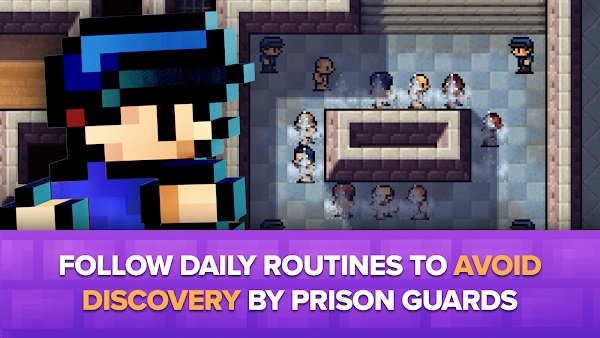 There are different ways to escape; you could dig out a life-size tunnel with consistency and hard work or invent a master plan to scale through the prison walls. There are no limits to the different ways and techniques you can employ to secure your escape. To find your special way of securing your breakthrough, and rest back to watch your perfect plan unfold. Remember that The Escapist is a game that greatly requires intelligence and ingenuity. However, the game also promises ultimate satisfaction and the end of the gameplay, and you can be sure that all your hard work will meet deserved gratification at the end of the day.
Amazing Features in The Escapist
Wide Area For Gameplay. The Escapist is a game that employs intensive location and structural settings to heighten gameplay. The game has diverse structures. The settings are very detailed to provide a standard view.
Over 6 Prisons With Different Themes. In The Escapist, six different prison themes are available, all differing in structure, size, and atmosphere. You get to choose the prison you belong to at the beginning of the game and work with it. Although all prisons provide similar experiences, the structure and certain features may differ, depending on the player's preferences.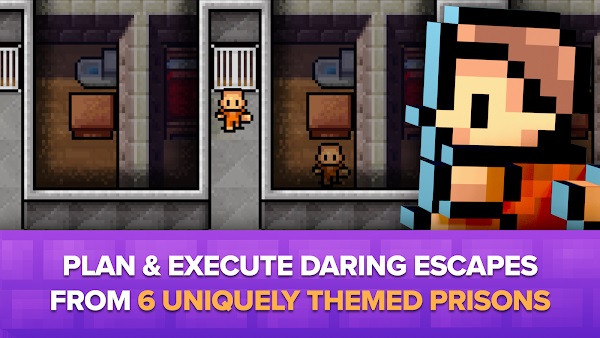 Unique Graphics. The game uses pixelated graphics to bring back the nostalgia of that arcade feeling right from the comfort of your mobile device.
Diversity of Options. There are no limits to the ideas that can be formed and carried out by the player to secure your escape. The game does not follow a stringent format or set of rules but provides high flexibility to allow players to flaunt their thinking and creative skills to the maximum.
Widely Available. The Escapist has little, or no location barriers, can be accessed on various mobile devices, and is suitable for gamers of all ages.
Conclusion
The Escapist is a unique and thrilling game that will keep you invested throughout your gameplay. The game provides a gratifying escape and amazing insight into a fun prison adventure. So live out an epic fantasy with The Escapist and also make sure to secure your victory.