Download Temple Run APK, the fast-paced, endless running, addictive mobile phone game. Enter a world of monsters, idols, colorful jewels, and unrivaled adventure.
Introduction to Temple Run
Temple run is a video game that was developed by Imangi Studios in 2011. It is one of the pioneers of endless-running games for mobile phones. Endless running games are platform games characterized by a player character running for an infinite time.
Temple Run game is loaded with well-detailed 3D animation that brings the game to life in a unique way. While running, the player has to avoid obstacles and accrue as many points as possible. As a result, the longer the player stays alive, the more points you can earn.
Temple Run is colorful and perfectly designed to help you while away time. Especially if you are looking for a way to keep yourself entertained during waiting periods. It is easy to play, with a very fast restart time after every failure.
Temple Run is designed with an interesting theme involving an explorer being chased by monster monkeys for taking an idol in their temple. This game was a massive hit among android users when it was released, and its recent installments continue to impress.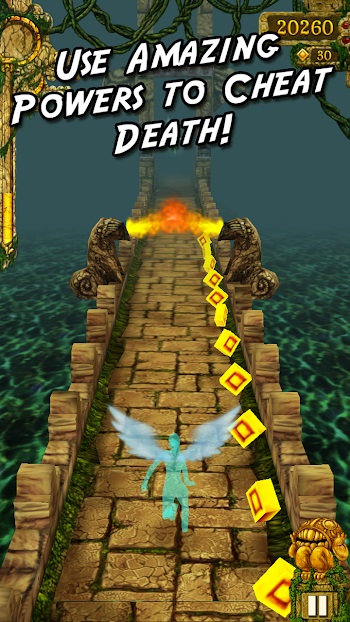 There are many modes, power-ups, and coin types available in the game. As you progress in the game, you will come across several of these different items. Each item allows you to improve your character and help your player last for longer periods.
The longer you play the game, the faster it becomes, till it gets to a point where you fall off as a result of not moving your character in the right direction or reacting too slowly.
Players are allowed to swipe to the left or the right to move the character from side to side. The game also supports tilting functions that allow you to tilt the phone to the left or right when you want your player to move in that direction.
Remember that part in your favorite adventure movie, where the hero finally gets his/her hand on a once elusive treasure, and things start to fall apart, or a monster is unleashed; Temple Run is that scene, and in this case, the hero may not get away.
Features of Temple Run
Easy Controls
Temple Run is famed for its easy-to-play design. It comes with four basic movements that your character can perform. This involves stepping to the right or left, jumping, and sliding. The left and right movements are achieved either by tilting the phone in the desired direction or swiping to one's direction of choice when making turns.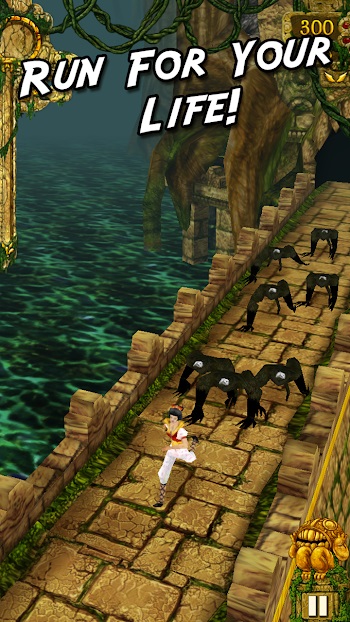 The jumping and sliding movements can be done easily by swiping up to jump or by swiping down to slide. The choice made usually depends on one's chosen direction or in a bid to avoid obstacles or acquire power-ups. Easy touchscreen taps can achieve all this on your screen.
Power-ups
The Temple Run game also has power-ups that allow your character to run faster, acquire more coins, and sometimes cheat death. The power-ups come in different colors and only last for a short period.
An example of a power-up is the magnet feature, which allows you to rake up every coin in your path or close to you. Using this feature attracts coins to you, allowing you to take as many as possible as you run along the perilous path.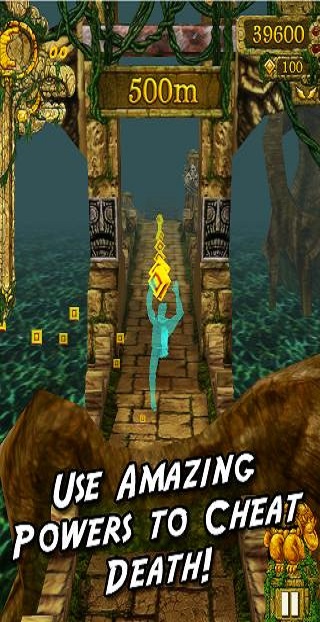 You can also upgrade your character with the items you acquire.
Top Notch Animation
Temple Run acquired much following for its 3D animation display as it came out at a time when most mobile phone games didn't have that feature. For this reason, it stood out among the games released at that time.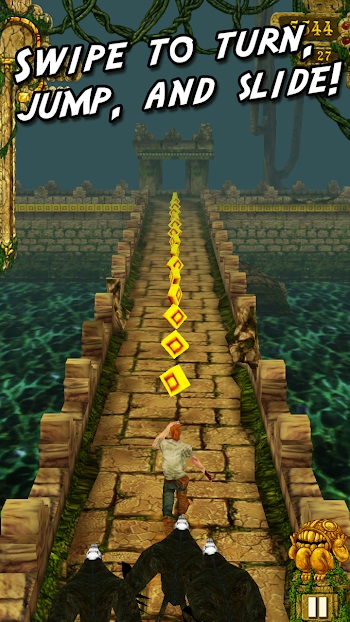 Over the years, the game's graphics quality has increased, and with every new installment in the franchise, the level of detail, the soundtrack, and every other aspect of the gaming design has improved. Even for mobile phones with large screens, the quality remains the same.
Quick Reload
Another important feature of Temple Run is its loading/reloading speed. No one likes waiting for long periods before the game boots up to its landing page. Temple Run boots up in seconds, and after getting on the landing page, a tap on the screen starts the game.
Even after a failure, you can quickly restart the game. The restart process takes less than 15 secs. This means that you can play several turns of the game as many times as possible in a short period.
Colorful Coins
As the character is chased by hungry monkey monsters, he/she will come across coins placed on his path throughout the entirety of the game. These coins are used for several purposes such as payment for an upgrade or as a means to buy life-restoring precious stones.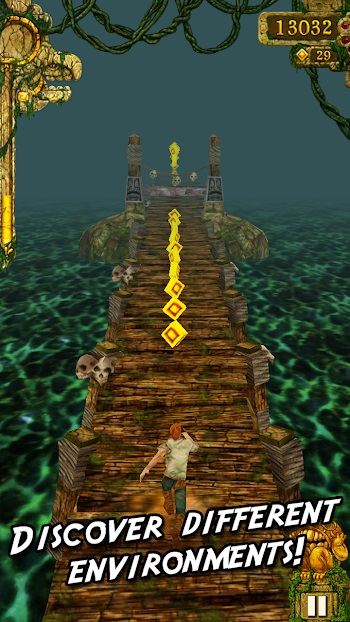 The coins come in different colors, each color explaining what value the coin will carry. Red coins are worth two points. Blue coins can get you three points, while gold coins cost up to 5 points. Asides from the usage of coins, players can also get upgrades through in-app purchases using real money.
Characters
Temple Run game starts with a single playable character, but in some releases, more than one character can be used.
Detailed Objectives
The game also sets objectives that help you monitor your progress. Several targets are outlined, and you get rewards after accomplishing these different targets. Hence even though it's an endless running game, you can set specific targets for every game turn.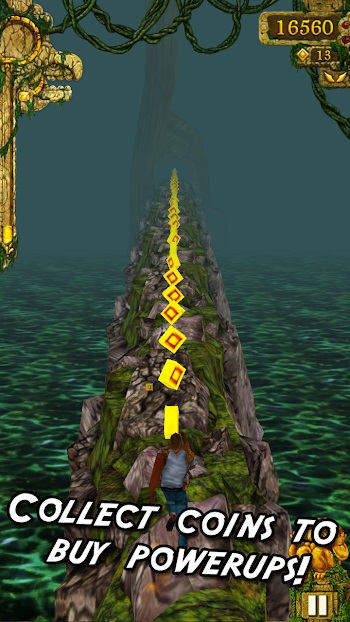 This allows you to keep track of how far you have gone in the game and which milestones you need to achieve to get to the next level.
Conclusion
Temple Run remains a fan favorite for many people from different parts of the world. Its basic structure and easy gameplay keep you addicted and coming back for more. Also, the amazing visuals, vibrations, and scary soundtrack get you engaged and entertained. Temple Run remains the best game for adventure buffs, download today and run for your life!!