Temple Run 2 APK is one of the oldest mobile games that won't just fade away! Its 3D graphics & mind-boggling challenges make gamers stick to it! 
A Brief Summary of Temple Run 2
Temple Run 2 is an endless video game published by Imangi Studios. It was released on Google Play Store in January 2013. Within one year of release, the game gains hundreds of millions of gamers globally. Towards mid-2014, Temple Run has more than one billion downloads!
While this game retained the controls of Temple Run 1, it introduced more obstacles, including mine tracks, zip-lines, waterfalls, and fire jets. The improvement has endeared the game to its users, making it one of the most popular games ever produced.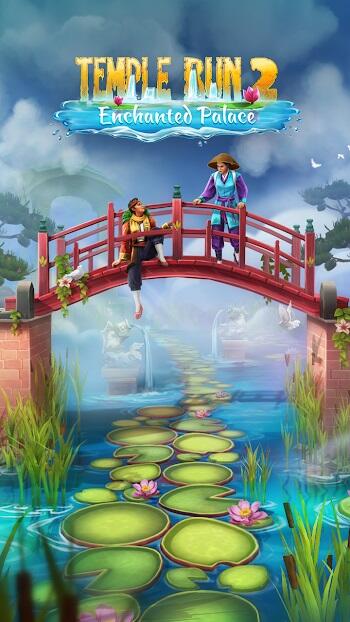 Additionally, this game features power-ups. You can collect coins to fill your energy bars and unlock other power-ups. For example, you can save your character from death using green gems!
Overall, Temple Run 2 is a superior game that offers you an unforgettable gaming experience. It is 112M and optimized to work well with all Android 4.4+ devices.
An In-Depth Analysis of Temple Run - Background/Plot
This game is set in an ancient building known as Aztec Temple. It hosts a golden idol that's worth a lifetime fortune.
You embark on a journey to get the idol and make your escape before the temple's evil guardians catch up to you. However, this journey will not be simple!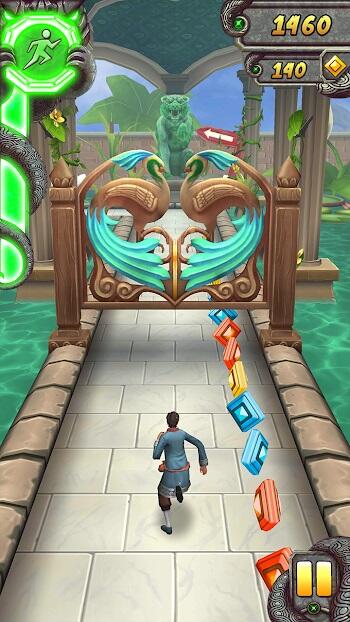 The temple harbors a family of demonic monkeys determined to stop you. They will chase you through the temple, trying to grab and exterminate you.
You must use your agility and intelligence to outrun them, avoid all obstacles, and ultimately make your way out with the golden idol!
A Super Entertaining Gameplay
Just like its predecessor, Temple Run 2 has endless gameplay. Your objective is to run as long as possible while avoiding obstacles. The game starts with you running in an ancient temple, with a monster chasing you.
Every time you play the game, you'll be taken to another environment with more difficulties. This game has no end! You will play until your character collides with an object or falls off a cliff.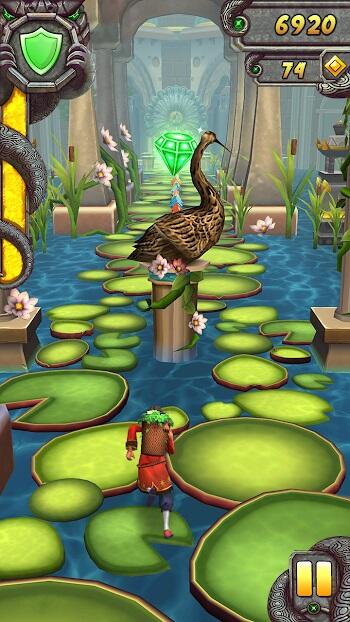 As you run, you must also collect coins and other treasures. There are three main types of coins you can gather, including:
Gold Coin. When you pick this coin, you will add only one coin to your total coins.
Red Coin. This coin is worth two gold coins. It means that you will get two coins when you pick one red coin.
Blue Coin. The blue coin is the most valuable in the game. When you pick one, you will get three extra coins.
You can then use these coins to buy different power-ups and unlock more sophisticated characters. You can also buy these coins using in-app purchases ($0.99 - $49.99 per item).
Dynamic Characters at Your Disposal
This game has a wide range of characters for you to choose from. Each character has unique abilities that can help you survive in the temple longer. In total, there are eight main characters in the game, including: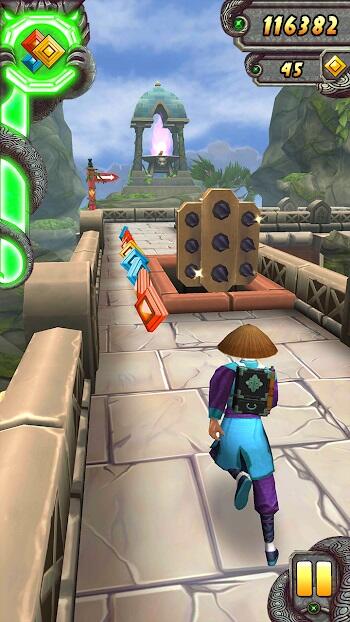 Guy Dangerous. He is the default/free/ automatic character in the game. He is an adventurous explorer who's looking for new challenges.
Scarlett Fox. She is a Parkour expert and can run faster than any other character in the game.
Barry Bones. He is a city police officer who's very athletic and incredibly brave.
Karma Lee. She is a professional acrobat who's extremely agile and quick.
Usain Bolt. He is the world's fastest man who can run at an unbelievable speed.
Santa Claus. He is a jolly old man who's very fast and agile for his age.
Maria Selva. She is a survival expert and can run for a long time without tiring.
Additionally, the game features a few players from the National Football League (NFL). However, you will require coins/in-app purchases to unlock them.
Highly Intuitive Controls
Even though the gameplay is quite simple, it is very addictive. The controls are also simple.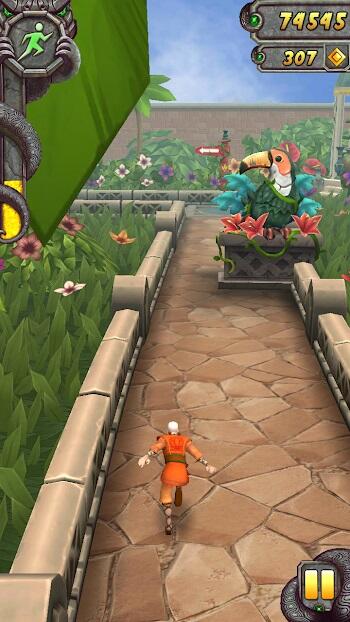 All you need is to swipe left or right to swerve the character sideways and collect coins. You should also be alert to notice and avoid obstacles in your path. Moreover, you can jump over or slide under objects by swiping up or down on your screen. These controls are similar to those of its predecessor.
Bigger Monkeys & New Organic Environments
This game features bigger monkeys that are more determined to stop you. The environment is also more organic and realistic.
The superior graphics and intuitive sound system create a more immersive experience that will keep you entertained for hours.
Template Run 2 APK Unlimited everything
If you want to experience an unrestricted gaming experience, you should get the Temple Run 2 APK latest version download. Here are its special features: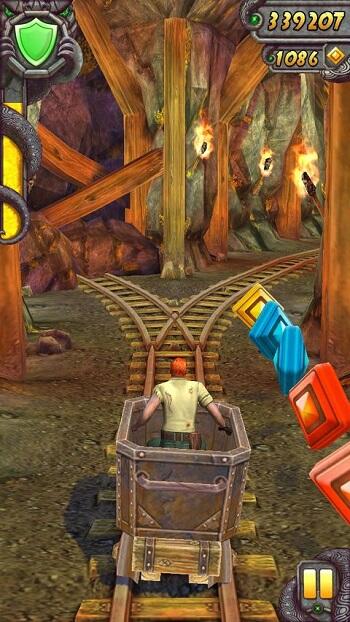 Temple Run 2 APK All maps. This version gives you access to all the game maps and locations. You will also have all the resources you need to unlock new features.
Temple Run 2 APK All characters. The Temple Run 2 APK 2021/2022 guarantees you all the characters, including those from the NFL. You will have an edge over other players with this advantage.
No Ads. The Temple Run 2 APK unlimited everything does have ad-related disruptions.
Temple Run 2 APK unlimited coins and gems. You will have an inexhaustible supply of in-game resources to help you progress faster and easier.
No Bugs. The Temple Run 2 APK all maps unlock latest version is free of bugs that could mar your gaming experience.
Conclusion
Temple Run 2 is a great game that offers plenty of excitement and adventure. It also has simple controls that make it easy to play.
The Temple Run 2 APK 2021/2022 provides an enhanced gaming experience by giving you unlimited resources and access to all game features. You can download it for free from a reputable third-party website.