Download Talking Tom Gold Run APK latest version and come to the aid of Tom. All his gold has been snatched by Roy Rakoon, and it's your duty to chase the thief!
Comprehensive Details about Talking Tom Gold Run APK
Talking Tom Gold Run APK is one of Outfit7 Limited's sequel games to My Talking Tom. This version has attracted millions of players worldwide with more than 100,000,000 installs on Google Play.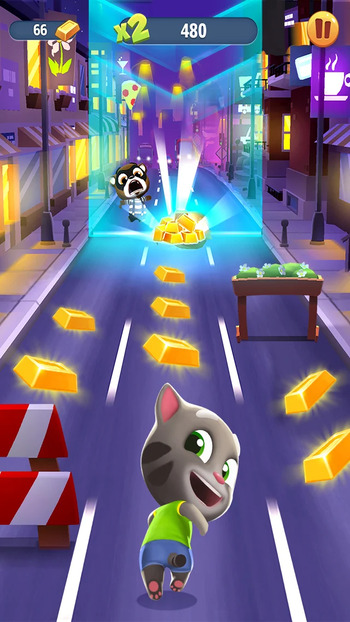 In the game, you will control Talking Tom to run and chase down the robber to retrieve all his gold bars. However, it is not easy. Along the way, there are many obstacles and challenges that you have to overcome.
Overall, the game is responsive and comes with highly manageable controls. You will not have difficulties in learning how to play and win.
An Immersive Gaming Experience
The Talking Tom Gold Run deviates from the other versions. While you can still customize your cat, your primary assignment is to help it retrieve the lost gold.
The game is set in an urban city environment. This gives players a realistic experience, and they can explore many new features in the game.
As you keep on playing, you will unlock other items that will enable Tom to run faster and further. You can use these upgrades to set new records.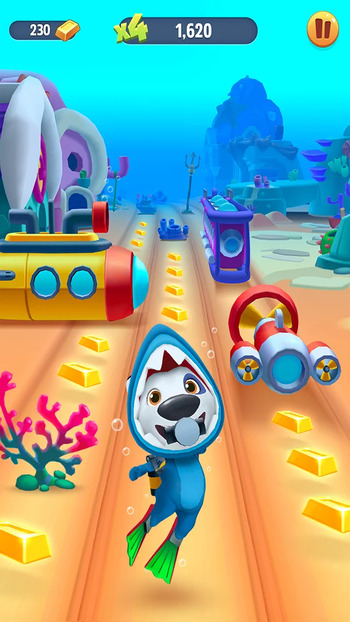 The game is also packed with exciting missions that will keep you glued to your screens. You have to be very careful not to hit any obstacles along the way as this will reduce Tom's speed.
Unique Features of Talking Tom Gold Run APK
Thrilling Chases. In this game, you must chase after Roy, a robber who has stolen Tom's gold. However, your path will not be smooth as there are many obstacles and challenges that you have to overcome.
Time-Trials Sessions. This game features time-trial events that you can participate in to win exciting prizes. You have to be very fast and strategic if you want to come out on top. Ensure that you collect as many gold coins as possible along the way.
Highly Diverse Worlds. This game is set in different worlds, and each one presents its unique challenges. This unpredictability will always keep you on your toes as you never know what to expect next.
Amazing Power-Ups. The game features a wide range of power-ups that you can use to boost Tom's speed. These include the Super Magnet, Rocket Booster, and many others. You can also get these items by completing missions.
Regular Updates. The game is regularly updated with new features to ensure that players always have something new to look forward to. You will never get bored with this game as there is always something new to explore.
Unlock New Friends. As you keep on playing, you will be able to unlock new friends that you can play with. Each friend has unique abilities that you can use to your advantage. Some friends to consider include Ben, Talking Angela, Hank, and Ben. They will make your world more exciting.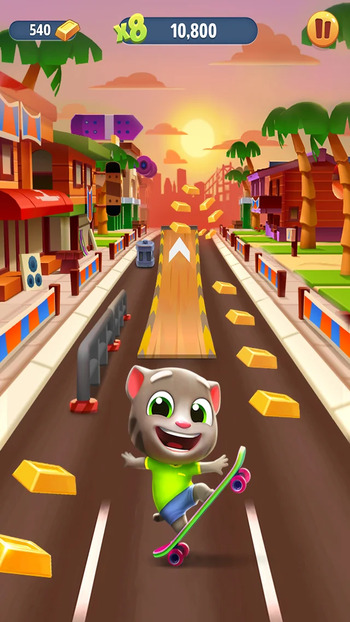 Affordable In-App Purchases. This game features in-app purchases ($$0.59 to $119.99) that you can use to get new items. However, these items are not essential for winning the game.
Simple Controls. The controls of this game are straightforward, and anyone can master them within minutes. You only need to use your thumb to control Tom as he runs after the robber. The game is fully optimized for mobile devices.
Simple Graphics. This game does not feature the best graphics on the market, but they are still good enough. The colors are scintillating, and the animations are fluid. This game does not require a high-end device to run smoothly.
Good Sound Effects. The sound effects of this game are impressively done, and they will keep you entertained throughout.
Customize Your Character
This game has many outfits and accessories that you can use to customize Tom. You can also change his hairstyle, and eye color. This will enable you to create a unique character that represents you.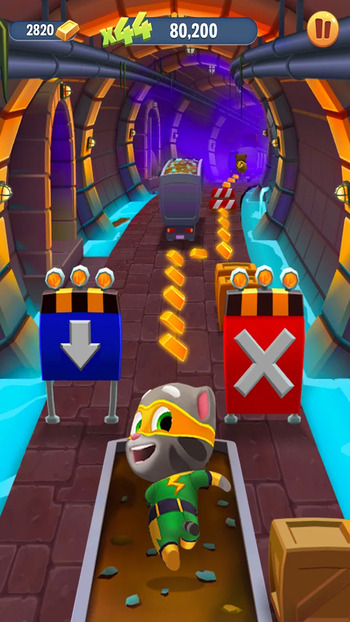 This personalization option also extends to your house. You can change the furniture and decoration to match your taste. This will make Tom's house more comfortable and stylish.
Talking Tom Gold Run APK Download
Playing the game can be boring if you don't have adequate in-game resources. This is where the Talking Tom Gold Run APK 2022 comes in handy. Here are other of its benefits:
Talking Tom Gold Run APK Unlimited Money and Gems. The APK provides you with endless resources to use on your missions. This way, you can quickly get new items without waiting for a long period.
No ads. The Talking Tom Gold Run APK unlimited money and gems version gets rid of all the annoying ads that come with the regular version of the game. This will give you an uninterrupted gaming experience.
Talking Tom Gold Run APK Unlimited Everything. With the version, you will have zero limitations. You will do as you please without worrying about in-game resources.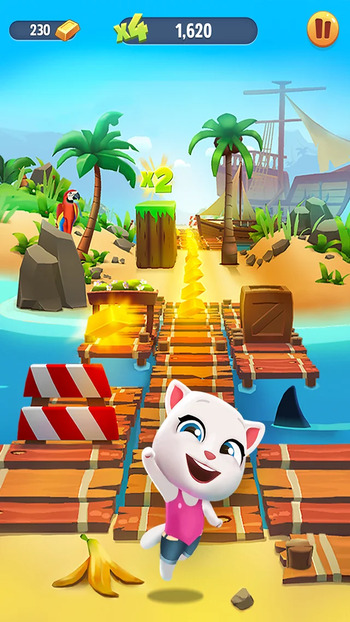 No Root Required. The Talking Tom Gold Run APK unlimited diamond works perfectly on all devices, and you don't need to root your Android device for it to work.
Conclusion
The Talking Tom Gold Run is a rewarding game that you can play for hours. It is suitable for all ages as it does not feature inappropriate content.
The Talking Tom Gold Run APK unlimited coins and diamonds will take your gameplay to the next level. You will have all the resources you need to get new items and progress quickly in the game.