Download Talking Tom Gold Run 2 APK and enjoy the fantastic endless running game. Avoid obstacles and retrieve your stolen gold from the thieves while you have fun.
Brief Description of Talking Tom Gold Run 2
Talking Tom Gold Run 2 is an action and fantasy-themed game where you play as the famous Talking Tom and other characters. Tom was robbed of his gold, so he sets out to pursue the robber and retrieve what rightly belongs to him. You must avoid obstacles and dodge traps to keep chasing the thief as he drops more gold as he runs.
Talking Tom Gold Run 2 was released on the 28th of July, 2016, by Outfit7 limited. It is rated E, meaning everyone can play it as it contains mild fantasy violence and little or no violence, blood or gore themes. The game has seamless gameplay and easy controls that anyone can use. Touch the screen and swipe left or right to dodge obstacles or up and down to jump or crouch. Once you get used to it, you will keep on running with ease.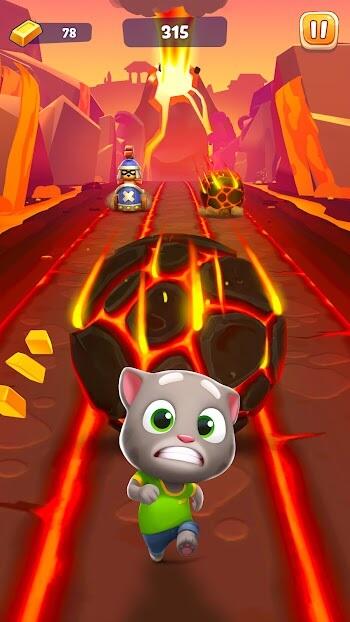 Some power-ups and abilities let you double the gold you get or collect nearby gold bars. The power-ups increase as you keep playing, or through unique unlockable vaults, you can either keep playing to get them or purchase them with real money.
Talking Tom Gold Run 2 is a fun action arcade game with endless play, so you have a long way ahead. The dynamic game offers different abilities and characters that keep you engaged as you keep playing. The game also has vivid graphics.
Fun Gameplay and Concept
Talking Tom Gold Run 2 is an endless running, action-packed arcade game where you are either tom or any other character chosen, and your only job is to keep chasing the robber and retrieving your gold. It starts at a decent pace, but as you keep running, the speed of the robber increases and there are more obstacles to dodge. The good news is that the more than you run, the more gold you accumulate and the higher your chance of setting a personal record in the distance covered.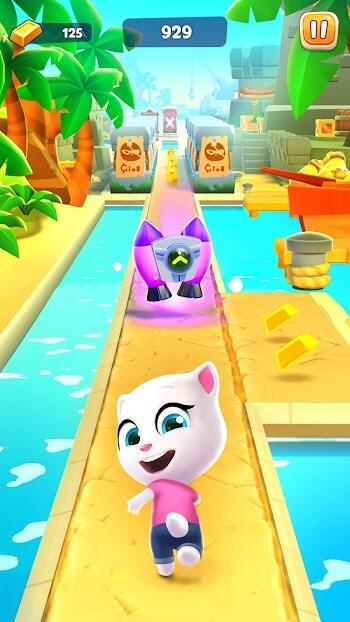 Talking Tom Gold Run 2 offers a variety of abilities that can be used while chasing the robber, which help you to retrieve more gold, avoid obstacles and traps and so on. Using these abilities properly will make the game easier to play. For instance, the most common ability that appears is the magnet, which enables you to attract gold no matter the direction you are running, so you can be running on the right side of the screen and receive gold from the left side of the centre. Another helpful ability that appears is the jump ability. This platform lifts the character off their feet and into the air, making dodging obstacles more accessible. This mainly helps when the game is fast-paced, and jetpacks are used to fly and collect gold in the sky. There are other abilities you will discover as you continue playing.
Note that apart from gold, you have a higher chance of receiving keys as you progress. You get these keys by running far distances, gotten from special treasure chests as your character levels up, or they can be purchased using real money. These keys are used to revive your character when you lose so you can keep on progressing or unlock other playable character outfits in the game. They can also be used for special upgrades.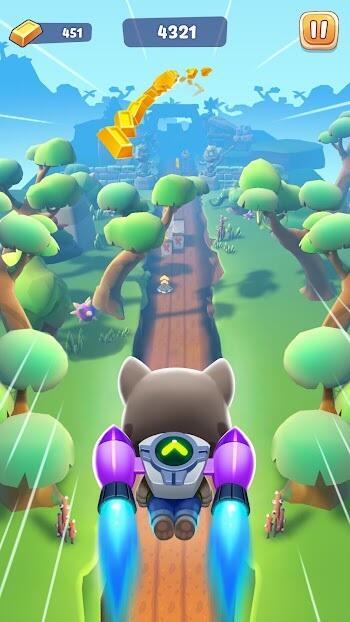 The Talking Tom Gold Run 2 download is available on any smartphone you use.
Game Features to Look Out For
As you play Talking Tom Gold Run 2, you can look out for different fun features that will enhance your gaming experience.
Explore through different time worlds:
The game offers different stages called time worlds where you run through and change the landscape during play, making the user experience enjoyable. There are other areas to play, which all have vivid and eye-catching graphics.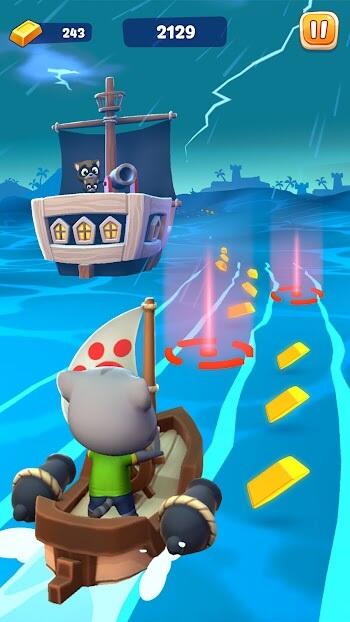 Crossroads, side paths and surprises:
During play, the game offers alternate routes which the player can divert to give different views of the landscape and also receive gold coins and other surprises
New outfits by levelling up during progression, purchasing coins or keys gathered or using your money to get them. New outfits give your favourite characters a unique appearance which is very appealing.
Power-ups and special abilities:
Multiple power-ups and different abilities make playing the game easier for you. Power-ups are used to collect gold coins and mines or avoid obstacles during play.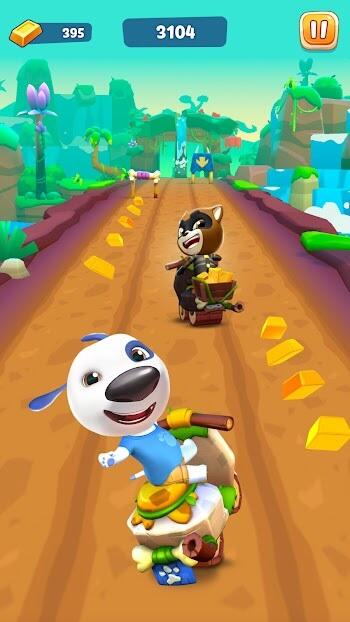 All characters are available for use:
The game offers the chance to use Tom and his friends instantly without needing to purchase or unlock them. There are six characters to use, including tom himself, which you can select.
Toms' gold was stolen not by humans but by racoons. Control Tom and his friends as they chase after the greedy racoons that took what belongs to him.
Conclusion
Talking Tom Gold Run 2 is a fun game that will keep players engaged. Although it's endless, there are a lot of upgrades, abilities and characters that you can use to get the most out of your gameplay. You can do more when you use the promotions and enjoy the game.