Download Swamp Attack 2 APK today to take a break from the monotony of your daily life and play the role of some guy who's about to get killed. It's as fun as it sounds!
About The Swamp Attack 2 Game
Swamp Attack 2 is an action game where the player has to defend a house in the swamp. You roleplay the main character whose house is under attack from an endless stream of weird animals. From crocodiles to beavers, raccoons, and giant mosquitoes, the animal variety here is quite colourful.
Swamp Attack is a tower defense game developed by Hyper Dot Studios. You have an arsenal of weapons available to you for defending the house in the swamp. You can buy anything from shotguns to machine guns, rifles, flamethrowers, and other advanced weapons. You'll also be able to plant mines and launch air attacks.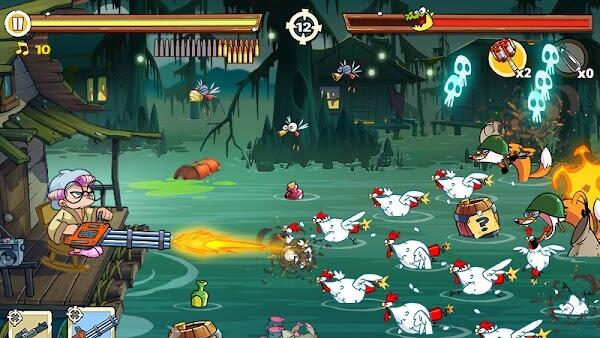 You play a game divided into four chapters with over 70 levels of varying difficulty between them. Swamp Attack 2's gameplay is reminiscent of Plant Vs. Zombies because of how you have to ensure the monsters don't get past you. It combines an action theme with cute graphic elements to give you a nice game.
A Simple Plot
Swamp Attack 2's story revolves around a guy with a big abdomen and a love for country music. The straightforward plot is about this guy's attempt to protect his house from the monsters of the swamp. There are too many of them
You play the role of Slow Joe, a guy with an eccentric sense of fashion, a big face, and a saggy chin. He looks angry most of the time, like someone you would be scared to approach. But, inside, he's a big softy with a sentimental soul and a penchant for a peaceful life. The monsters try to take away that peace, so now, he must respond to their attacks.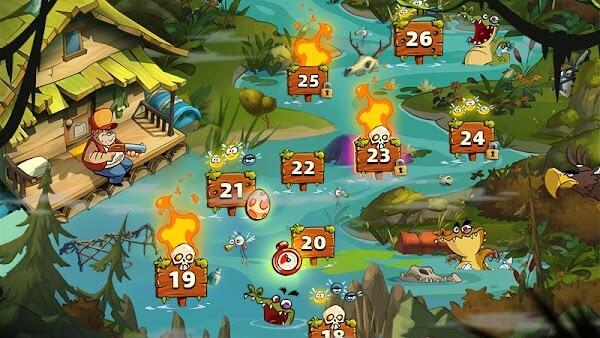 Slow Joe will do anything and everything to protect his home. You must help him achieve this. This is the story. This is the game you play. It seems easy, but survival can be difficult because of how fast the animals are. Also, you have no help except the weapons you yield. Your survival is completely up to your skills, wit and the weapons wielded by the character you play.
Survival Gameplay
Swamp Attack 2 is an intense battle between Slow Joe and the animals. Unfortunately, some don't even look like animals you can name. It would be more accurate to refer to them as strange, aggressive creatures eager to gobble you up. Now, don't want to die and leave the house to them, do you?
To attack, touch the creature on the screen. This triggers a weapon firing in Slow Joe's hands at the monster. You need to wait for a reloading period before you can shoot again. Repeat this until every enemy in that scene is dead.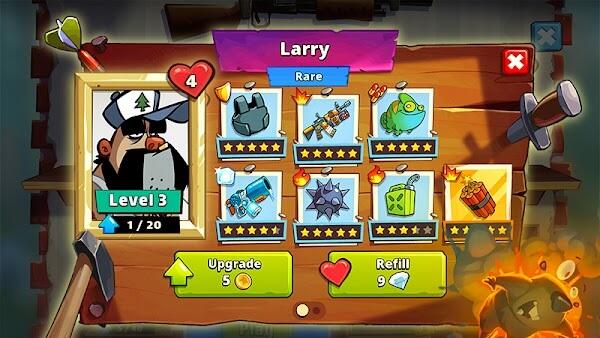 The reloading time is the most annoying part of this game. The enemies are growing in number and moving closer to you and the house, but you cannot attack them because your weapon is being loaded.
You'll sometimes have to give up the fight and surrender because of this issue. Another issue is the variety of enemies. It adds to the fun of the game, but it also makes it more difficult. For example, how are you supposed to deal with rats that can wield guns and shoot at you? With time you'll learn to take advantage of every game feature to keep Slow Joe alive.
Swamp Attack 2 Features
These are the items the developers have placed in the game to keep you hooked and to help Slow Joe survive. The features that make Swamp Attack 2 attractive include: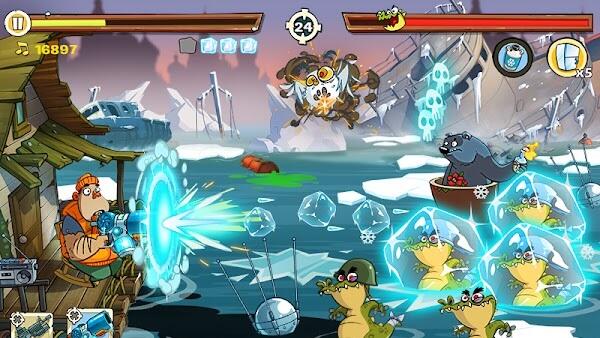 Graphics: Swamp Attack 2 has simple 2D graphics and dynamic colours. Each enemy has a different appearance, looks different from the others, and acts differently.
Sound: The sounds in the game are related to the actions in the game. You'll hear the distinctive cries of the monsters, gunshots, and bullets flying. You'll also get to hear Slow Joe's favourite country songs. They provide a nice break from the chaotic battle sounds and give the feeling of peace.
Levels: There are four chapters and 78 levels. You play the levels in each chapter fighting a different wave of monsters in each one. At the end of each chapter, you have to fight a boss. Some episodes feature UFO attacks. The UFO is the one turning the animals into zombie monsters. It does the zombifying. The UFO attacks in the form of flying saucers that take down Joe's ammunitions and leave him with just his shotgun.
Controls: It's really easy here. Tap on the monsters, and Slow Joe shoots them. With the shotgun, you have to give him time to reload it before firing again. Power-ups appear on the screen to aid your game. Tap on the gift boxes, coins, and ducklings to retrieve the power-ups. Drag them onto the monsters to apply them.
Minigames: Swamp Attack 2 features hundreds of minigames called Quick Missions. They help you make extra money besides the one you get from your usual battles.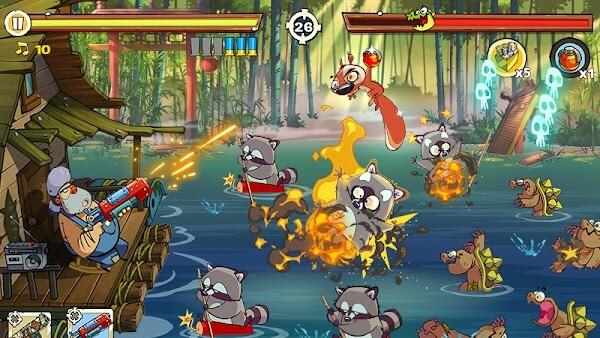 Special Appearances: Slow Joe's family members appear at unexpected times, usually when they are needed to turn the tide of battle in Joe's favour. There's the cousin who attacks using flamethrowers and the uncle who uses the most dangerous weapons.
Swamp Attack 2 is an enjoyable game. The monsters alone are enough to keep you focused on the game and its content for hours.
Conclusion
Get ready to play frantically as you try to figure out the best ways to protect the swamp house and not get killed. Some of the levels will have you extremely frustrated but happy in the end when you manage to pass them.
The wildlife in this swamp has been zombified and rendered crazy. You'll also have to play the role of a crazy character to defeat them. It's not impossible, and this is proven by the number of people who have played all the chapters. Find a way to cause extensive damage with the weapons provided in this game despite their limitedness.