Download Sticker Maker APK to make your own personalized WhatsApp stickers. Express your thought and feelings with customized stickers, thanks to Sticker Maker.
Sticker Maker
Sticker Maker was developed by Stickify as a way to make unique stickers for WhatsApp. The app has an advanced editing toolbox that lets you customize your stickers as much as you want. The app is completely free, and you can make an unlimited amount of stickers.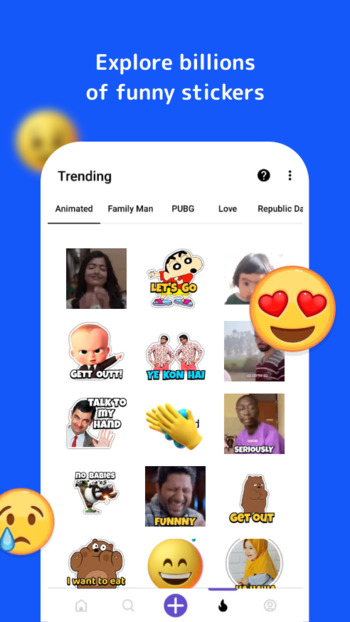 Put your video editing skills to the tests and make animated stickers too!
Get the new Sticker Maker download and start making your own WhatsApp stickers today!
In-Depth Description of Sticker Maker
As the name suggests, Sticker Maker is an app for making stickers for WhatsApp. You can save premade stickers on the app or edit your own stickers in real time!
You can save WhatsApp stickers from your WhatsApp chats and edit them in Sticker Maker. To do this, you need to give stickers maker access to your phone storage.
Decorate personalized sticker packs in the sticker studio. Add text, emojis, hats, beards, etc., to make your stickers interesting and fun.
And the best part is, it's all free. You don't have to pay to make amazing stickers in Sticker Maker.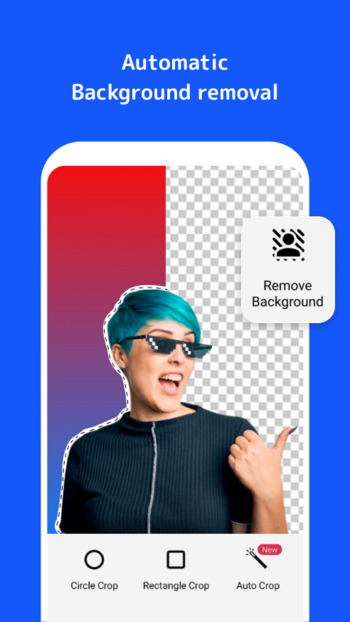 Get the Sticker Maker free download today and edit your stickers for WhatsApp chats!
Features of Sticker Maker
Here are some of the unique features Sticker Maker has;
You can organize your stickers into packs. Group them according to theme or language. It's your choice!
Make animated stickers for WhatsApp. This can be gotten from videos, GIFs,
Form a WhatsApp sticker collection.
Free background eraser. You can insert a new background, either a new picture or a colour.
Crop your videos and photos.
Decorate your stickers with emojis, filters, hats, etc.
Each sticker pack can have up to 30 stickers.
The app interface is very user-friendly. You can easily edit your photos and videos to turn them into stickers.
The sticker meme generator is fun to use.
Get the Sticker Maker 2022 download to access all these features and more on the Sticker Maker app.
Stickers for Every Occasion
Sticker Maker has a variety of stickers you can use for any occasion. Celebrate birthdays and events with a diverse selection of stickers. Express your emotions with the stickers, and share how you're feeling.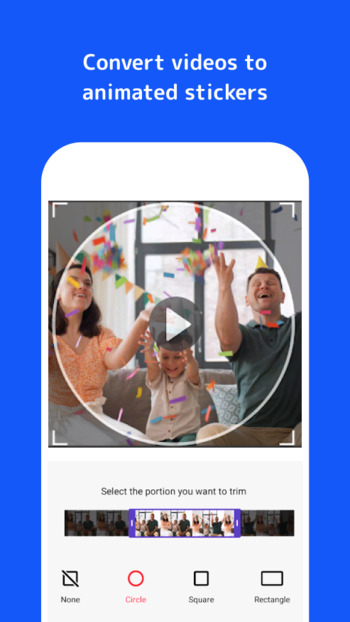 Don't speak English? No worries. The stickers come in different languages for you to choose from.
Here are some of the types of stickers available:
Anniversary celebration stickers.
Birthday stickers.
Customized stickers - edit your personalized set of stickers. Add text, images, and customize font.
Make animated stickers.
Make romantic stickers or love stickers for WhatsApp and share them with loved ones or romantic partners.
Make Brazilian stickers, Hindi stickers, Malayalam stickers, etc.
Download Sticker Maker for Android today to access all the different stickers available.
Ad Free
Not many sites these days offer an ad-free experience. Sticker Maker Pro is among those good apps that allow you to enjoy their app free of ads.
However, to remove ads, you need to upgrade to a premium account. This will ensure you never encounter any advertisements on the Sticker Maker app again.
Create Personalized Stickers
Have you always wanted to make a sticker collection but weren't sure how? With Sticker Maker, you can create personalized stickers for WhatsApp and share them with your friends. Sticker Maker works together with WhatsApp. So you can add stickers made with Sticker Maker to your WhatsApp sticker section.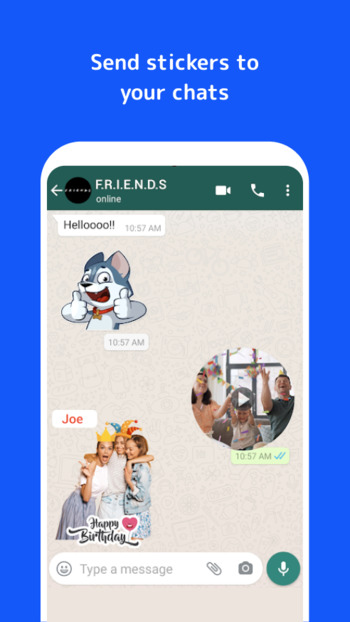 You also share your stickers with friends and families through the Sticker Maker share feature.
Create your sticker collection with Sticker Maker today!
Frequent App Updates
Sticker Maker app premium is always getting updated with new stickers. So, you always have a new collection of stickers to use and entertain yourself and your friend.
Their customer service support is also being improved all the time. You can access their customer support if you have issues with the app, their stickers, or if the animated stickers aren't working for you.
Sticker Maker has a list of trending stickers you can choose from. These stickers are fun and popular.
How to Use Sticker Maker
Sticker Maker is not at all complicated. However, new users may still need some help navigating the app and all its features.
Here's a step-by-step on how to use the Sticker Maker full app properly;
Click the 'create new' button. Choose a picture or video from your phone gallery. Ensure you give the app access to your camera and phone storage.
Once you have your picture or video, you're free to edit it to your preference. You can crop it, rotate it, flip it, or use the full image.
You can erase the photo background using the eraser tool. Move it around and erase what you want to.
Click the 'decoration' tool to add filters, etc.
The 'move' tool lets you resize your images or change their position.
Remember to click save after each edit, or your changes will be lost.
Draw or paint on your sticker using the 'brush' tool.
You can add emojis to your sticker using the 'emoji' tool.
If you don't like an edit, you made and want to change it, the undo and redo buttons are available.
The 'text' tool lets you add text to images and videos. You can change your text color and font.
If you're making a sticker collection, click the plus button to add and edit more stickers. Once you've completed all the stickers in the collection, choose a name, and save the collection.
Export your sticker pack to WhatsApp by clicking the 'add to WhatsApp' button. Now your stickers are free to use on WhatsApp.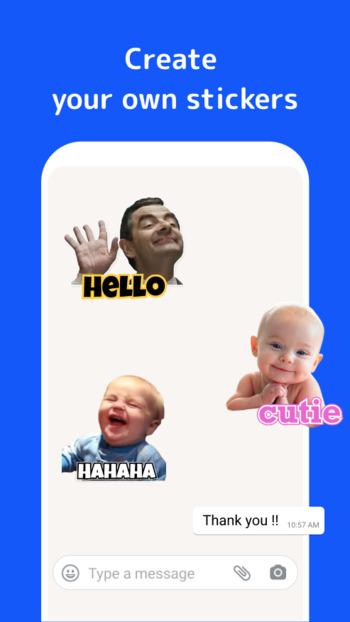 With these steps, you can easily use the Sticker Maker app to make stickers for WhatsApp or save old stickers already on WhatsApp.
Conclusion
Sticker Maker helps you make professional, personalized stickers. You can use them in WhatsApp chats and share them with your friends and family.
Overall, the app is very well done, and the stickers look nice as well. There are lots of tools to help you edit the sticker to your liking.
Download the Sticker Maker latest version and save your stickers for personal use in chats.