Download Solar Smash APK for strategy-based attacks on planets. Solar Smash challenges your chaotic abilities to destroy planets and get rid of their populations.
About Solar Smash
Solar Smash is a peculiar game that mirrors the solar system from a different perspective. Rather than save and preserve planets, it allows players to show their chaotic versions and destroy planets and all their populations. The game starts with planet earth (though you can change to another planet). It's impressive that Solar Smash has up to a 4.8 rating on the Apple Store from thousands of reviewers.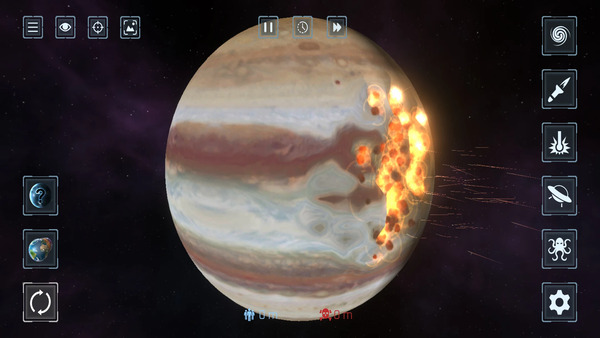 The team of developers at Paradyme is quite creative and innovative, too, because all the planets are designed to be realistic and to scale. However, the orbits can be a little off. The planets also have great 3D designs that add more to your gameplay experience. There are some game controls that you can use to wreck different kinds of havoc on planets and get rewards for it.
Another reason players love the game is due to the real-time access they get to the number of residents on the planet. You'll get statistics of how many residents the planet started with when you began your attacks, how many are still alive, and how many you've been able to get rid of.
You can target areas with lit-up colors to achieve faster goals and land more significant rewards since it reflects the places with the highest population density. The more planets you destroy, the more complex the game becomes, and the more strategic you have to be to destroy subsequent planets.
Create Chaos, Destroy Planets
Thanks to a well-detailed game interface, Galaxy enthusiasts can use their knowledge to good use here because the planets are designed to scale. So, the game's main objective is to attack planets and civilizations across the galaxy and solar systems.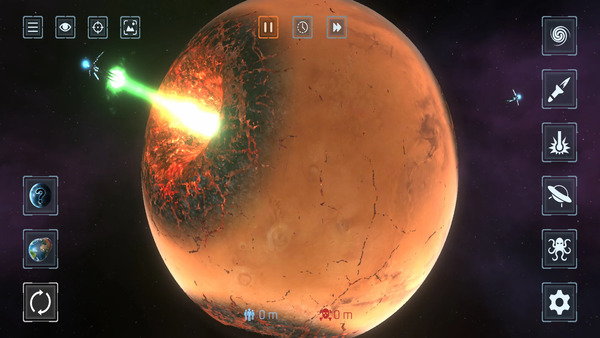 You'll be able to see the number of residents on each planet, which adds to the number of rewards you'll get for successfully destroying the planet. You'll have to conquer a solar system before you can move to another and get to access more extensive celestial bodies you probably don't know of their existence.
The game starts with Planet Earth as your first objective, though you can switch this to another planet if you want. There are a few buttons on the side of the screen that have different types of interplanetary attacks you can use. You have missiles, black holes, solar radiation, laser beams, and colliding two planets until they crumble.
Game Features
Realistic Designs
The game is a work of art and science because all the planets in the game, especially our solar system, are designed to scale. So the earth is designed to be the exact scale approved by national research institutes. They are also positioned in the correct order unless players choose the planets they want to destroy.
3D Animation
The graphics and animations are also Impressive, giving players a 3D view of what the planets look like. You'll also get a 3D effect of attacks launched, such as flying meteorites, asteroids, laser beams, and planet collisions. Once you start attacking a planet, you'll also see the debris as you continue to bombard them till they turn into smithereens.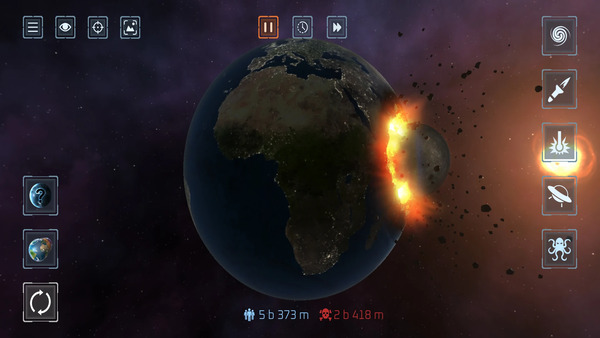 Planetary Smash
The planet smash mode allows players to choose between seven preset planets or make their own. So you, therefore, have tools categorized by four icons on the right side of the screen. There are various ways to attack planets under the Planet Smash mode, and they include:
Natural Phenomenon (Spiral Pattern Icon): You can launch natural attacks on planets with this feature. So you can use meteor showers, black holes, asteroids, and moons as huge balls hurled at the celestial bodies and destroy all or parts of them.
Weaponry: With weapons such as fire explosives, rocket barrage, and laser beams, you can also attack planets. However, it would be best if you were tactical with your attacks to ensure you use the right weapon for your attack.
Aircraft: There are also aircraft attacks in the game, represented by the aircraft icons. So, you can command UFOs, which fly to the planet and attack the residents. You can also set up a planet-destroying satellite above the planet to launch constant assaults on the planets.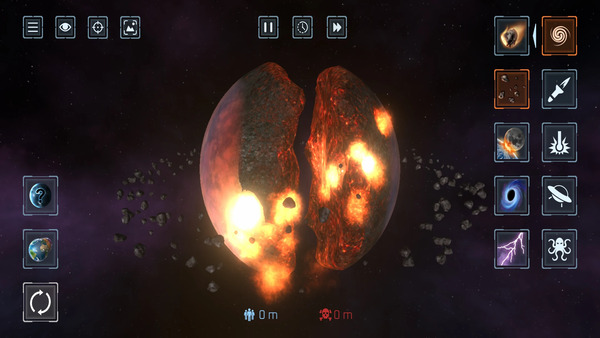 You can have fun mixing these attacking options too. So you can have laser beams wreaking havoc on one side while you have a fleet of UFOs on the other, speeding up the process and adding to the fun.
System Attacks
Rather than facing planets, you can attack a whole solar system too. However, this game feature doesn't provide as much fun as the planet attacks. Set the sun and planets in motion in any direction you want and release it to set all planets in collisions, creating a cluster of collisions that destroy all the planets.
Players can also tap on the icon in the upper right corner of the screen to enter the orbital model. This mode shows the orbital pattern of the planets, so you can use this to change their course and offset the balance. Then, like planet smash, you can reset your progress with the rewind icon and restart the attack.
Weapon Customizations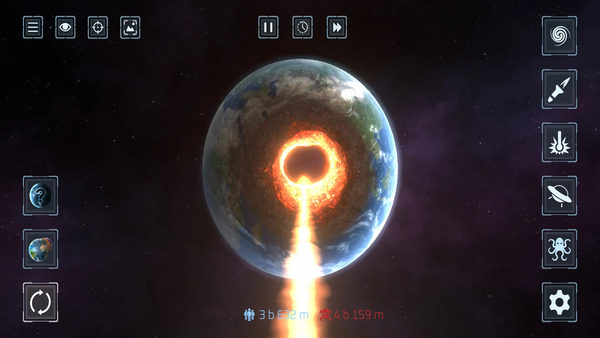 When you choose weapons to attack with, you'll notice a cog at the bottom right side of the screen. So, this helps you make modifications to the weapon in use. For example, if you're attacking with a laser beam, you can increase its size and alter its color. You can also make changes to meteorites by making them bigger or travel at a faster speed and watch the kill counter increase sporadically to mark your killing spree.
Conclusion
Solar Smash is an interesting game with ridiculous chaos but exciting gameplay. It's entertaining and has good visuals and animations to keep track of the scope of your attacks. It also has a large pool of games to play, so you can conquer various planets in your solar system, then proceed to other solar systems in the galaxy.