Download and install Slap and Run APK and enjoy this chase game where you will slap pedestrians on the road and run from them. You must reach the finish line to escape.
About Slap and Run
You must have heard of Voodoo if you are a veteran gamer. Voodoo is a popular publishing company creating addictive but simple mobile games. This company has recently started stirring up the gaming community with a new but incredible gaming product called Slap and Run. You can immediately tell the gameplay from the title. You are expected to perform two actions in the game – 'slap' and then 'run.'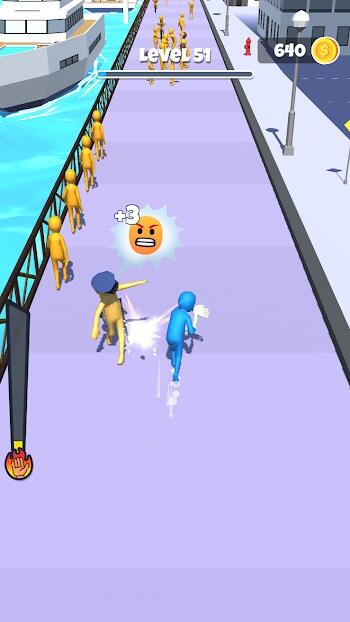 Slap and Run is an exciting game that assists players in relieving stress. You must control your flap to run as fast as possible, confront many people, and overcome challenges to arrive at the finish line. With all the intention of letting out anger and stress on a stressful day in your life, the game's major goal is for you to slap a lot of people. Sounds funny, right?
Slap and Run has a pretty simple gameplay, as common with all Voodoo products. You just have to swipe across your device's screen to control the character's movement and enjoy the game's fun. Because of its relaxing and fun gameplay, Slap and Run has attracted ten million downloads on Google Play Store alone. You should try playing this game to discover why it is a delight for many gamers.
Slap and Run is an ideal game for both children and adults. A satisfying, rewarding system pays you back for all your effort. Slap and Run is probably the right game for you if you are looking for judgment and speed.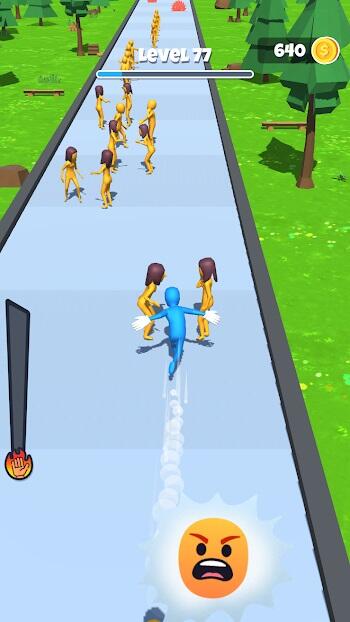 Simple Operation
Your character in this game is a blue stickman wearing white gloves. Your mission is to move the stickman closer to the crowd and slap people. You use the touch operations to navigate the character left or right. When you get close to the yellow one, your character slaps them without provocation.
Tools to Help Characters
While you are running from those pursuing you, there will be power-ups. The first is the acceleration line – a couple of blue bars. When you run into that line, the speed rate doubles incrementally, helping you to run as fast away from pursuers as possible. The cogwheel is the second tool that serves as both a support and an obstacle. If your character hits the cogwheel, he will die. But if you utilize the tool well by running close to it, the cogwheel will assist you in killing those pursuing you.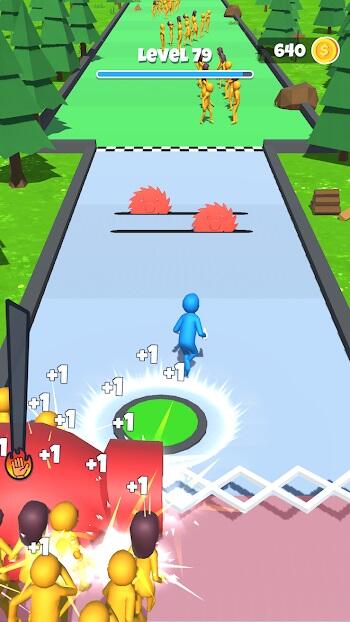 Explore New Levels
After carrying out the job and reaching a certain number of people at a level, you will supersede that level. If you cross the finish line at the end of the road, you will have no more chaser chasers behind you. After crossing the finish line, you can freely slap the rest of the faces and kick a golden stick to find out how much the reward will be. The farther you throw the golden stickman, the greater the reward you receive. When you finish one level, you will come to another level.
Key Features of Slap and Run
Pass the level and discover several other interesting levels one after the other with increasing difficulty
Receive bonus points when you arrive at the finish line. After getting there, you can kick the yellow stickman to receive more rewards.
The cogwheel is useful and dangerous, depending on how you approach it. First, control your movement smartly around it to take advantage of it; then, it will assist you in getting rid of chasers.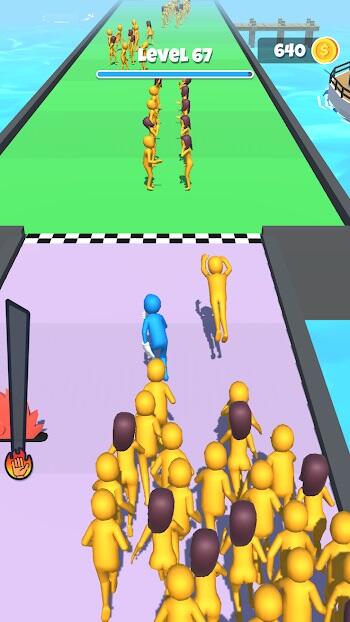 Tap on the green acceleration line to double the character's speed, significantly outrunning the pursuers.
Control the movement of the stickman to the left, then to the right to be close to the people on the road. Then, you just have to slap them in the face and run away.
An Immersive Gameplay
This game has fascinating gameplay that will keep you stuck to your device's screen. You are challenged to slap unsuspecting pedestrians. Naturally, when you slap people this way in the real world, they will come after you. The same happens in this game. The people you slap will pursue you, and you are meant to run from them as fast as possible.
Unfortunately, most of your pursuers won't easily give up the chase. They will continue to run after you relentlessly. So, you must always be on guard and use tricks like moving in different directions without notification to ensure that the pursuers don't catch you.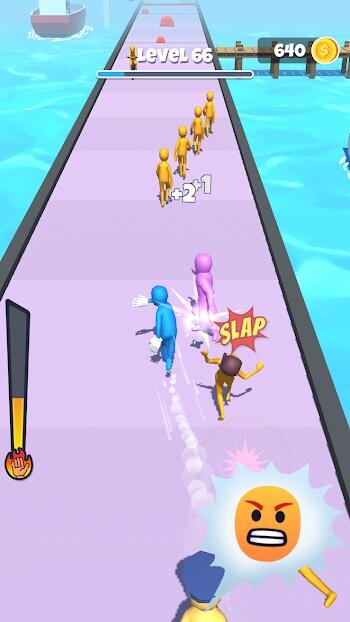 Make sure you slap as many people as you can. You will be rewarded with a point for every person you slap. You can use these points to unlock more interesting gaming features when you accumulate them. This is why the game is such an intriguing one.
While the game continues, you will face tougher challenges and must exercise more creativity in how you evade those chasing you. Sometimes, you will have a determined mob chasing you and probably gaining on you. Your task, therefore, is to arrive at the finish line you are caught.
It will be wise to use your environment to your merit and always remain ahead of those pursuers. Failure to do so will result in losing the game.
Exciting Extras
This game contains many entertaining aspects that will keep you attached to your device's screen. These extras include entertaining sounds, funny movements, and colourful backgrounds.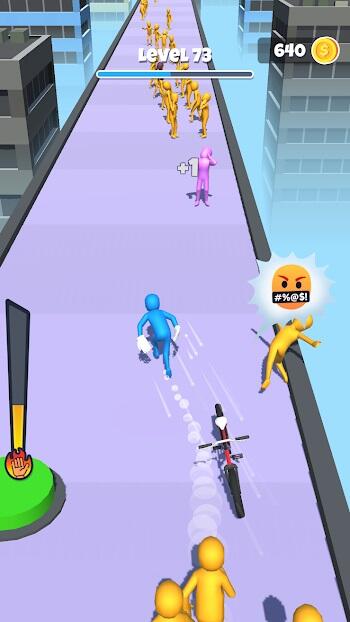 Also, you can earn several unlockable features as you go further in the game. These extras will make the game even more exciting, and they can serve as a motivation to make you play longer.
Simple Graphics
Slap and Run's graphics are not too complicated or too bright. The characters are professionally created, and the backgrounds are attractive and colourful. In addition, you will be amused by the sounds because they perfectly fit the game's general theme.
Last Take
Slap and run is a highly entertaining and addictive game. This game will keep you immersed in it for hours. However, ensure that you clear your schedule before you begin this game because there are several unlockable features and unlimited levels that will suck you in.
In addition, there is easy control to playing this game, and the simple graphics add to its enjoyment.