Download Scarfall APK and come aboard on the battleground of resilient fighters. Harness all of your wit and weapons to remain the last surviving fighter among many other determined characters.
All About Scarfall: The Royale Combat
Scarfall is an epic survival game involving combat with other game characters in a controlled environment, aiming to remain the last fighter standing. XSQUADS Tech offered the game, released on the 25th of October, 2019 and made in India. It has gained popularity after its release, majorly among Indian-based gamers.
It can be accessed on mobile devices with Android 6.0 OS and above. Unlike other popular survival games, the game can be played in both online and offline modes, although it is basically an online battle game.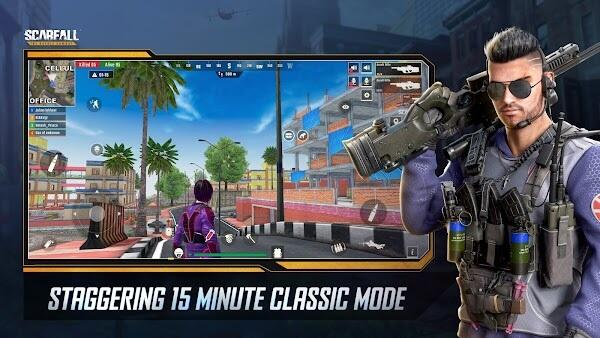 Scarfall has many modes, each with a different environment, time-lapse and conditions, so you can select the best mode for you at any time. It employs realistic 3D graphics and animations, and the controls are similar to those used in other popular 3D mobile survival games. For gamers who are well acquainted with battle and combat games, it will be very easy to get the hang of the logistics of the game, although Scarfall comes with its own unique rules and characteristics.
Diverse Game Modes
There are three modes available, namely Classic, Survival and Arcade Modes.
Classic and Survival Modes have the same rules but in different environment settings, and the time-lapse is different, with the Survival mode being longer. The number of lives is also different.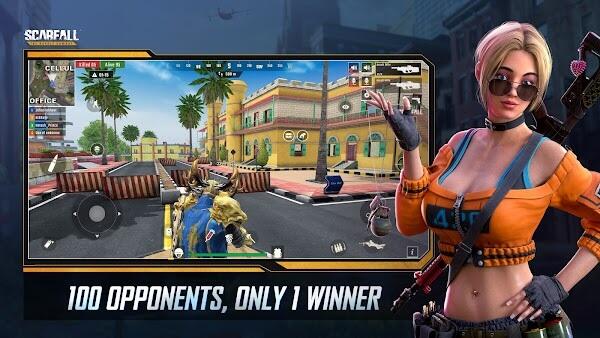 Under Arcade mode, game modes include Team Death Match, Maze of War, and Duel of Death. In addition, arcade mode is generally shorter, so they are ideal for short-time matches. Arcade modes also have smaller maps than Classic and Survival modes.
The above modes can be accessed on the online mode. On the offline mode, however, there are bot players that you can compete against on three levels which are easy, medium and hard. The skillfulness and agility of the bots increase with the levels, as the bots on the easy levels are relatively slow and easily defeated.
Overall Gameplay
Scarfall is generally a very exciting game and is sure to keep you on your toes. The game requires wit, skill and a good sense of direction. There are many modes and options to play in, and the makers have distinguished it from other battle royale games by ensuring the game can be played anywhere, at any time, and under most conditions. For example, you may decide to create a personal private server while playing or connect to an already existing public server. There is never a dull moment or period of inaction, so you can be sure to always come aboard to action whenever you play.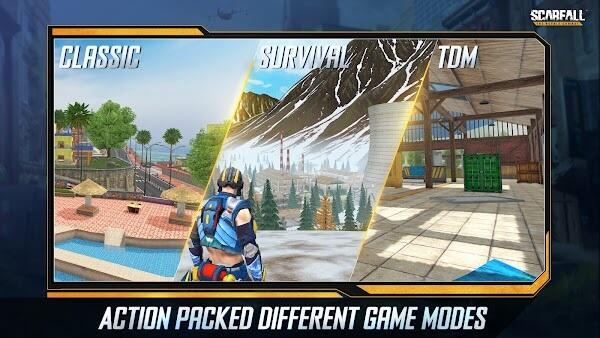 So essentially, this is how the game is played. It begins with the player in a helicopter, and you can control the helicopter to move in any direction and land in any location you desire. After landing, the real action begins as you begin to encounter fellow fighters. The aim is to eliminate all other fighters to remain the last fighter alive. There is a map available for every mode of choice that clearly shows the fighting environment, and some modes have several maps.
As the fighting continues and more players are eliminated, the fighting area shrinks so that the last remaining players do not spread out too wide but remain in a closed environment. The player can also fortify themselves with weapons and equipment by looting those that may have been left lying around by other fighters that have or have not been eliminated.
The graphics are high quality, with realistic animations and sound effects to implement the battleground feel. The targeting and shooting system is also top-notch and enables effective elimination. There are variant numbers of lives for different modes, and a revive system is available in the Arcade mode. The game can be played individually or as a team-up with other players. The fighting area shrinks regardless of the mode being played in or whether the game is played individually or as a team.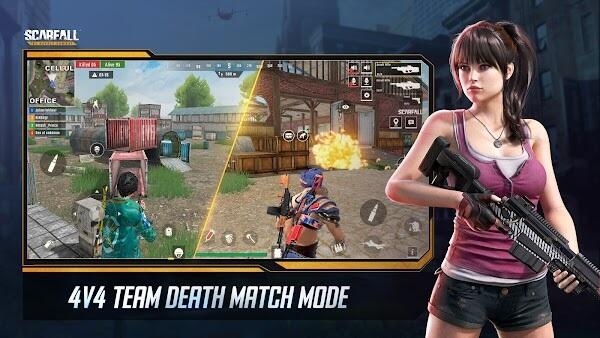 Scarfall also allows for competition among players in different places; however, depending heavily on location, majorly Asian players and parts of Europe based on proximity, accessibility and other factors. It can take up to 50 players for each game.
Amazing Features of Scarfall
Scarfall has many fantastic features to spice up your gaming experience. They include:
- Interactive gameplay with thrilling adventure.
- Realistic graphics, motion and audio.
- High compatibility with all mobile devices and no incidence of bugs.
- Advanced and dynamic AI system on online mode.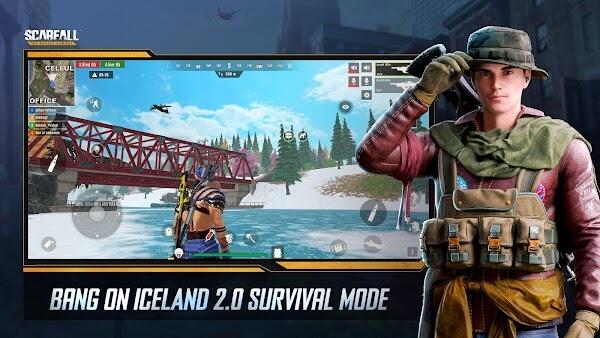 - Engaging bot players on offline mode.
- Can be enjoyed as multiplayer to increase thrill and engagement.
- Players can challenge their friends directly by engaging them in a private war room created by themselves.
- Scarfall also has a befitting weapon system, containing fighting machinery ranging from pistols, rifles, snipers and many more. Basic weapons are provided initially; however, more and more weapons are unlocked as the player advances in levels. Every weapon comes with its unique features and is thus classified. Therefore, selecting a weapon that will be most beneficial for your gameplay depends on the mode, level and whether it is being played singularly or as a multiplayer. The game also provides armour vehicles and speed booster cars that help players commute faster while playing.
Missions and Rewards
There are many missions to be completed and achievements to be attained while playing. The player is rewarded with money, new equipment, fighting gear or weapons for completing these missions. In addition, money from completing missions can be used to purchase or rent bigger weapons or equipment.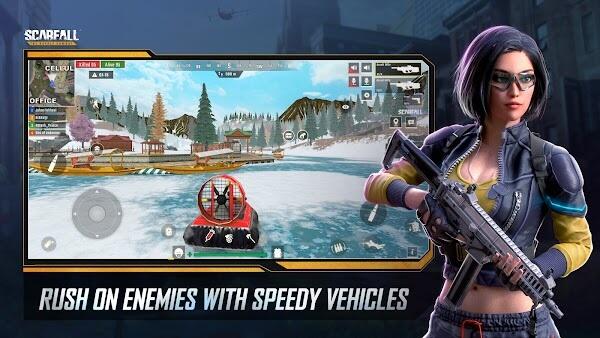 There are also fun prizes to be won when the player attains certain achievements that are usually not difficult to reach. These prizes include keys to open certain vaults that also contain huge rewards for survivors. In addition, Scarfall makes provisions for daily bonuses and challenging 24-hour missions to encourage and boost the players.
Conclusion
Scarfall is an amazing game and a great way to pass the time if you're looking for some good thrill. It has no bugs and viruses and is compatible with almost any device. It isn't very different from popular battle royale games, except for its unique features, which make it much more accessible. The controls are easily understood, so anyone can quickly get the hang of it. So join many other gamers around the globe today and compete in this exciting combat game.


Join Telegram Group
Download Scarfall APK and come aboard on the battleground of resilient fighters. Harness all of your wit and weapons to remain the last surviving fighter among many other determined characters.