Download Rovercraft APK, an exciting game that gives you the freedom of building your cars while you compete on different planets. Start your racing journey today!
Rovercraft
Have you ever wondered what it would be like to design your own vehicles in racing games? If you have, look no further than Rovercraft.
Rovercraft is a car design game. Depending on the type is cars you make, you can become an excellent driver within the game. Climb the ranks and carve a space for yourself in the Rovercraft leader boards!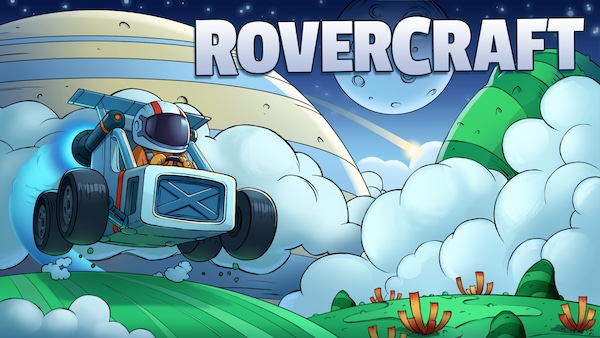 Don't get too excited, though! Bad car designs could also kill your character or lead to falling down holes in the road.
You can spend as much time as your want building your car and finally driving it.
Game Description
Rovercraft is an online driving game. It was released in 2016 by Mobirate.
Players are free to design their vehicles whenever they want. Once you have a car, you can drive in different locations and planets.
Game graphics are also brilliantly done. The animation style is fun to look at and attractive to new players. The animated drawings under each setting are also very well animated.
Rovercraft currently has three game modes; planets, challenges, and tournaments.
Rovercraft is an amazing game because you design the vehicles yourself! The success of your player and how well they drive depends on you!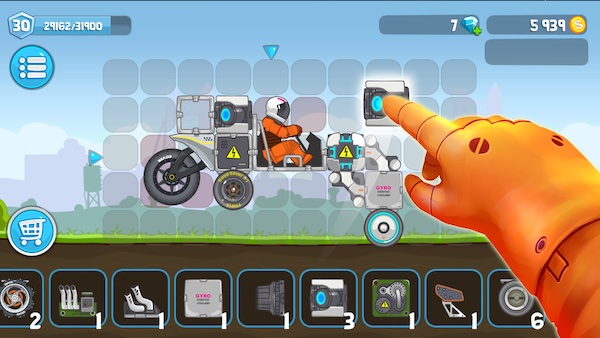 You can buy car parts in the store or win them in the game and use those parts to create your dream car spec.
Get the Rovercraft APK download and start playing this amazing 2d driving game.
Features of Rovercraft
There are over 14 different planets across the galaxy you can choose from. These planets are unlocked gradually as you play.
There are lots of items for you to add when making your car.
Amazing HD graphics that make the game more engaging.
Realistic vehicle designs.
It's very easy to build vehicles in the game, so younger players will also enjoy crafting their vehicles.
You can win collectibles when you play.
Participate in tournaments with other Rovercraft players
Game Modes
As mentioned earlier, there are currently three game modes in the Rovercraft racing game. These are planets mode, challenges mode, and tournament mode.
Planets mode is when you're allowed to drive your vehicles on the roads of different planets. This is exciting because the animated graphics on each planet is very well done and fun to look at. Currently, only 14 planets are available. Rovercraft has mentioned plans to increase that number over time. The planets presently available include; Earth, Mercury, Venus, Mars, PSO318, Charon, Uranus, Neptune, Cyber931, Pandora, Polaris, Steamcraft, Enceladus, and Comet.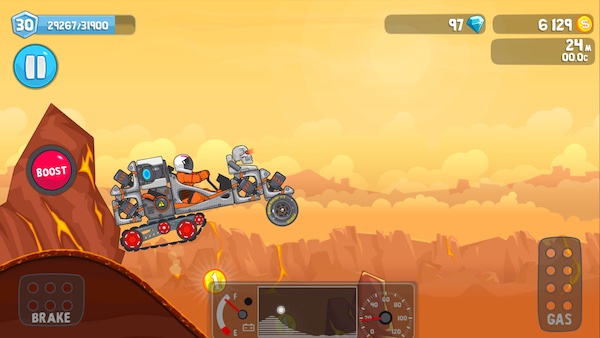 Challenges mode involves giving players a set of challenges they need to meet while playing. When they complete these challenges, they are awarded points, coins, car parts, or special features like Rovercraft money glitch, Rovercraft unlimited money, etc. Challenges are a great way to build up your collectibles. Just make sure you always try to win.
As the name suggests, tournament mode involves participating in in-game tournaments with your fellow players. With tournaments, there might be a special section of the game unlocked for you to compete in. Players then have a limited time to meet the specifications of the tournament. You need to meet all the requirements before other players to win.
Tournament mode always promises exciting and competitive gameplay as you're up against fellow Rovercraft players.
Design Your Vehicle
The best part of Rovercraft is that it allows you to design your vehicles. This sets it apart from other online driving games and makes it more exciting to play because you're driving what you made. Players are free to make the craziest and most unique car designs and test them on the road to see how well it fares.
If your car is unable to last, you can redesign it and make some small changes to make it better.
Rovercraft GamePlay
The main point of Rovercraft is building and designing your car, then driving it. Driving the vehicle helps you win points and money you can use to buy things from the game store.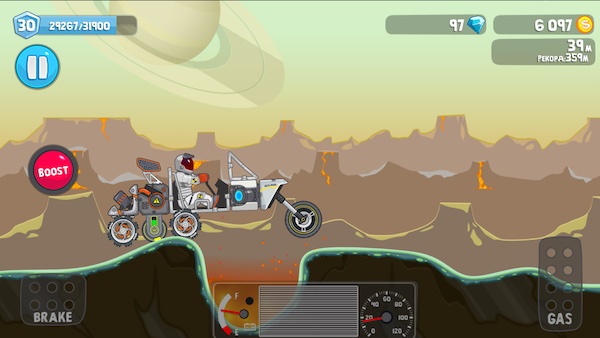 The simulation graphics in Rovercraft are impressive. The car perfectly mimics the features of real-life vehicles. It bounces when it reaches bumps, lurches, and shakes when it goes off hills. These little details make the game lots more fun to play.
The game speed is not the fastest, but it's not slow or lagging. The graphic details within the game are very well executed.
Online Multiplayer Mode
With the multiplayer mode activated, you can play against other Rovercraft gamers and compete for different prizes. You can take part in tournaments or participate in competitions. Competitions are usually held on the Rovercraft game official Facebook page, so you can follow them there. For now, only iOS users can join the in-game community.
Multiplayer mode is fun as it allows you to enjoy Rovercraft racing with other players.
Players with Rovercraft best-designed cars often get awarded prizes, collectables, or new car parts they can use to make more vehicles. Sometimes, they may unlock more achievements as well.
Titan Showdown Tournament
The Rovercraft Titan showdown is one of the most difficult tournaments to win in the game. You have to design your vehicle very well to withstand Titan's fire and hard surface.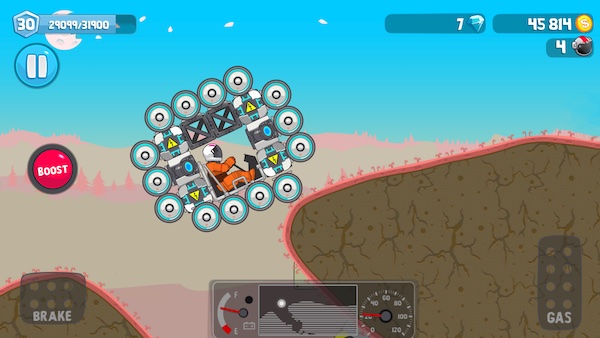 Players have lots of fun trying to win this tournament or get past their high score. It's definitely something you should try once you download the game.
Conclusion
Rovercraft is a great game with thousands of unique features that make it even more interesting.
It puts your character's success in the player's hands by allowing you to design your vehicles! Travel across the galaxy and race on multiple planets. Win challenges to get collectibles and more parts. The game is engaging and is great for gamers of all ages.
Fans of racing games will definitely love this game and should consider giving it a chance. Download Rovercraft today and start crafting your vehicles from scratch!