Download and install Real Driving Sim APK to learn how to drive effectively and well. This game teaches you all you need to know about driving real vehicles in real life.
Important Details about Real Driving Sim
Real Driving Sim is among the best driving simulation games right now. It was published by Ovidiu Pop, a publisher generally known to people familiar with driving simulation games. Ovidiu has created games such as Driving School 2016, Euro Truck Driver 2018, Truck Simulation USA, Coach Bus Simulator, etc.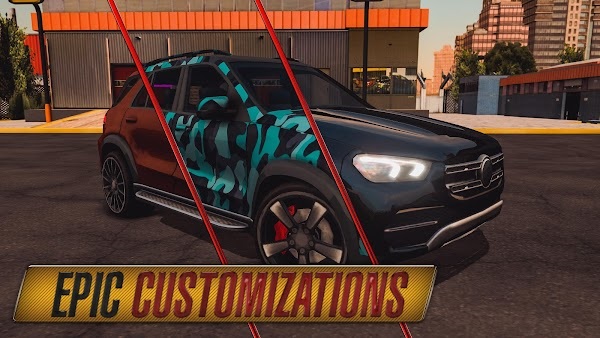 This is a racing game but mostly focuses on the player's driving skill and experience rather than the tough races like the Asphalt series. You do not have to drive very fast or at breakneck speed, and you don't have to struggle to be the first to reach the finish line. It is a game perfect for players that prefer relaxing by driving. With several cars and cities, you will gain a travel ticket and the chance to drive the most popular supercars.
Gameplay
You should not expect competition or some intense challenges. Your major mission in Real Driving Sim is driving to where the game requires you to go. Sometimes, you may need to meet some added requirements, such as keeping the car running at 100km/h or making a three-time drift while driving.
After you have completed the task, you will earn some money. The amount of virtual money you earn is largely based on where you complete the mission in the time you allocate. The more time you spend on the journey, you earn less virtual money.
It is not all players that are concerned about the tasks. There is a map that features over 20 towns and several different countries. You can use the map to explore wherever you like. That can be more satisfying than completing the game's missions. You have to decide between exploring the view of the lovely suburbs and arriving at the location the game expects you to reach.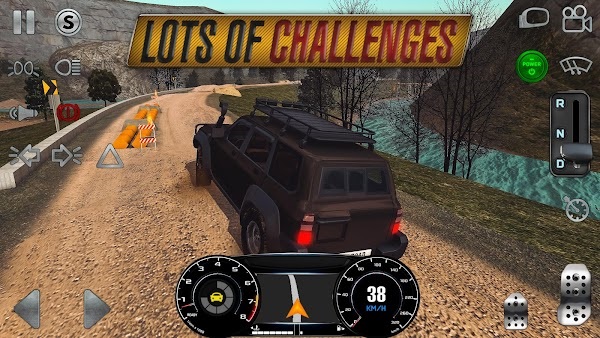 Controller
The process often lasts many months to a person with enough experience and knowledge of driving real cars. It is often harder to drive simulation games than regular racing games. Each time you play simulation games, mastering and memorizing every control key is essential, then discover how you can combine buttons to navigate the car to move like a real car.
This game offers four modes: using the joystick, applying the arrow buttons, making use of the steering wheel, and tilting the device. Those who want to feel like they are driving realistic cars in real life should choose the steering wheel. The brake and accelerator pedals occupy the right side of the phone screen. The map, speedometer, and fuel meter sit at the bottom of the screen.
The fuel meter is an important aspect of driving. There are several gas stations on the road, and they are also featured on the map. Always ensure that your car has enough fuel to take you to the next filling station.
Over 80 Luxury Cars
The game contains more than eighty cars you can choose from and add to your garage. Many trendy and modern cars are waiting for you, such as SUVs, off-road cars, supercars, convertibles, etc. The cars of Real Driving Sim are modeled after real-life, well-known brands like McLaren, BMW, Mercedes, Ferrari, Lamborghini, and so on. This game allows you to explore the world with the car you love most.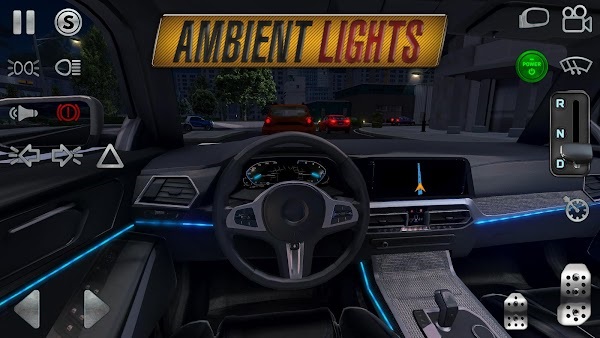 Custom Engine
Furthermore, this game allows players to customize their vehicle's interior, paint color, engine, and exterior. Several advanced options are available for lovers of cars. You can pick your favorite manual transmission between Clutch and H-Shifter. Numerous available adjustments are at your mercy.
High-Quality Graphics
Generally, for driving simulation games, the graphics are what makes things real. The graphics motivate the driving experience of players, and this game has done an awesome job with its graphics. With high image quality and realistic graphics, Real Driving Sim gives players the feeling of navigating real cars. In addition, the control system is pretty impressive and smooth. Also, weather effects like day and night, snow, fog, rain, and sunshine may make your journey even more challenging.
The game's sound is also quite impressive. There are great sound effects that bring you the sound of the wheels when the car moves and the engine when you start the car or when it is in motion. A high-end phone would be appropriate to get the peak experience of these sounds.
Parking in Various Parking Parts
Some that are learning how to navigate a car effectively and are interested in improving their skills in parking at bus stations should not eschew this game. This game will help players practice controlling the vehicle, including turning the vehicle to match the parking lot distance. In this game, you will learn many important lessons and get a considerable level of experience. If you progress with this game, you will succeed more in driving real-life vehicles.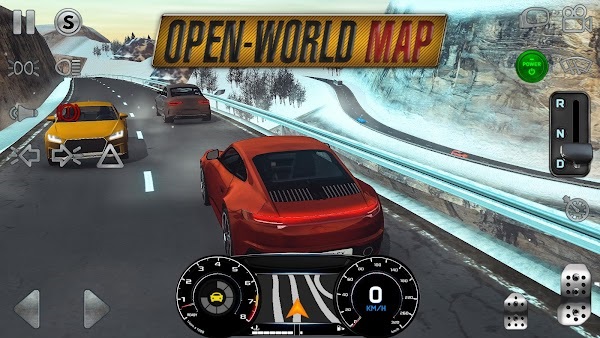 About 80 Play Levels with Different Locations
Real Driving Sim will provide you with almost 80 different levels, from the easy to the complex ones, according to how much you can navigate the vehicle. Each level will match up with the challenging and fascinating screenplay. Also, you will experience several locations with varying parking lots. You are free to give yourself the most suitable mode to be comfortable, entertained, and happy, according to your choice.
Chat with New People
When you participate in Real Driving Sim, you will be given a chance to interact and chat with several new people. You can view your friend list in the most basic way. At the end of every level of play, you will have a fascinating gaming moment with your friends. Apart from playing, you can also assist each other by teaching one other tough gameplay and control methods. Also, you can provide and receive suggestions or give each other parking shortcomings to improve.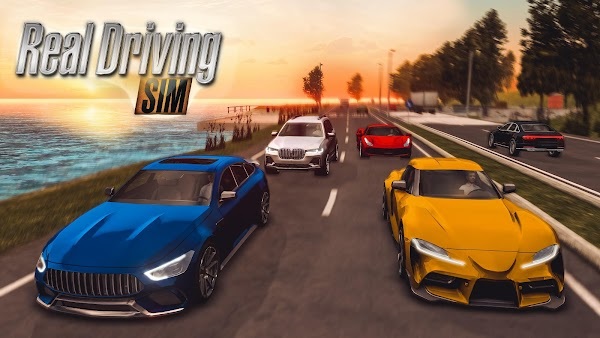 Final Thoughts
Even though it is not uncommon to drive simulation games today, this game understands how to make you remember what name it bears. This is beyond a regular game and teaches you several lessons that will come in handy when driving real-life vehicles. For example, if you are sure you are an excellent driver, driving in fog conditions or at night can pose a serious challenge.


Join Telegram Group
Download and install Real Driving Sim APK to learn how to drive effectively and well. This game teaches you all you need to know about driving real vehicles in real life.