Download Power VPN APK to access restricted sites or improve your online gaming experience. It has a simple user interface that's easy to use.
Power VPN
Power VPN app is an Android application that runs smoothly on Android devices. Power VPN Free VPN is a free virtual private network tool for masking a user's IP Address to grant users free access to websites restricted in their region.
It does not only provide free Internet surfing but also improves browsing speed. Power VPN Free VPN has dozens of server locations worldwide, so users can select from various VPN locations.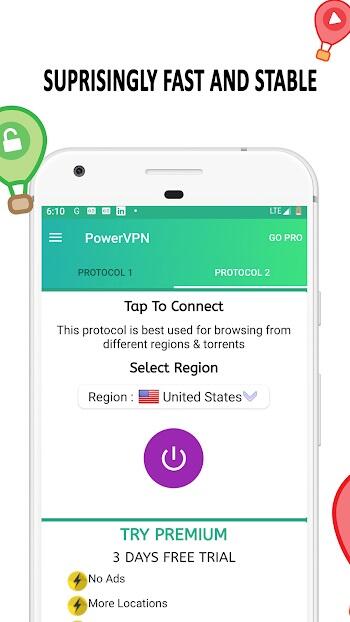 Many users and platforms highly rated the power VPN app for easy use and quality web surfing experience. Asides from viewing web content, Power VPN is notable for being a great tool for online gaming. Thanks to its strong network connectivity, it provides unrestricted regional access to gaming platforms and glitch-free gaming.
How to use Power VPN
Power VPN is an easy-to-use tool for gaming and web surfing. As they open the Application, users need only touch the Power/On button to activate VPN. An icon shows at the top of the screen when VPN is on. Suppose the user has a specific VPN location in mind. In that case, they can select from various places on the app by tapping on the select country/region option and scrolling through the available VPN regions to choose one. Some listed countries are the USA, Australia, UK, Netherlands, Germany, etc.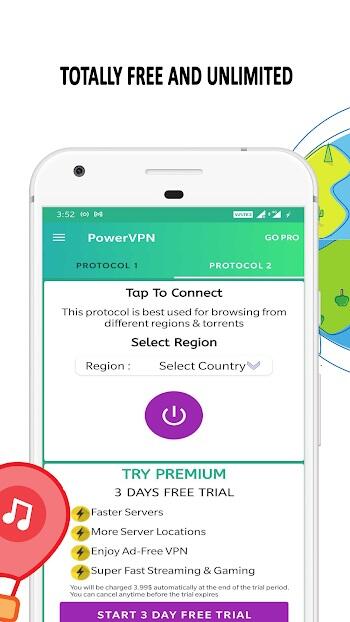 A Menu icon at the top right-hand of the app lists a few other options. One is a VPN browsing speed check, where users can check the Browsing and Download speeds of the VPN at any time. You can also check the VPN browsing speed at the bottom of the app. The Menu icon also has an option for choosing which phone Apps should be able to utilize the VPN, should users wish to select some specific ones.
Is Power VPN Safe
Power VPN does not require any login. The Power VPN traffic is encrypted as well. It is an application that utilizes anonymous user identities to protect user information. It is considered a relatively safe application by most users as the VPN protects against DOS attacks on user devices, i.e., it prevents malicious programs or viruses from infiltrating user devices.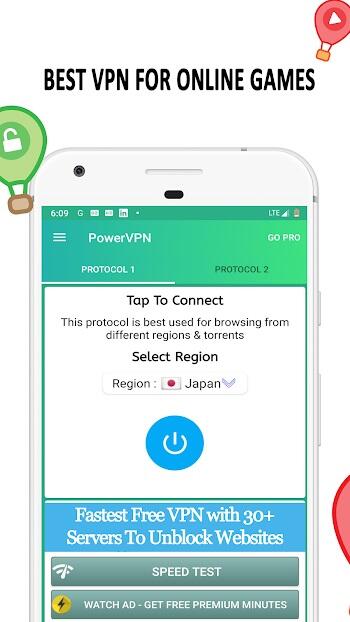 The power VPN App is a trusted application by most users and maintains privacy policies on user data. Since all connections are encrypted, user locations are safe as well.
Uses
Power VPN is a free VPN tool that allows users to access restricted web content in their region. Additionally, it boosts internet connectivity so users can stream or download content without delays. By connecting web pages to the fastest available servers, Power VPN can increase browsing speed, so there's no buffering when users stream videos online. With Power VPN, users can also access Applications with regional restrictions and play Online Games without hassle.
Power VPN helps prevent glitches when users are playing online games. It does this function with its optimized network connection, so there are no stops or lags while users play. With Power VPN, users can enjoy their favorite games undeterred. Online multiplayer and role-playing games are much more fun for VPN users.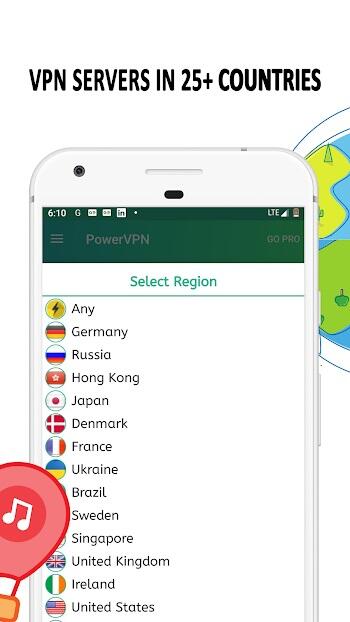 Power VPN is also useful to users whose countries/regions have placed bans on specific websites. Movie/TV show streaming sites blocked in some areas can be unblocked with Power VPN, allowing for fast streaming and downloads. Online Applications are also cleared with Power VPN so users can access sites or Apps that perform certain functions but are not permitted in their regions. Power VPN provides efficient network connectivity, so even during lulls in internet connection, the Power VPN app enables users to enjoy faster browsing and faster streaming. Users can also check the app for the internet connection speed and download speed.
Power VPN Pro
Power VPN Premium is a Power VPNs paid subscription. Power VPN Free VPN is free, but Power VPN Pro comes with No Ads. Power VPN premium also comes with more locations and stronger internet servers.
The streaming and gaming experiences are also improved, so premium users experience faster connection. Power VPN pro offers a 3-day free trial before payment commences. Users can cancel subscriptions at any point within the trial period. The premium option is located at the bottom of the App page and needs only to be tapped. Power VPN pro operates just like Power VPN free VPN, but with a few upgrades added to its features.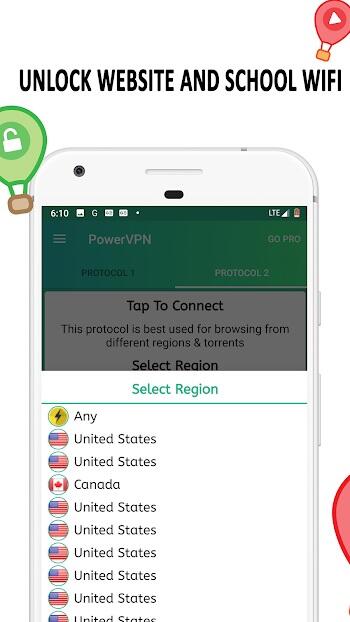 The Power VPN pro comes with zero ads. Power VPN pro also offers better streaming, so users watching videos online don't have to wait while the video load before it begins playing. Users can also select from a wider variety of proxy servers with Power VPN pro as more countries are available on pro.
Conclusion
Power VPN is an Android application that can come in very handy for web surfers and online gamers alike. Users who stream content regularly or have had issues with their regions being restricted from certain websites will find the app handy. Power VPN Free VPN is free to download and free to use. The App layout is simple to operate and requires only the tap of a button to activate VPN.
A Virtual private network is a useful tool for users worldwide, and the Power VPN app allows users to enjoy the benefits of unrestricted Internet access. The Power VPN app is available for Android and is compatible with most Android devices. The applications have added tools, like the Internet speed checker and download speed checker, so users know the signal strength can carry browsing, streaming, and gaming needs. And therefore providing users what they need for a hassle-free browsing session all in one place.


Join Telegram Group
Download Power VPN APK to access restricted sites or improve your online gaming experience. It has a simple user interface that's easy to use.