Download PDF Reader Pro APK, the excellent PDF Manager with great features. When you download PDF Reader Pro, you can organize, edit, and merge your PDFs without hassle!
In-Depth Description of PDF Reader Pro
PDF Reader Pro is a free-to-install PDF reader, editor, and annotator released in October 2018. The app offers many useful features to its potential users, making it worthy of the tag "PDF Powerhouse".
PDF Reader Pro offers a free and PREMIUM version, which requires payment. PDF Reader Pro's Premium version offers an ad-free experience to users who want a distraction-free environment while using the app.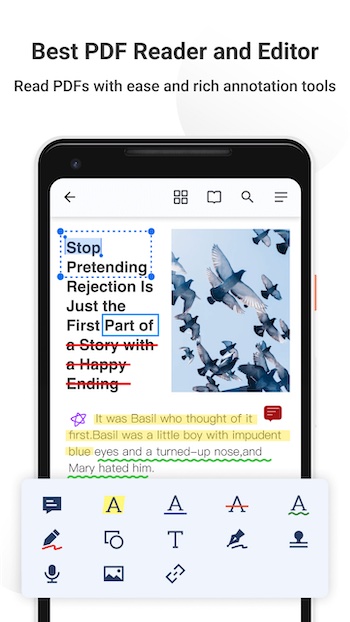 The app boasts numerous features that stand out from other PDF apps; with the PDF Reader Pro, you can read and edit PDF files, sign PDF documents and fill out PDF forms, merge multiple PDFs, and many more.
Supports Various File Types
Aside from the more obvious file type, i.e., PDF files, PDF Reader Pro supports various file types which you may use for multiple reasons. PDF Reader Pro supports text files (TXT), comic files (ePub), Microsoft Office documents such as DOCX/DOC, PPTX, XLSX/XLS, and image files such as JPG, GIF, JPEG, PNG, BMP, THM, TIF, and TIFF.
Converter and Scanner
PDF Reader Pro works as a scanner and converter, i.e., you can convert PDF files to images and vice versa, and scan images which you can convert into PDFs. PDF Reader Pro has an in-built scanner with which you can scan not just pictures but also receipts and notes. Then you can convert those scanned images into new PDF files.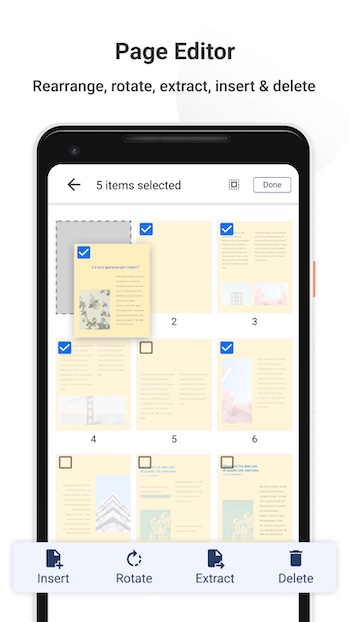 Organize and Manage Files
You can organize and manage files on your device with PDF Reader Pro. Once you grant the necessary permission, the app can customize folders in many ways, some of which are by creating, renaming, and moving them. You can also flatten PDF documents to make their contents static so that readers cannot interact with the PDF contents.
You may also access and open files on your device's SD card or a USB flash disk. PDF Reader Pro is excellent at organizing files on your device; its grid view shows thumbnail previews of PDF documents, and you can easily access the details of each file before you open them.
Annotate PDF Files
PDF Reader Pro is a three-in-one app that lets you read, edit, and annotate PDF documents. You can annotate PDFs with PDF Reader Pro by highlighting, underlining, signing, stamping, attaching links and audios, and many more features.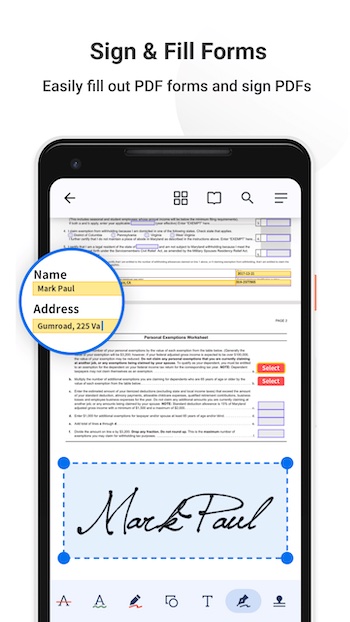 Annotating PDFs means adding notes or comments to PDF documents, and PDF Reader Pro offers many features that aid you in the annotation. You can insert images into PDFs and add hyperlinks to redirect to other destinations such as other pages in the PDF, external URLs, etc. You can also sign your PDF documents with handwritten or image signatures. In addition, you can customize your PDF files with standard and custom stamps (i.e., text or image stamps).
The app also lets you annotate PDFs by highlighting, underlining, striking out words, and writing notes freehand. You can also add shapes such as rectangles, squares, and circles, as well as lines and arrows with shape tools. PDF Reader Pro also features an annotation summary which you can access to view all annotations in PDF documents.
PDF Reader
PDF Reader Pro is an excellent app for reading PDFs. It has a multi-tab viewer to access multiple PDFs simultaneously, so you can shuffle between documents to read or edit them. You can also search entire PDF documents; the app has more than five themes from which you can choose. These themes include Day and Night Modes and custom modes you can customize.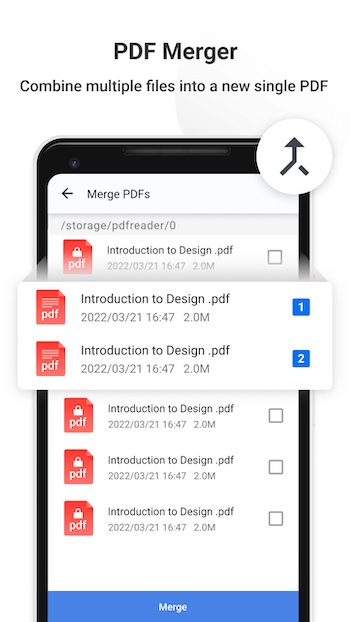 It is easy to navigate PDFs with PDF Reader Pro as you can quickly move from section to section because of outline and bookmarks management. Display Mode allows you to scroll horizontally or vertically while viewing the document in either of the following modes: single page, two-page, book mode, or full-screen mode.
Unique Features of PDF Reader Pro
PDF Security. PDF Reader offers an essential feature with its security aspect, which lets you encrypt your PDF files by enabling passwords. You can also add editable text or image watermarks to your PDFs to dissuade people from sharing them or claiming ownership. This feature is handy if you intend on selling your PDF documents.
Merge PDFs. One of the unique features of PDF Reader Pro is the ability to merge multiple PDF documents into a single PDF file. This feature allows you to combine multiple pages from multiple PDFs into a new document.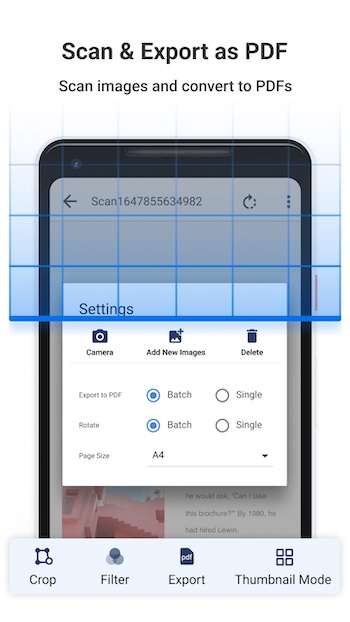 Edit Pages. The ability to edit pages is one of the ways PDF Reader Pro allows you to edit your PDFs. With this app, you can edit the pages of PDF files like a pro. You can rearrange and reorganize PDF pages by dragging, dropping, and accurately renumbering the pages. You can also split, extract, delete, or remove pages from PDFs. Another way of editing PDF pages in PDF Reader Pro is by rotating whatever page you wish, and inserting blank, ruled, music, or squared pages into PDF documents.
Fill out PDF Forms. PDF Reader Pro lets you fill out PDF forms with interactive fields such as checkboxes, text fields, etc., after which you may save and send the PDF forms.
Conclusion
Manage PDFs on the go with PDF Reader Pro! PDF Reader Pro is available for download on Android, iOS, Windows, and macOS. It has a clean and easy-to-use interface, so users do not lose concentration while working with PDFs. Thus, PDF Reader Pro boosts productivity as it has all the features you need.
Top of Form
No results found for Pdf Reader Pro.edited.docx (957 words, $0.11) on 14 Jul 2022 at 9:15 GMT.
Bottom of Form


Join Telegram Group
Download PDF Reader Pro APK, the excellent PDF Manager with great features. When you download PDF Reader Pro, you can organize, edit, and merge your PDFs without hassle!