Download Nerf Epic Pranks APK and enjoy this action-filled shooting game. Become the best prankster by playing tricks on different people and have fun while doing that.
Brief Description of Nerf Epic Pranks
When people hear about shooting games, what usually comes to their minds are games where you use heavy rifles to fire your opponents and gun them down. Nerf epic pranks is the direct opposite of that, and it is a casual recreational game of tag using popular nerf blasters.
Nerf is a well-known toy brand famous for its nerf guns/blaster. It is one of the most renowned toy franchises globally, and they have decided to diversify and go into mobile games. Thus, nerf epic pranks was created, and it already has many players on its platform.
HOMA games developed this game, and it is one of the many casual mobile game applications that are under their umbrella. Nerf epic pranks was made to give people a whole game shooting experience as the game is a shooting game with no forms of violence. It is a new experience for people who enjoy action games.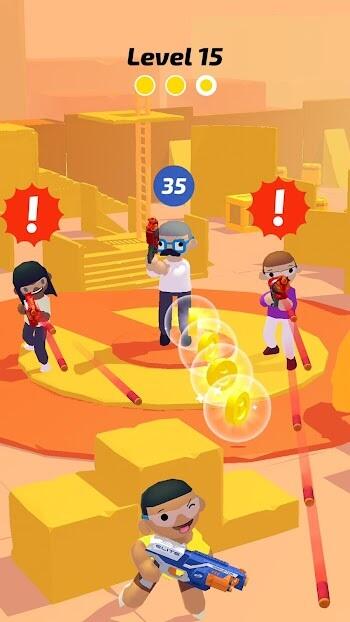 It is a casual recreational game where you don't bother about killing people or keeping score. Playing this game, you're just trying to have fun by pranking people and tagging them with your nerf blasters.
Although it is constantly being upgraded, it was initially released on the 9th of September, 2020, and HOMA Games published it. It is rated 10+, meaning everyone above the age of ten can enjoy playing this game as it contains little or no violence and no blood or gore features.
This game isn't complex and has very understandable operations. It has seamless gameplay, just tapping the screen to perform activities like firing your weapon.
If you're looking for a brand new shooting game experience, then I believe Nerf epic pranks is the best game for you as it is a mixture of action, fun, recreation, and silliness. Many levels are available for people to play, so you won't get bored playing this game.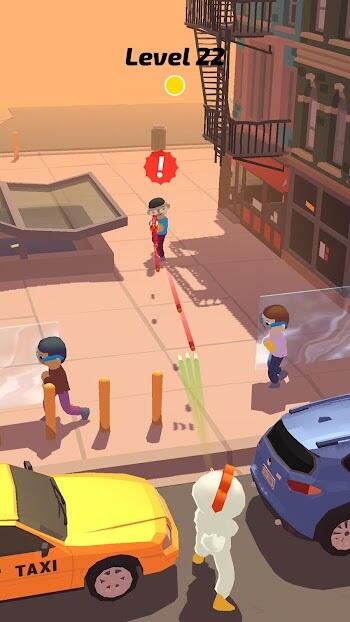 The developers are constantly upgrading the game, so to enjoy the most out of this game, it is vital to download the nerf epic pranks' latest version as you can enjoy new features.
Fun gameplay and concept
This game isn't the usual action shooting game where there is so much violence and conflict. Instead, this game is basically about being silly and having fun while doing so. The idea of the game is centered around pranking people around you and causing trouble, and this is done by using nerf blasters filled with paper bullets to tag them on their asses.
It is a casual single-player game that players can enjoy playing during their leisure time and use as a form of recreation. It is one of those games that you can use to pass by time and ease tension.
The game can be termed as very simple but also very exciting. There are many levels, and on each level and at the start of a new level, players are initially given nerf blasters and dropped in places where they can hide.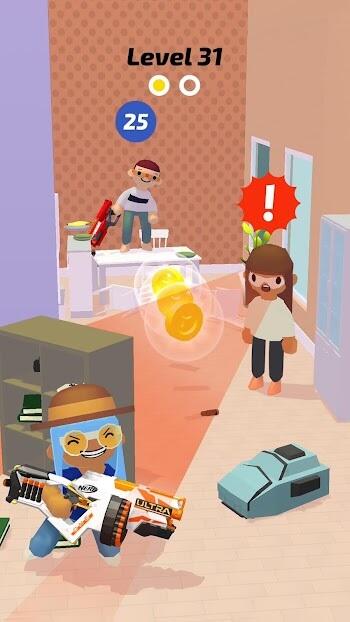 You are dropped in areas surrounded by different people, and your main objective is to tag as many of them as possible and do so without getting caught. If you're good at hiding and being stealthy, it'll be easy for you to play. You fire people when they're not paying attention, and they have health bars that, when exhausted, you successfully annoy them to the point where they're shouting. If your hiding location is found and they notice you are trying to prank them, they will charge at you and attack you.
Playing this game sound easy, but as you advance and pass more levels, the more complex the game will become. The levels become more difficult as you progress. For example, there is a stage in the game where you'll be placed in a location full of five people, and you have to prank all of them without anyone noticing.
There will be a point in the game where you won't only face other people but also face other pranksters like yourself. This is to determine who the best prankster is. There are levels where you will be placed in situations where there are only other pranksters, and the hard part is that they'll also have to nerf blasters.
There are bosses in this game, and they are more robust and bigger than your usual opponents. To defeat these bosses, you must develop your character using the best nerf blasters and support items. After each level is passed, you are given rewards.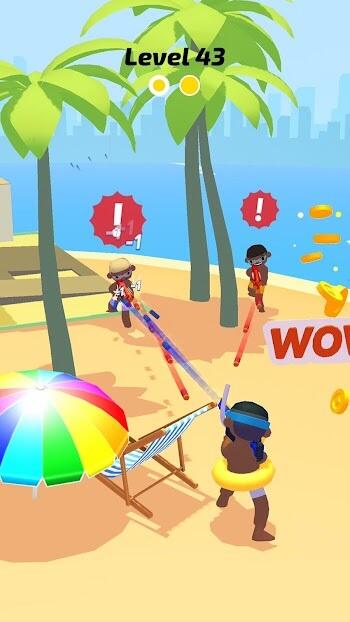 There are many available guns that players can purchase in the store. Each weapon has its unique attributes in damage ability and speed of fire. Apart from firearms, some different skins and dances can be purchased to give you a different gaming experience.
These skins and dances can be bought with money earned, and the cool thing is that some of the skins increase characters' abilities, depending on the type.
The game also has a beautiful graphic system. With 3D illustrations of the characters and environment, it is very appealing to the eyes of players. It also has an excellent sound system, good sound effects, and incredible background music.
This game is fascinating, and there is more that you can find out when you play it. Download nerf epic pranks on your devices and enjoy.
The game features to look out for
There are a lot of features that will give you a good gaming experience. Some of them include: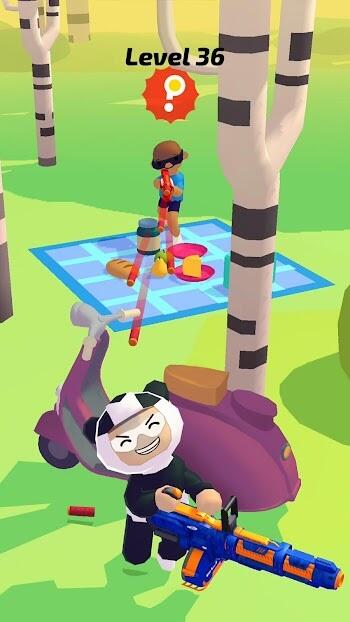 This game has easy operations and a straightforward gameplay
There are multiple nerf blasters, skins, and dances that can be purchased from the store
Beautiful arenas and a world where you can enjoy playing in
Good graphic system with 3D illustrations of the characters and environment
There is also a good sound system with good effects and background music
Conclusion
Nerf epic pranks is a fascinating game that users can play whenever they want to have some fun. With different guns, skins and multiple levels, there is a lot that you can look forward to in this game.