Download Multiple Accounts APK to clone a vast array of social, messaging, gaming, and utility apps and use them simultaneously. Clone apps with Multiple account today.
Multiple Accounts
It is not unusual to find individuals with more than two SIM cards in this present age. Most Android smartphones have helped by having spaces for two SIM cards. However, multiple accounts on the same application are quite uncommon. Multiple Accounts is a utility application that helps to solve this problem by cloning apps installed on your Android phones so that you can have multiple accounts of the same app running simultaneously on one phone. You can use Multiple Accounts for more than one app and have a wonderful cloning experience.
About the app
Multiple Accounts: Dual Accounts & Parallel Space is a very easy-to-use platform created by Winterfell Applab. The platform creates a virtual space that allows different accounts of one app to run at the same time on the same phone. This digital utility tool will come in handy for business owners that want to create personal and business accounts on their phones. Using Whatsapp as an example, business owners can use Multiple Accounts to clone their Whatsapp application instead of downloading the Whatsapp business app that would take up phone memory space.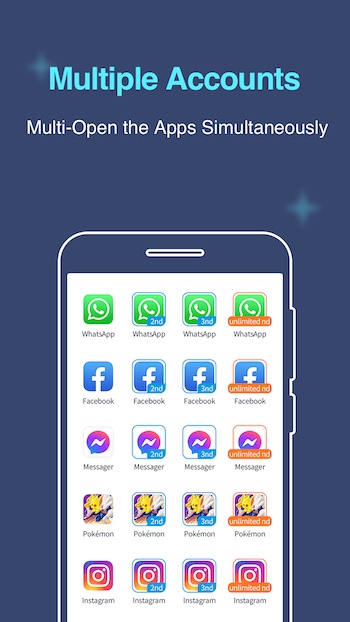 This app is commonly used to clone social media apps (like Whatsapp, Facebook, Instagram, and Telegram) and MMO games where it is not uncommon for users to have more than one account on a single device. It makes it very easy and convenient for users to manage multiple accounts and switch between them without stress.
With Multiple Accounts, the number of apps and accounts you can clone is unlimited. Multiple Accounts also give users a sense of control and allow them to curate the interface of each clone with different icons and assign a name for each. This helps users manage, identify, and differentiate between all of the clones to avoid confusion. This means that you can name Whatsapp accounts after your businesses. Users can also place each clone inside Multiple Accounts' privacy locker to protect and prevent unauthorized access to any of the cloned accounts. The fantastic thing is that you can do all these with Multiple Accounts occupying only 16MB of your phone's memory.
Download and install the Multiple Accounts app for Android to access this excellent app. After installation, the Multiple Accounts app will show you the apps on your phone that can be cloned. Click on the icon of the app that you want to be cloned and add it to Multiple Accounts. Multiple Accounts will clone the app immediately, and then you can open the app, launch, register, and sign in with different login details than the one you used on the original.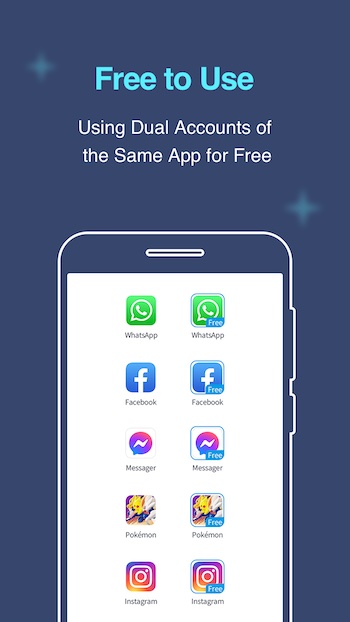 Multiple Accounts is only compatible with Android. It is rated 4.5 stars on a scale of five and has garnered over 10 million downloads over the years. This goes to show that several people enjoy using the app.
Features of Multiple Accounts
Multiple accounts have several unique features that provide users with the best cloning experience. These features are discussed below.
Swift navigation between primary and cloned accounts
Multiple Accounts have a simple and intuitive user interface that makes the transition from one app to another very easy. All the clone accounts are on the Multiple Accounts app, and you can access them by simply clicking on the app. This fantastic feature removes the need to go through any home page or app tray before you can switch between apps. Also, Multiple Accounts keeps the data of the primary and clone apps separate, and you don't have to provide login details all the time.
Incognito installation
There is no modern browser that does not offer incognito mode. Incognito mode is like an invisibility cloak that helps to protect the privacy of users in most apps. Multiple Accounts use incognito installation to protect user privacy.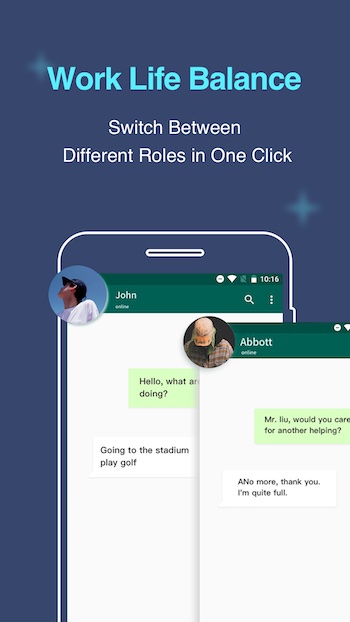 This feature enables users to hide the cloned versions of the apps and protect them with a secure privacy lock set up by the user. This means you can use Multiple Accounts to clone your business or personal account containing sensitive information. Multiple Accounts are constantly upgraded to fix bugs and security issues to ensure that your accounts are 100% safe.
Customization of clone apps
To avoid confusing all the apps, Multiple Accounts has customization features that allow you to change the interface of the app. The customization done on the clone apps will leave the original app unaltered. So, you can change the colors and names of the clone apps without bothering about the changes appearing on the original app.
Double gaming experience
Gamers would love this app because it allows two different accounts of one gaming app to exist concurrently on one device.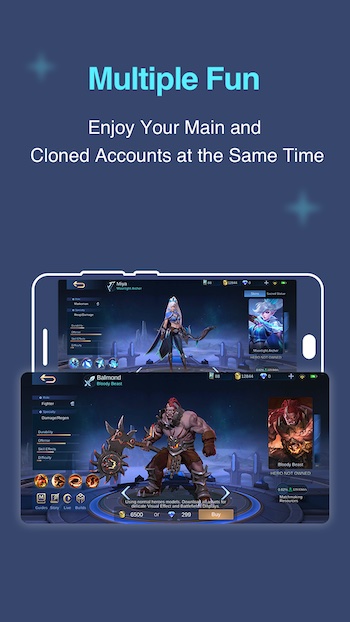 You can play games on both the primary and secondary apps and win different championships at the same time. You can clone more than one game and enjoy the overall experience.
Multiple Accounts Premium
There is no app user in this generation that loves ads. Ads might be a good thing, but it reduces user experience by interrupting the flow of navigation. That is why most users of the Multiple Accounts free Android download have complained about ads. It is also why Multiple Accounts encourages users to subscribe and become Multiple Accounts VIP member.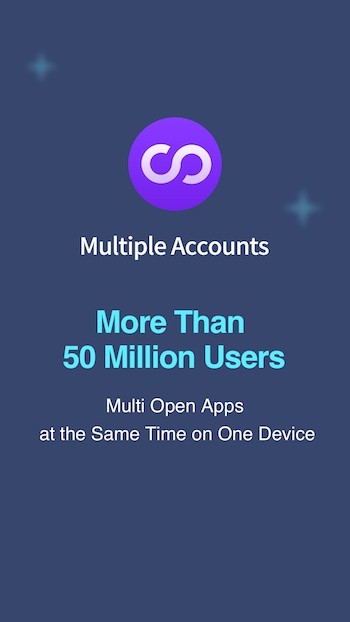 The Multiple Accounts VIP has an ads removal feature that allows you to enjoy cloned apps without bothering about ads and gives you access to other exclusive features. The subscription fee is very inexpensive, and you can decide to pay either yearly or monthly subscriptions.
Conclusion
With Multiple Accounts, it is one app to rule them all. You can have all your social media and gaming apps clones in one location. Business owners can conveniently separate their business accounts from their personal accounts and manage them easily.
As you exploit the unique features of Multiple Accounts, you will discover that it expands the possibilities of what you can do on your Android device. Download and install the app and enjoy cloning your apps!