Download Fly VPN APK for a robust VPN and anonymous browsing experience. Get unrestricted access to the internet with its Virtual Private Network service.
About Fly VPN
FlyVPN is a VPN app that allows you freely surf the internet through any of your connected devices. The app offers exceptional VPN service that will enable you to select from a wide range of server locations worldwide. The server locations are available in over 40 countries and five continents, so you can use any of the five regions when browsing. The app is ideal for evading bans or blocked access by geographical restrictions.
The VPN app is also quite powerful and therefore allows you to block access to your location from any website or database on the internet. That way, no one knows where you're browsing from. It also helps you create a fake identity online, fooling the internet that you're browsing from a different location since your actual location is already hidden from view. So, you can browse anonymously and securely on your device without attracting attention.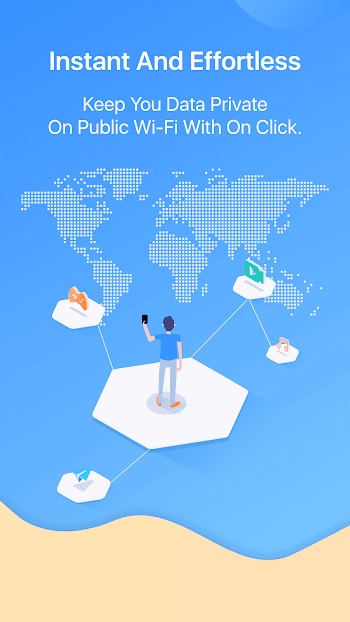 The app has a free and premium version, but the free version lets you do most of the most important things. You can opt for the Premium feature to access some of the premium offers. The free version also has few limitations, which means you'll only be able to access the free version 3 times a day for just 20 minutes. Luckily, the app is also relatively easy to use, so you'll be able to start your anonymous connection with just a few taps after opening the app.
FlyVPN has been around for a few years, and FlyVPN Inc developed it. The app is free to use but also has a premium version. So you'll be able to use it on any of the latest Android devices. In addition, since users will access the app from various locations worldwide, it has over 47 languages to accommodate multiple users. The app also has quite a reputation online, with millions of downloads on the internet and an impressive user rating.
Why Use Fly VPN?
Fly VPN is one of the best VPN apps for your android smartphone. The app has many features and functions that make it perfect for your device's animosity and security. Check out why many users love Fly VPN: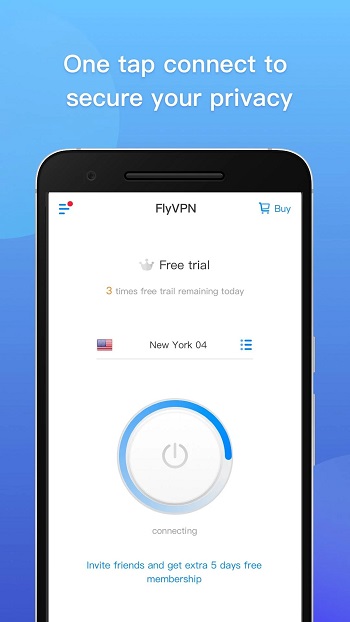 You'll be able to get a free trial once you install it to check out the app features.
Get access to unlimited bandwidth and unrestricted internet.
Reduce load time when browsing to create a faster internet browsing experience.
Access hundreds of servers from different locations across the globe.
Get friendly 24/7 support from the customer agents.
Use special servers such as the Double VPN and anti-DDoS servers for additional security.
Connect multiple devices under a single account and save subscription fees for all your devices.
Shield your device from snoopers in WiFi hotspots you connect to.
App Features
FlyVPN is a remarkable VPN app that does more than hiding your device location. It offers various other valuable services as outlined below: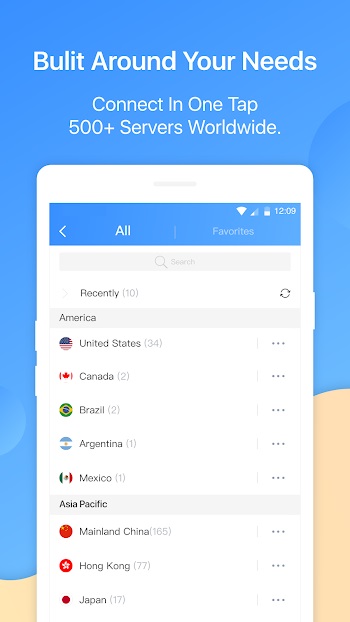 Easy-to-use
The platform prides itself a being easy to use for various types of users across the globe. Thanks to the sleek and user-friendly interface, you'll be able to use the Fly VPN dashboard as soon as you open the app without getting prior guidelines. The various app features are also well outlined and included in the apo layouts, making them easily accessible for users.
Once you install the app and register, you'll be able to use the one-tap feature, which allows you to click on the button when you open the app and automatically turn on the VPN. The one-tap connect is an efficient and fast way to use the switch on/off your VPN when browsing.
Privacy
The app also grants you privacy when you browse online. You'll be able to take fu control of your data a d personal information. The app prevents any website or database online from accessing your information, including your geographical location, using its virtual private network. So, you'll be able to direct all your internet traffic through a tunnel fully protected with encryptions to prevent attackers or intruders from getting through.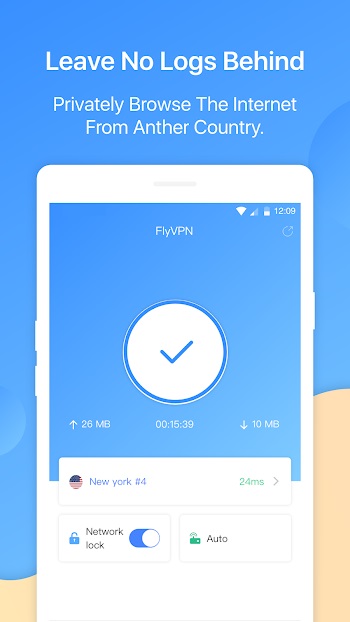 Unlimited Streaming
Many platforms, such as Disney Plus, Viva, restrict access based on locations. This can reduce your streaming abilities if your region is blocked or banned from accessing the platform. Thanks to the Fly VPN, you can bypass this restriction and stream your favorite channel on your device. Watch All the streaming videos you want and have video chats and discussions with your friends without getting restricted by any platform.
Dedicated IP
As a user of Fly VPN, you'll get a Private IP address that's unique to you and only to you. That way, every time you log in, you'll be accessing the internet from a remote IP address that it will generate for you. So, you can always enjoy a VPN connection on your terms.
Unrestricted Access
You can always enjoy unrestricted access to the internet regardless of which platform you are trying to access. If a specific platform is blocked from being accessed by anyone in your region, you can switch your server locations and bypass the ban. For example, suppose a platform is only available for people in the United States. In that case, you can switch your location to the US and get free and unlimited access to the platform.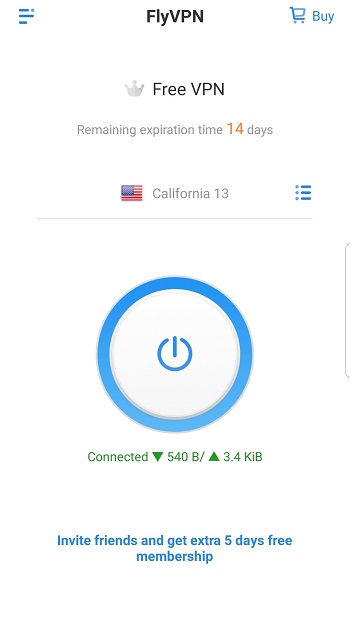 Concurrent Connections
For users who own multiple devices, you'll be able to enjoy reasonable pricing for all your devices. Rather than make payments for all your devices, you can make payments with your account and log in to this account on all your devices. So, you only pay for one device but can concurrently use the account on various devices such as your Android TV, tablets, PC, etc.
Conclusion
FlyVPN is an excellent VPN app that offers tons of impressive services. The platform had many countries and regions to choose from when accessing platforms online. It also takes your privacy and security seriously with encrypted virtual private networks.