Download Mr Gun APK for a 2D shooting game experience. Flex your reflex by grabbing your gun and facing other armed cube characters as the first one to fire.
About Mr Gun
Mr Gun is a 2D game in which players get to control the main character armed with a gun. The game doesn't have many elements of reality, but it does offer exciting gameplay in its way. You'll be equipped with a gun and have to face off against other armed cube characters. Your goal is to prove your reflex and accuracy skills by ensuring that when someone goes down, it won't be you, which means you must shoot them before they shoot you.
It's pretty simple to play, and there isn't too much information. The goal is simple; be the last man standing when you face an opponent armed with a gun. You'll also enjoy the game's simplicity in the control system because it allows you to tap on the screen to make your character fire. You don't need more control since it's more about your reflex than your actions.
Once you hit your enemy, you can move to the next level. However, you'll start the subsequent level with a gun, and your opponent will also be armed. So, if you eventually meet an opponent that dodges your shot or shoots and fits you before you do, you'll lose the level and have to repeat it.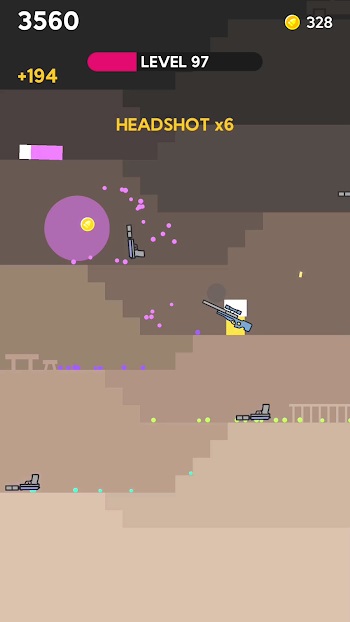 Like most games in this category, you'll start with the most basic game but continue to unlock more weapons as the game progresses. The more enemies you defeat, the easier it becomes to unlock more weapons since you'll be earning more money per enemy taken down. If you manage to get a headshot, you'll also win more money because it's a difficult feat to pull.
Ketchapp is the brain behind Mr Gun and many other similar games. It's a renowned software company,.so you can rest assured of a superb gaming experience on Mr Gun. The game is an arcades style game that's free to play on android devices. You'll be able to interact with the app in multiple languages. The content rating also allows anyone above 12 years to play, so you can't play if you're younger. Also, Mr Gun has over 10 million downloads on Playstore and an impressive review from many of its players.
Gameplay
As earlier discussed, the game is pretty simple to play. The goal is to eliminate whoever you are placed against at every level. Of course, you'll have beginner luck on your side when you start because you'll be able to quickly eliminate the first few targets since you need to get accustomed to the game environment.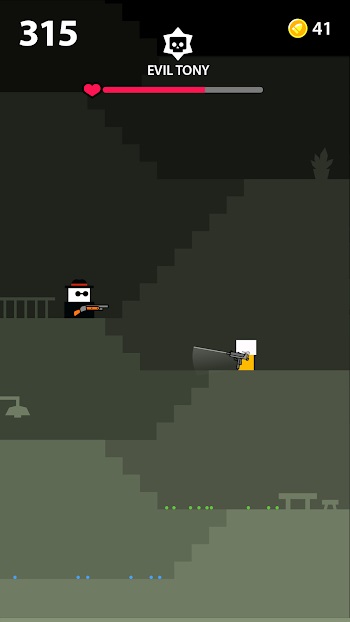 However, as you progress across the levels, your opponents become faster and more accurate. They also have better guns, which might be an issue if you don't upgrade your weapons. You'll be able to upgrade your weapons, improve your game skills and become a professional shooter after a while.
Game Features
Mr Gun is not the best game to play if you want to experience realistic gun shooting, but its worthy of being played if you want a unique game with exceptional features as outlined below:
Classic Graphics
The game has simple graphics and gameplay. You won't be marooned by too much information on the screen, so you can focus on enjoying your game. There is also little need for sophisticated control options, so you can always count on the game to have more space for your game. The 2D graphics and the 8-bit format allow enjoying a classic 90s game style while ensuring it can smoothly run on your android device.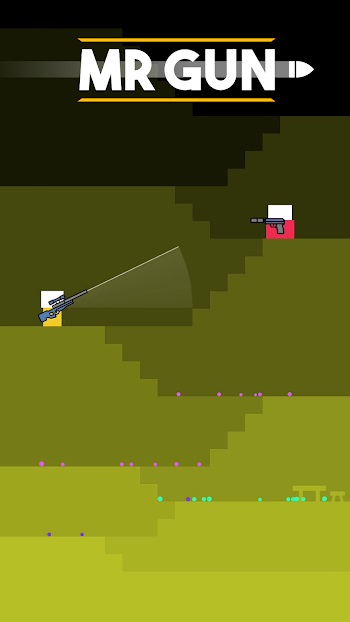 Currency
The game's in-app currency is Gold. It's the primary currency for exchanging and getting everything you want for Mr Gun. Although this is not a feature in the 90s, you'll be able to buy items in the game store and ensure Mr Gun has all the necessary guns and equipment to finish off anyone he plays against in subsequent levels. You'll be able to accumulate this currency when you complete missions, and you earn extra golds when you successfully make a headshot. You will also get more golds when you destroy the boss and watch ads that you can click to pop up occasionally.
Blacklist
This game feature is an exciting list that includes all the bosses you'll have to finish before progressing to the next level. The blacklisted shooters are the highly skilled players you'll face in your bid to eliminate your enemies. In addition, there are ordinary soldiers you'll have to kill before reaching the bosses, which makes the game more challenging. Finally, you must destroy the boss to open a new stage a d get numerous rewards such as Gold, guns and new characters to play with.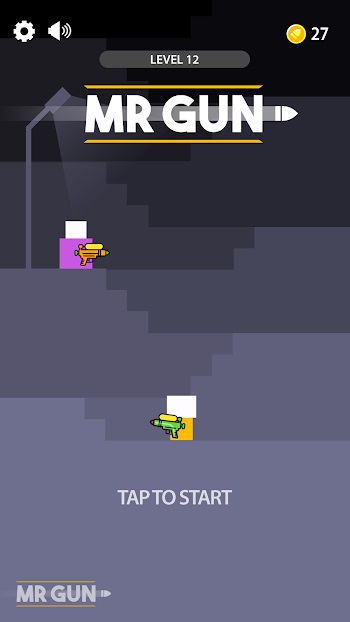 Outfits
There are different outfits and systems of characters on Mr Gun. These beautiful characters will help you earn more respect and attain a variety in appearance however you like. You'll be able to unlock more characters when you complete tasks only. So, you won't be able to use the golds you gain to purchase new characters. You'll also be able to choose other elements for your characters, such as best suits, felt hats or sunglasses.
Armoury
There is a whole arsenal of weapons to choose from when you progress in the game. There is a gun storage system that allows you to access firearms. You'll be given a basic gun when you begin, but you'll get to improve them and add rifles, machine guns, pistols, and various other options which different damage levels, stats and bullets. You can also complete missions for Gold or buy more guns with the Gold you accumulate. Since you can gain more Gold by watching ads, you'll also be able to earn currency to buy more guns.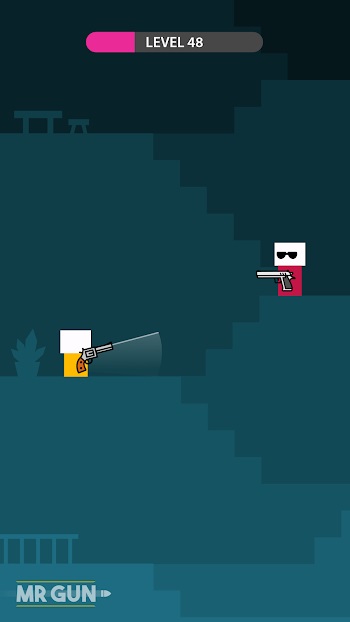 Conclusion
You have many reasons to download and play Mr Gun. First, the game allows you to have a shooting experience in a 2D environment and various opponents to practice on. In addition, it's a great game to relax and relieve your stress.


Join Telegram Group
Download Mr Gun APK for a 2D shooting game experience. Flex your reflex by grabbing your gun and facing other armed cube characters as the first one to fire.