Download and install Modern Sniper APK and kill criminals, assassins, and enemies with awesome high-powered sniper rifles. Unlock great weapons and accessories by levelling up.
The Description of Modern Sniper
People who love the popular sniper shooting gameplay known as Sniper 3D Gun Shooter will love Modern Sniper. With this game, you will enjoy a lot of fun ranging from taking on a mission that will take you around the world to exploring the awesome challenges of the game. If you are looking for an action/adventure game where you'll embark on dangerous missions and journeys, then Modern Sniper has got you covered. With this app, you will experience the gameplay of mobile action, which will carry you across several exciting levels with different gameplay and missions. You will also get to enjoy the incredible in-game surroundings with elements that are pretty realistic as you bury yourself in the realistic shooter gameplay.
Story/Gameplay Structure of Modern Sniper
In this app, gamers using Android phones can have fun playing with their incredible gameplay of sniper action. Assume your role as a criminal terminator and enjoy the beautiful gameplay of Modern Sniper in several interesting assassin missions and in-game battles.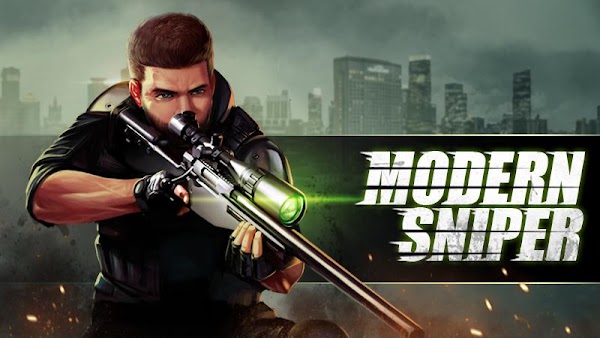 Confront dangerous criminals and mobs on the streets and challenge your high-profile target with the abundant available in-game accessories and weapons. By progressing, you will unlock some cool and much better sniperand assault rifles you can use against enemies.
With this app, you can access a premium arsenal, including various specialized infantry assault and sniper rifles. Depending on the situation you find yourself in, the object, and the terrain, you just select a type and replace it while playing the game to quickly and efficiently perform your task. Although this app is free, you will have to spend some money to own it if you desire to possess some special items capable of shooting quickly. But, do not fret; you can earn money from top-notch headshots and mission completions.
You can also use the money to upgrade each shot's damage ability, firing range, and strength, including buying ammunition.
Sniper manipulation is not as complicated as assumed. You only have to sacrifice a little time to familiarize yourself with it. 'Fire' and 'Reload' appear at the bottom. The navigation button occupies the middle edge. You will have to identify the enemy, aim your gun from a distance, reload (reloading takes a little time, so you have to time the moment you have to perform this action to avoid getting killed while you are still loading), select 'Headshot' or 'Shoot', pull the trigger, and fire!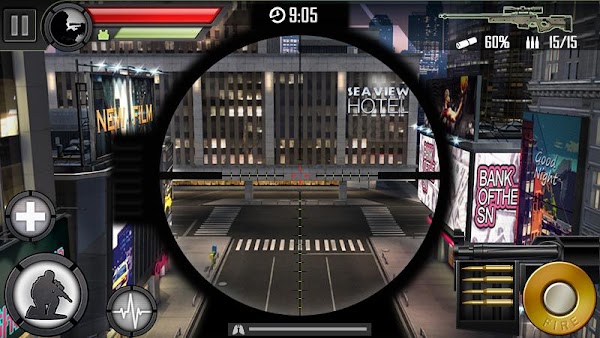 As expected, the enemy does not stand still (what's the fun in that? even zombies do not stand still in zombie games). Knowing they are ambushed, they will always scatter around, moving forward and backwards to find a place to hide. Some enemies will detect your location quickly and fiercely shoot back. You can also risk mortality if you do not take advantage of the presented opportunities and defeat your enemies on time.
Simulation of Sniper Action with Great Sound
This game is created from Candy Mobile, and it is an FPS action game. There is in-depth detail concerning each model of gun in this game. From the external appearance, the aiming aperture, the little details like safety pin, and the ammunition slot, including hand movement each time you switch between different guns or firing modes, can all be seen on the screen. You can feel how heavy the gun is in your hand. There is a clear feeling of pointing your gun at the enemy. Each time you pull the trigger and fire at your enemy, it feels incredibly real and can give you an exhilarating feeling.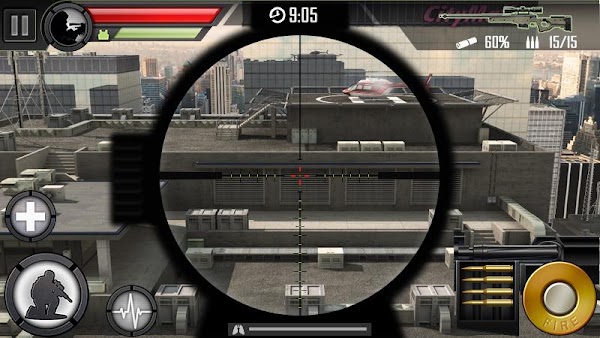 The audio and sound in this game contributes to its awesome features; it adds addictive elements to the game and brings it to life. The clear and sharp cracking sound that is made when the bullets are fired makes the game's rhythm much more stimulating and urgent. Besides the sound of the bullets, the soundtrack of the action and several sounds from splashing objects, explosions, and soulful music will cause you to stay glued to your device for a long time. Therefore, do not start this game if you have somewhere you need to be anytime soon.
The Great and Underworld Snipers
In this game, you will be a sniper who is involved in the underworld, a place where people draw power from strength, without any black and white limitations. You will be assigned tasks that you have to complete, and you will have to bringing justice to cruel people in this world of chaos with nothing but your wits.
After a few minutes into the gameplay, you will find it pretty climatic and interesting. By playing this game, you will understand the mission of a dedicated sniper or what function they perform. A sniper is a person with a sniper rifle with the intention of using it on other person/persons; and these snipers are usually in a concealed position to shoot at a target. They usually fire from a far distance, which can be several hundreds of metres away, depending on how powerful the weapon is. The distance is often determined by how powerful the sniper rifle's scope is.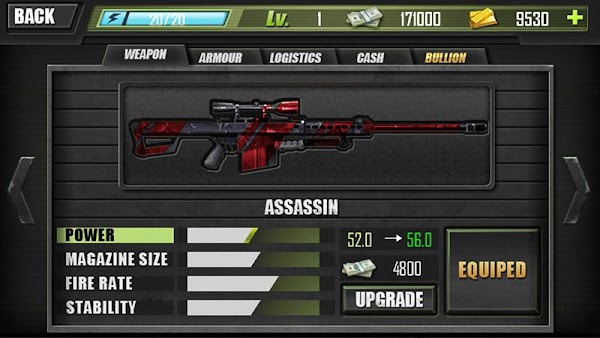 A skilled sniper always has enough training to exhibit some unique skills in combat. They are often silent but fast with perfect skills at aiming. All these are enough information to understand what you must expect when you launch the game, including the skills you need to level up.
Diversity, Attractiveness, and Upgrade
There are over 50 missions in Modern Sniper, and each mission comes in different attractive forms. There aresix maps with different scenery –the crowd, port, and construction site. Each location has its hiding places, terrain, and challenges to give the enemies the chance to hide in more sophisticated locations. This difficulty is for you to exhibit your total skills when it comes to taking shots in unfavourable situations. Concerning the arsenal, you have about seven different guns, and they are all modern weapons. You can use bonuses to improve and upgrade each type of gun you possess.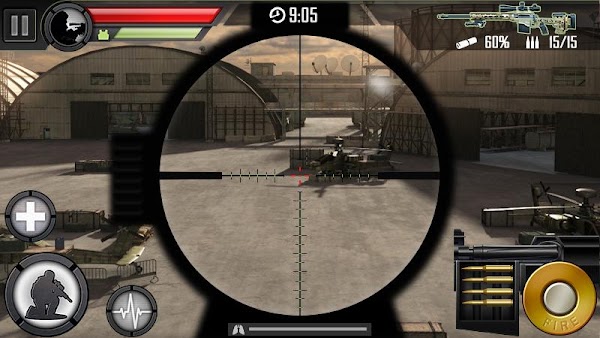 Final Thoughts
Android gamers who love action games will certainly enjoy the mobile action experience that Modern Sniper brings to the table. So feel free to experience the awesomeness of this incredible game by downloading it. Unlock the exciting elements contained in the game and enjoy yourself to the fullest.


Join Telegram Group
Download and install Modern Sniper APK and kill criminals, assassins, and enemies with awesome high-powered sniper rifles. Unlock great weapons and accessories by levelling up.