Download and install Merge Animals 3D APK and act as an omniscient by merging the DNAs of several animals to that of a subject human being and watching them exhibit abilities.
Description of Merge Animals 3D
Are you fed up with playing games whose gameplay is too simple, the matching mechanics basic, and the story progression extremely exhausting? Instead, would you prefer playing exciting running games with no boring moments but diverse mechanics and crazy elements? Then Merge 3D is a game to be considered. This game is an incredible mobile app that is sure to put your heart in your mouth and cause you to position yourself at the edge of your seat with its awesome gameplay and exciting mechanics.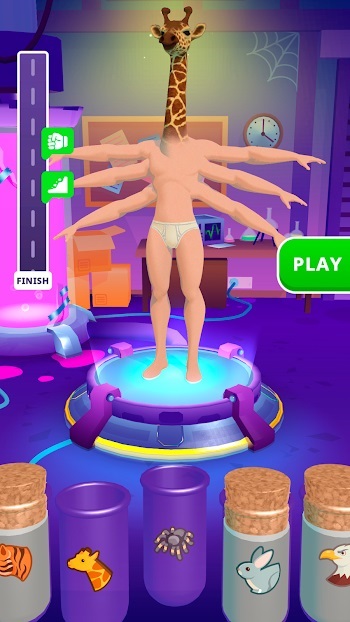 However, your task in this game is role-playing as an insane scientist with an equally insane idea. Here, you will make some scientific explorations by injecting animal DNA into the human body and thus providing them with some interesting abilities. Take part in this extremely fun and addictive game whose gameplay borders on racing. Dive into the incredibleness of mutant competitions on the tracks and make them participate in several races.
Learn more information about this outstanding mobile game known as Merge Animals 3D and access its many satisfying features.
The Awesome Gameplay
Merge Animals 3D possesses a few qualities with games like Human Evolution Clicker and Hybrid Animals. This game provides its users the opportunity to have the best fun as they explore its gameplay, focusing mainly on mutation and other elements that have biological undertones. Infuse the element of your strategy into this game and the race within, and allow your creations to compete against each other in races that will surely put smiles on your face. The game is special because it brings something pretty unique to the table. Impress yourself and appeal to the insane creativity within you as you showcase your scientific prowess and intelligent mind in your creations.
Most of your work will involve the creation of some special mutants that have never existed before, and each mutant will have its special traits and abilities. After the creation, you should make them participate in funny and fascinating races against some other mutants. It is not only about running alone; you have to take advantage of their abilities to win the race. There is an opportunity for you to unlock some more chemical compounds such as serums, that will give you the chance to make some more unique mutations and provide you with even more funny mutants. By exploring the features of this game, you will enjoy your moment to the fullest. Merge Animals 3D does not have boredom in its lexicon.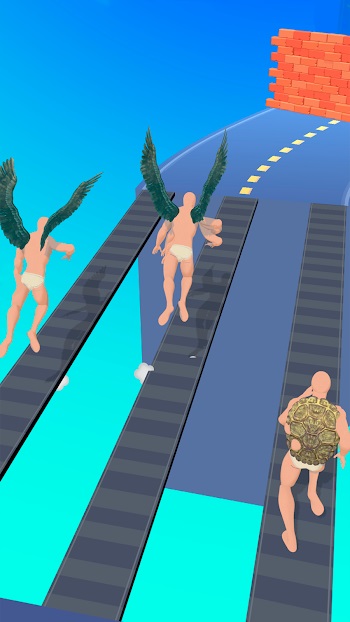 Outstanding Features of Merge Animals 3D
Below are the incredible features you can enjoy with this game:
Extremely Simple and Fun Gameplay:

First and foremost, players of this incredible game will have no issue with having a great moment with the fascinating runner gameplay related to the mutants. Make good use of their different abilities to excel over the obstacles and challenges the game brings to you. Activate numerous special abilities that the mutants can possess in this beautiful game. You will have a seamless experience by wading through the game with its easy control over touch.

Relate with the Insane but Dormant Scientist within You:

This game allows users to set off the madness in their scientific psyches as they carry out several experiments in Merge Animals 3D. There are several varying animal DNA that you can easily infuse into the human body of the subject, so you can create a unique hybrid human/animal with special abilities no other entity possesses. Now you can make use of these creatures with unique abilities to win the race among mutants. Your mutant can be anything, such as a bird soaring through the sky or a creature with spider arms that can climb any wall – just like Spiderman. There is no limit to the amount of creativity in you that you can excite. All that is required of you is your sheer creativity.
Activate Some Special Hybrids:

If you are curious about the gameplay of Merge Animals 3D and want to try it, there is a chance for you to activate some special hybrid creatures. And surely, you will have the best experience of your life playing this game with its most awesome gameplay. You can make some tests with special serums to see what creature you will make then as you go further in the game, you can also activate new ones. These DNA packages are there for you to apply to your hybrid for them to gain some extra powers while the old ones are still active.

Get the Ingredients to Enjoy the Game Further:

Merge Animals 3D also features several ingredients that will provide even better enhancement of the DNA of the test subject. Thus allowing gamers to have better tools to work with when experimenting with their powers and powering up their characters.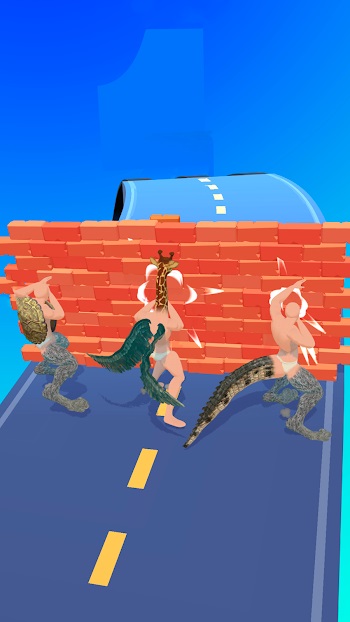 Exciting Levels with Escalating Challenges and Varying Mechanics:

To bring more fun out of the game, the players of Merge Animals 3D can now enjoy their several survival challenges with over twenty different levels of running games. And with the different difficulty levels and varying mechanics, the game will allow you to enjoy your epic runs to the fullest. Explore the several levels and try to make use of your many powers so that you can make the most of the mutant runners. Compete with even more interesting rival runners and be inspired by their special evolutions.

Enjoy the Game with Internet or Not:

With Merge Animals 3D being available offline, the players can enjoy their exciting mutant runs without turning on their mobile network data. Simple start playing the game anytime you want and have the most fun playing your runner title.

Free to Play:

Despite all the incredible features of Merge Animals 3D, the game is still pretty freely available for the enjoyment of all Android gamers. You do not have to pay for a download. All you need to do is just launch the game and begin playing. It's as simple as that; enjoy several game features without trouble.
Sound and Visual Qualities of Merge Animals 3D
Graphics: with the special 3D environments, interesting runner animations, unique DNA growths, and colourful designs, this game will give Android gamers the chance to enjoy the incredible game of mutant racing adventures. Enjoy all the very interesting 3D models and cool visual effects whenever you play the game. And with the impressive graphics, you can always have a good time with the satisfying and smooth game on your mobile phone.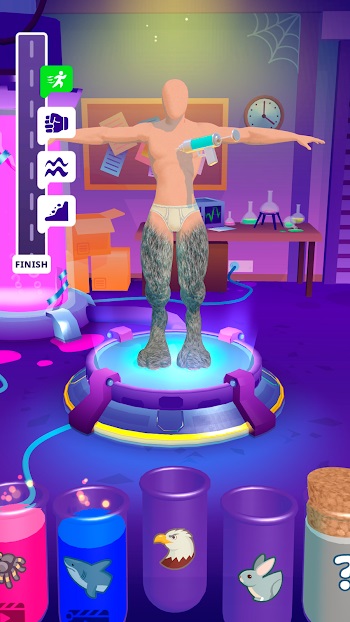 Music and Sound:

At the same time, you will be impressed by the exciting music and incredible sound effects of the game, which makes it a lot more fun and exciting. You are free to enjoy responsive sound effects and powerful soundtracks during your several runs and science experiments.
Final Thoughts
With the availability of several genetic cocktails and mutant races, this game will allow Android gamers to enjoy the incredible gameplay of an action runner to the maximum degree. But, most importantly, Merge Animals 3D allows you to showcase the insane scientist within you.