Download Magic Tiles 3 APK and create fond memories as you make news and unique kinds of music. You can also battle other players online and win points.
About Magic Tiles 3
Magic Tiles 3 was developed and released by Amanotes, a young talented Vietnamese startup. The game was created in 2014 with the sole purpose of making music accessible to everybody. This app is the most popular music gaming app that boasts over eighty million downloads worldwide. If you are a fan of music but do not have the opportunity to practice them, then Magic Tiles 3 is the perfect tool for you. It can help you hone your skill and assist you in playing popular songs as a true artist.
Play Your Favorite Songs
This particular app is an upgraded version of its two predecessors – some new qualities and features have been included in this latest version. To use this app, all you need to do is press the piano keys running to your screen and make sure you avoid the white ones. Each time you press the black keys, you will create the sound of the music, allowing you to master how to play the sweet music.
You are wrong if you think that this is nothing but a game. If you mistakenly miss a black key or press the white one instead, your music will end immediately. In addition, at the end of each chorus, the song's speed increases; this means that you must maintain your concentration and utilize your fast reflexes.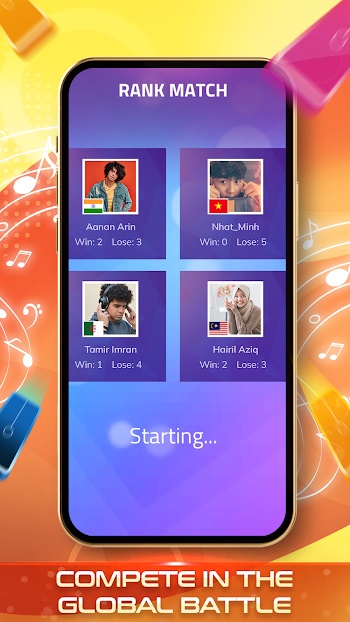 This app is a music game, so the major aim of its development is the creation of music. If you have played Magic Tiles 2 and are familiar with its classical music, then Magic Tiles 3 is even a lot better. In addition, magic Tiles 3 connects with Facebook, allowing you to log in and share your achievements with your online friends.
Besides the piano, you can also play other musical instruments such as drums, trumpet, or a combination of many musical instruments. The variety of music in this app is carefully selected to make the game even more enjoyable. There are about 200 songs in the app. In addition, there is often a regular update of modern music. You can unlock each track with two requirements – your money or your level.
Magic Tiles 3 Battles
Besides playing music, Magic Tiles 3 also has some cool features. For example, you can participate in a music battle mode, where you let players worldwide know your musical talent. You can also battle friends or whoever you want in Custom matches. There are also weekly tournaments that can help increase your competition, giving you the chance to attract many rewards.
Advertisements on Magic Tiles 3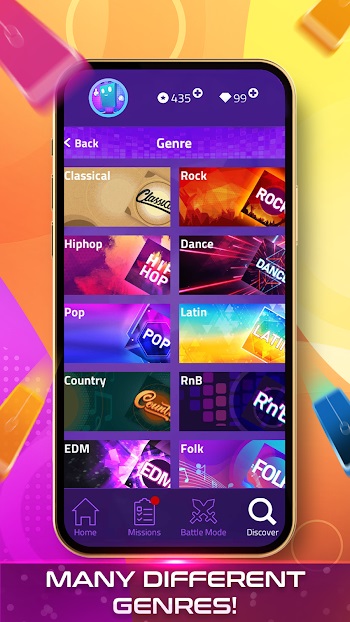 One of the most annoying things in free games is the constant appearance of ads, which is a downside of Magic Tiles 3. Besides, the gameplay of this app is not new because it is an updated version. However, as you reach each level, you will enjoy various tracks as the keys' appearance and speed change regularly. When you play Magic Tiles 3, what you need is accuracy and speed, not necessarily strategy.
Playing Music
You will need to touch the tiles (black) to play beautiful sounds with drums and guitar, which will automatically help heighten your concentration level. Always ensure that you avoid touching the white tiles because the fewer of the white tiles you touch, the higher your new record and store will be. If you prefer a small addictive game on your Android phone, then Magic Tile 3 will fill up that craving.
Simple Design
You should not expect too much when it comes to the graphic. This is not a war or horror game. It is simply made for music, focusing solely on your musical experience. There is a simple and harmonious background color, which helps reduce the player's discomfort while pressing the keys.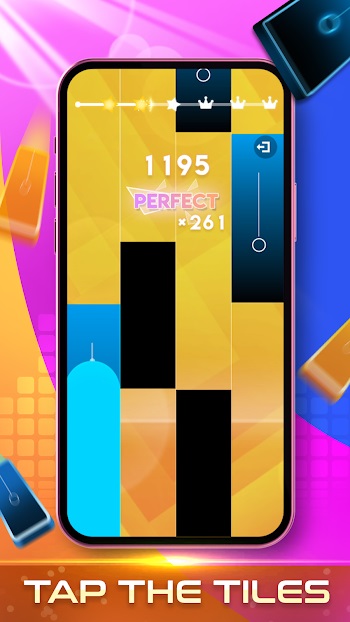 Magic Tiles 3 APK Features
Create excellent melodies to your taste
The chance to participate in battle mode and compete with other music-enthusiasts
Create various music in various fields, such as Pop
Play in the challenge level with nice and fun items
The opportunity to share games on one's social media page by logging into the account through the magic Tiles 3 app
Compatible with all Android devices, such as phones and tablets
Comfortable graphics with nice design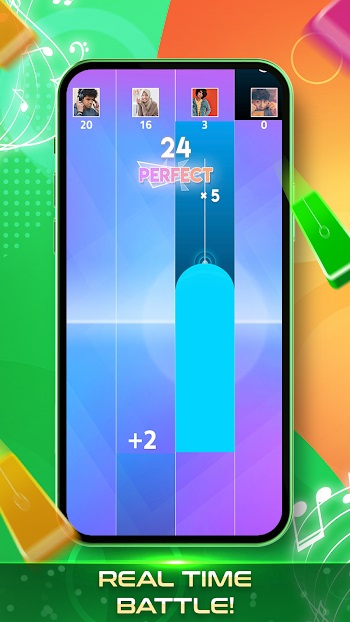 There are different modes
The chance to compete with other players
Selecting different game modes
Registration of points and levels of a player on Facebook
Compare the game/music records of all the players all over the world
Supports social networks
Create music with piano signs when you touch the screen of your phone
Magic Tiles 3 is basically about a smooth section where various music parts are included in the app. You can create beautiful songs by hitting specific keys. Now to find fun in this game, you may be required to combine both to form meaningful and interesting music. Creating beautiful music will give you access to the next section of the game.
Extra Details About Magic Tiles 3
Consider the following information: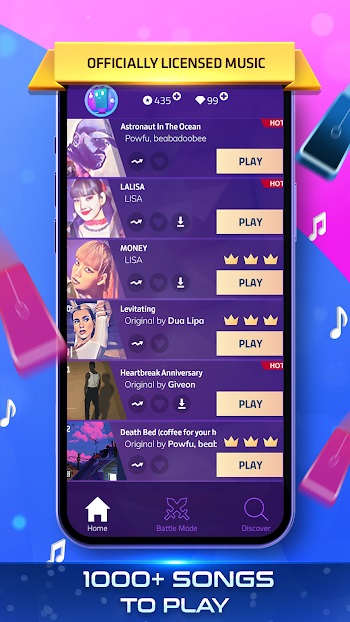 You can directly fight anyone you desire via the Custom Matches, which will allow you to directly challenge your relatives and close buddies to any type of battle.
All the songs are HD and of high quality. You will have the luxury of listening to every track while moving along with the sound. Ensure that you memorize the song so that you can improve your agility.
Takeaway
The features inherent in Magic Tile 3 are some of the most incredible things about the app. If you have not played Magic Tile (1 and 2), you need to download this source of great musical experience on your Android phone.