Download Macrodroid app: Macrodroid is a mobile assistant and task management app that helps users automate certain tasks, issue special commands, and save time.
MACRODROID
It is not uncommon for one to be interrupted by annoying notifications when occupied with work, a meeting, or any everyday activity that keeps us busy. It's even worse when one is interrupted while working online or in a formal setting on the internet.
Perhaps the interruption was never one of great consequence still, picture the amount of time wasted on sorting out boring emails, arranging files and folders, and general mobile cleanup of unnecessary things on your smartphone.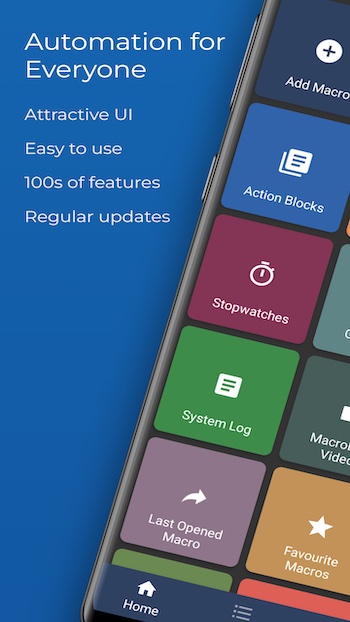 Needlessly, we spend time on things that can be automated to be performed automatically by the super-computer in our pockets. With a simple command (even if you are not a programmer), you can instruct your 'smartphone' on what to do and how to behave under certain conditions. A plethora of apps and systems exist for this cause, one of them being Macrodroid.
About
The Automation-Based app Macrodroid, was developed by Jamie Higgins in Feb 2020.
Specifically designed to be an easier means of smartphone task automation than Tasker and Easer, Macrodroid is the most simple, straightforward, and beginner-friendly approach to mobile automation.
Before now, all commands given to computer systems, be it Pc, tablets, or smartphones, were done by individuals with a strong grasp of programming and automation. Even the most basic of commands were up to these individuals. However, thanks to the introduction of automation apps like Macrodroid, anyone with a smartphone can now automate.
Automation is becoming more and more of a norm in society due to its huge benefits. Now individuals can control their affairs, do more and be more productive. At the same time, time-consuming tasks that took a chunk of their time now run automatically at impossible speeds, with precision and efficiency.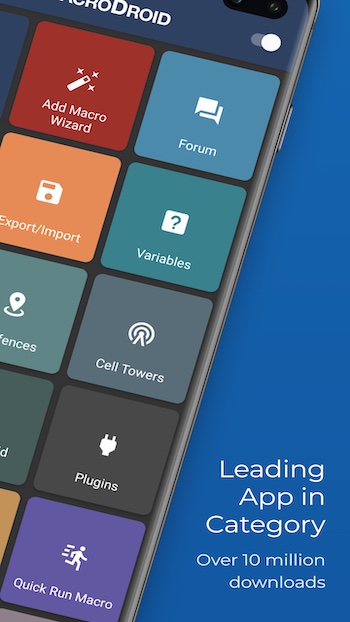 Tasker and Easer, two popular automation-based apps, are more examples of alternative Automation apps. However, users familiar with these options must admit that while they offer impressive services, they are incredibly hard to follow and use in automating simple day-to-day activities.
This complexity and time spent on setting a series of commands for your smartphone or device to follow are eliminated by Macrodroid. Users can select and restructure the set order or macros as they see fit by creating pre-made and easy-to-understand controls.
Features of the Macrodroid app
It would be a surprise that the smartphone you carry about so leisurely, is far superior to the computer that took a man to the moon!
Yes, smartphones and modern devices are far more powerful and useful in more ways than the common folk knows about and uses them. However, with Macrodroid, one can scratch the surface of the true potential. Some of the more noticeable features of the app are:
Easy Accessibility
The app is very popular that simple searches like;
Macrodroid app
Download Macrodroid pro
Macrodroid pro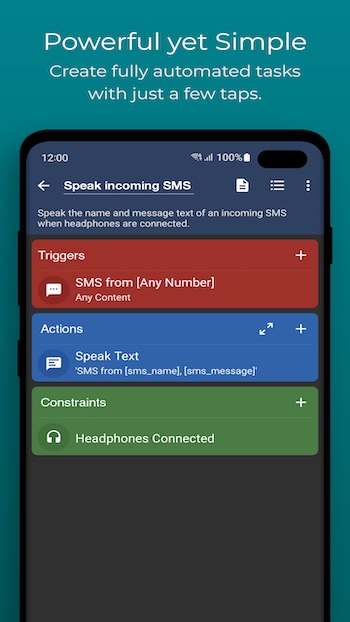 Download Macrodroid
Macrodroid Pro free download
will result in the user being presented with the app.
High Inter-operability with other apps and devices
Macrodroid users can use the Macrodroid app and Macrodroid Pro 2022 app alongside multiple apps and devices except for the IOS. Unfortunately, Macrodroid only runs on the Android Operating system, with plans being made for the IOS.
Ease and Efficiency
Macrodroid pro automation app is the easiest, time and beginner-friendly automation app with high efficiency.
Modify and Color coding
Adopting a simple-to-use design means Macrodroid comes with fully customizable macro templates.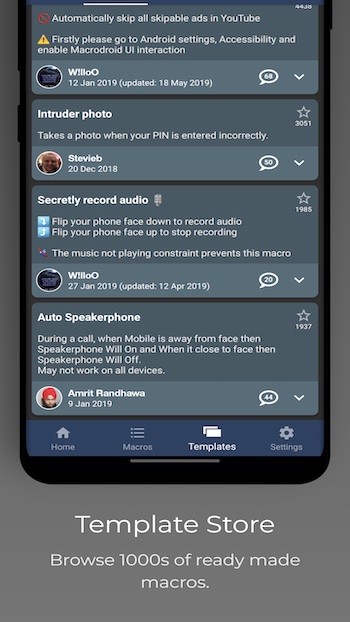 Some of the operations and tasks Macrodroid can help you accomplish with your device could go from a simple assistant tool to espionage, e.g.:
Customize an alert system for special messages, notifications, and low battery.
Automatically play media once a headset is connected
Reject, record, silence, and ban calls with simple gestures like shaking, tilting, or turning the phone face-down.
Take a silent screenshot and send it to your email once an unauthorized person inputs the wrong phone password thrice.
Automate WIFI
Take audio and video recordings silently with simple gestures.
The most used automation system is Macrodroid unlock screen, which lets the user unlock their phone with simple gestures like tap, slide, flip or wave over their device's screen.
Macrodroid Tutorial
One slight problem user who are completely new to automation face, is the absence of an in-app tutorial.
Despite being easy to use and straightforward, the Macrodroid app, like others, has failed to come with an in-built tutorial system. Considering that here:
How to use Macrodroid
After successfully installing the app, one should note that devices that have been rooted will have access to more automation than non-rooted ones. Nonetheless, non-rooted devices still have access to an impressive automation set-up, as a quick visit to its templates section would reveal.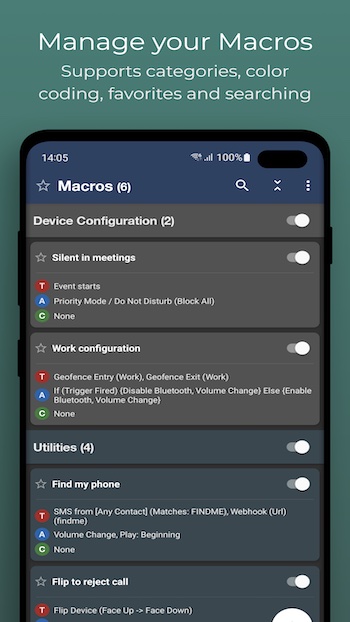 There, one will find a variety of already prepared automation that one can make. Users can further customize this automation to suit their needs. Generally, users are allowed access to just five macros (automation) and would afterward have to pay a small fee of $5 to get the Macrodroid pro app with full access to all features.
To create unique Macros template not present in the templates section, the user would have to develop:
Triggers:
These are special conditions that determine under what circumstances a macro should run. There are currently over 85 triggers in the Macrodroid pro app.
Actions:
"Actions" is the action the user would like Macrodroid to issue to their smartphone in the event of the trigger. It has over 100 options the user could select, each unique to the trigger.
Constraints:
Constraints are just like triggers in that they serve as a breaker to the ongoing action. Once the conditions set in the constraints are met, the continuous effort comes to a halt. At the moment, there are over 100 constraints.
Conclusion
Automating tasks and giving unique and smart commands to your smartphone are becoming a 21st-century practice. With users and businesses now choosing to automate the boring stuff whenever and wherever they can, productivity and time management are considerably high. The time they say is money; automation helps you save much-needed time.