Download Life of Mellow APK and enjoy the gentle survival game. Build your very own mellow village, construct resources, learn to farm, and try to survive.
Description of Life of Mellow
Life of Mellow is a survival and strategy game that involves building a village and learning life skills. The game was developed by MondayOFF and first released on the 16th of September, 2021. Despite being a survival game, Life of Mellow is known for being relaxing, making it an ideal choice for anyone looking for a day off.
There are different concepts in the Life of Mellow game, including farming, strategy, survival, and simulation. The main aim is to survive for as long as possible, and you will experience all four seasons and look for ways to get through, especially the winter.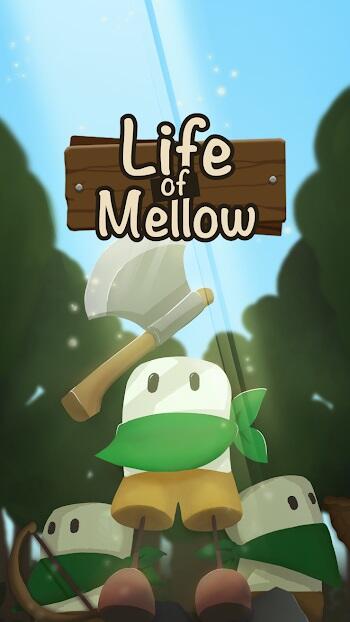 As you play the game, you will collect resources and build different buildings in your village. All in all, you need to carefully manage and expand your village. Despite the game's concept, it is executed to give you a relaxing and fun experience.
Plot and Game Concept
You will play as an adorable little marshmallow in the Life of Mellow game. You will be given a limited area where you'll have to figure out how to survive while building and developing your land to become a thriving village.
Your main aim in Life of Mellow is to build your town. Every single land in the village should be used for farming or buildings. You also have to collect resources that will come in handy as time goes on. Before you know it, what was initially a desolate land will become a rich and thriving village.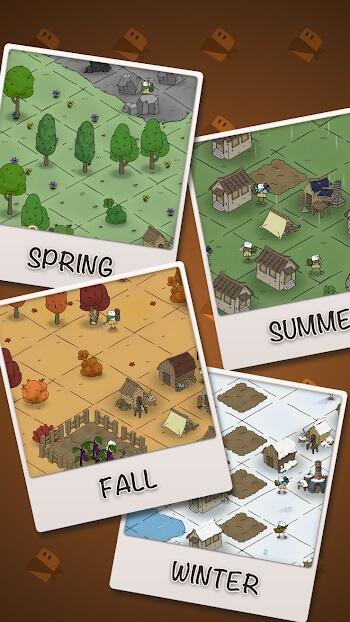 The game lets you know what season you are in, and you'll be working based on that. You can also enjoy different activities while trying to survive.
Survival Game without the Hustle
Life of Mellow separates itself from other survival games because you don't have to fight and do your best to stay alive. The game isn't very stressful, and you must relax, enjoy nature, and develop your town at your own pace. You start the game by building your dream village.
Before building the village, you need resources to help. These resources include wood, metal, stone, and more, which you can leverage in constructing your buildings and developing your farm. You will grow different crops too so that you don't stay hungry. Farming is one of the most important parts of playing the Life of Mellow game.
Once you get resources and set up your farm, you can start building your first house. Your little marshmallow will need a place to sleep and rest when it's not farming. Use your resources to build the house and start cultivating more crops on your farm. You can even hire other marshmallows to work on your farm, increasing the output. They will help you grow and harvest crops and add livestock to your farm.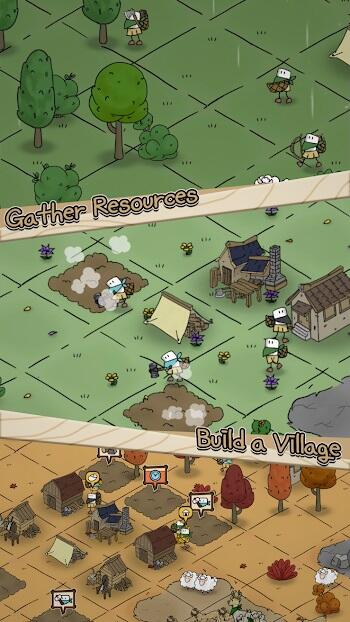 The money you get from farming and other agricultural products can be used to buy more land and build new buildings. As time passes, the population on your lands will increase, and you will need even more management. Since there are four different seasons, you need new ways to take care of the village and become trusted as the village chief in the town.
The game will become more complicated as you advance. You might need to expand more lands, buildings, and rooms to handle the high population. You might need to hire more workers and divide the farmlands to accommodate more crops. It's a fun and exciting strategy game for anyone who enjoys management and relaxing games.
Learn Life Skills on Life of Mellow
One of the best parts of Life of Mellow is the chance to learn new things and manage your workers. You will have different Mellows who can perform a variety of jobs. Some jobs include stone miner, iron miner, building, hunter, fruit picker, gatherer, woodcutter, craftsman, farmer, herbalist, brewer, tailor, teacher, and even cleric. You can check the options and assign each one their tasks.
In the Life on Mellow game, you must create farming tools and exploit your resources to make hammers, pickaxes, saws, and shovels. Also, learn how to do different tasks yourself before you start hiring new workers.
You also have to take care of your mellows by always ensuring there is food in the storage and potions for those sick or injured. During the winter, more Mellows might come to the herbalist's shop for a cold.
The game intentionally focused on the seasons during the design. You might have to deal with harsh winters, epidemics, natural disasters, fierce wild animals, and more. The trees will grow better in spring, and you can efficiently raise livestock. But summer months are hot, so you must have a lot of water for your Mellows. Autumn and winter are the hardest to adjust to.
Serene Graphics and Sound Effects
As Life of Mellow is a relaxing survival game, there's no doubt that it features soft graphics. The game is set against a gentle landscape and the design changes based on the season. During autumn, you can see the fallen leaves, while winter features a lot of snow.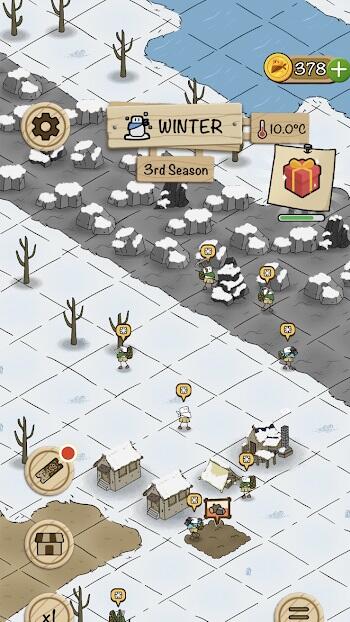 The sound also matches the design. You can enjoy the musical background music that keeps you relaxed while you play. The Life of Mellow game features seamless animations as all the characters are bustling from place to place. They also make small sounds. As the game expands, you will hear more melodies and rhythms.
Conclusion
The Life of Mellow game offers an interesting concept for anyone interested in survival and building. You can enjoy managing your entire village and become a trusted chief over the other marshmallows. From buildings and farming to collecting resources and managing your workers, there's so much to do when playing Life of Mellow. If you're looking for something fun to play in your free time, Life of Mellow is the ideal choice.


Join Telegram Group
Download Life of Mellow APK and enjoy the gentle survival game. Build your very own mellow village, construct resources, learn to farm, and try to survive.