Download Knife Hit APK to practice your knife-throwing skills. With the seamless gameplay and head-scratching challenges, this is the perfect game for you and your family.
A Crisp Analysis Of Knife Hit
Have you been looking for a simple, casual game? You don't have to look for one anymore. Knife Hit is a hyper-casual single-player game perfect for all family members. This game has simple game mechanics, bright colors, and stunning graphics. Knife Hit can be played on more than one device, making it perfect for gaming on the go. The game has ads you can get rid of with a small one-time purchase. You'll get frequent boss fights and different knives to unlock on Knife Hit.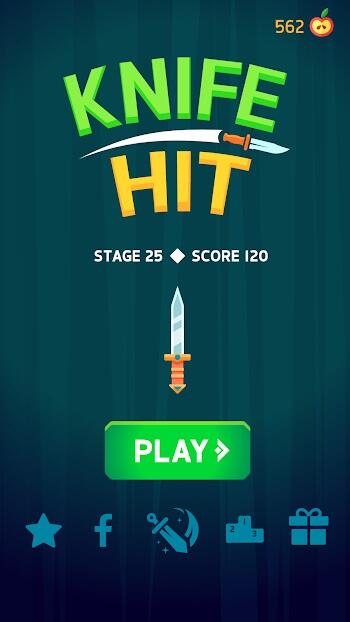 Funny & Interesting Gameplay
Knife Hit is a simple game. You have knives that you throw to break wooden blocks. But this game is so interesting, thanks to the game developers. With beautiful, easy controls, anyone can enjoy this game. Each level is unique, hence offering a new gaming experience at each level. You also get frequent boss fights. You never know what your next level will challenge you with. This game keeps you on your toes with subtle changes every time. The most exciting thing here is that you never know what type of knife you will unlock with the boss fights. So that acts as a beautiful reward for you as you play more.
Break All The Logs
At each level, you have only one goal. You get knives that you break the log with. As you move forward, the number of blades you get may not be the same. But the goal remains the same. The spinning wood breaks when you have thrown every knife. As you move forward in the game, it gets difficult to hit the spinning block with them. That's where the fun begins. Every level of the game is different from the previous one.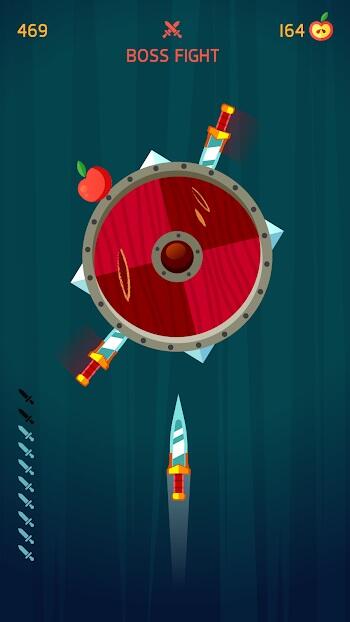 Unlock New Knives
Knife Hit has several types of knives that you can play with. In boss fights, you will find apples on the wooden log. On slicing these apples, you will unlock different knives. You can choose from the different styles of knives and personalize your gaming experience. In Knife Hit, you start off with hunting knives. The various types that you can unlock include short swords, daggers, and even kukris.
Not All Logs Are Easy To Break
The game starts easy. All you have to do to make sure you win is to hit the wood with all of your knives. But that won't be the case each time. As you move forward, you will come across logs that are difficult to break. With spikes on them, these logs will force you to change tactics. Instead of clicking continuously, you will have to stop and notice the spinning pattern of the wood. Based on that, you will have to tap on the screen. If your knife hits a spike, that would be a loss for you.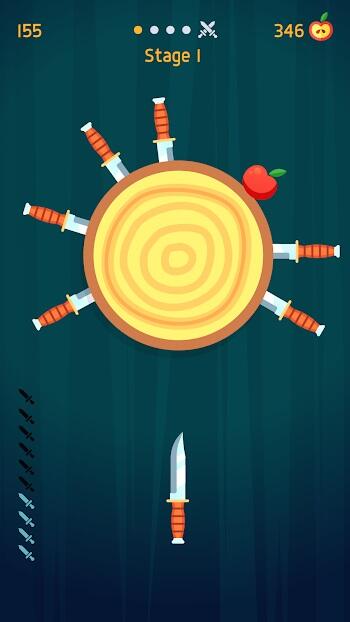 Clear Stages To Advance
In Knife Hit, each level prepares you for the boss fights. Every 5th level is a boss fight. Before that, all the stages raise the bar for you. Every time, the block of wood spins differently. The block moves in different patterns and at different speeds. With these changes, you have to focus before you throw the knives. When you finally play the boss battle where the blocks are more unpredictable, you will thank yourself for clearing the previous levels.
Try Not To Run Out Of Knives
At each level, you start with a certain number of knives. It is usually a multiple of five. With those knives, you have to plan out your throws. Some blocks have blades stuck to them. Some blocks come with spikes on them. If you hit that already present knife with a throw, you will lose that knife. You're allowed to miss only three times before replaying the level.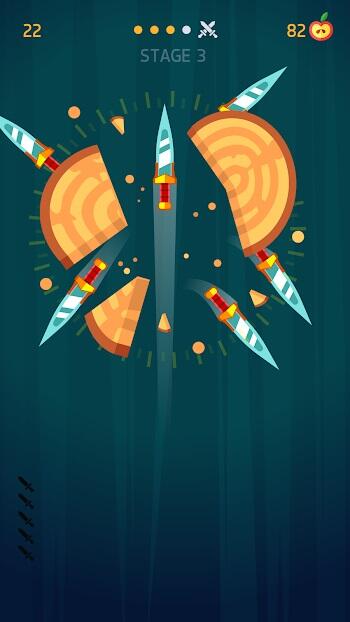 Boss Fights Are Tricky
In Knife Hit, the gameplay is simple. To pique your interest in this game, the game developers have designed it so that every 5th level is a boss fight. During these boss fights, the wooden block is no longer a simple wooden block. These blocks spin differently. They have fruits and spike on them. You have to hit the fruits for bonus points and unlock new knives. Be careful not to hit the spikes.
Supported On Tablets Too
Knife Hit is a simple game. Due to its hyper-casual and fun gameplay, game designers made it perfect for playing on the go. It runs marvelously on your phone. It also supports tablets. This lowers the stress on your eyes if you play longer sessions on tablets. Due to its easy game mechanics, anyone, even children, can play this game. Knife hit is the perfect bonding activity to bond with your siblings.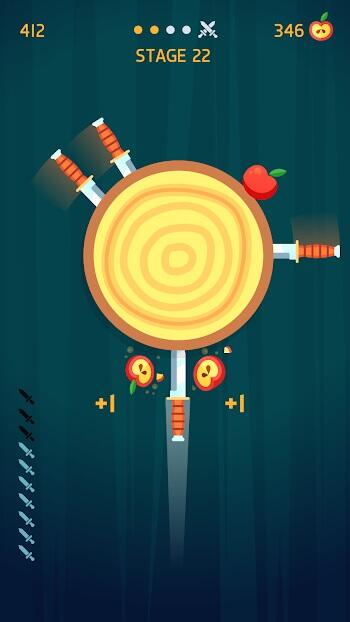 Classic 2D Graphics
Immersive gameplay gives you the best gaming experience. Knife hit has stunning 2D graphics with seamless animation. This game features simple controls that make it a perfect choice for playing and bonding with your younger siblings. You will be mesmerized by the beautiful art style and color palette.
Lightweight Game
Games with several levels and stunning animations are usually of a larger size. Knife Hit is designed to fit several stages without being big in size. With a mere 61 MB size, this game gives you memorable gameplay, stunning visuals, and seamless animation. Due to its smaller size, this game will not slow down your phone. Neither will this game slow down while running, making you lose points. This game is perfect for offline and online playing.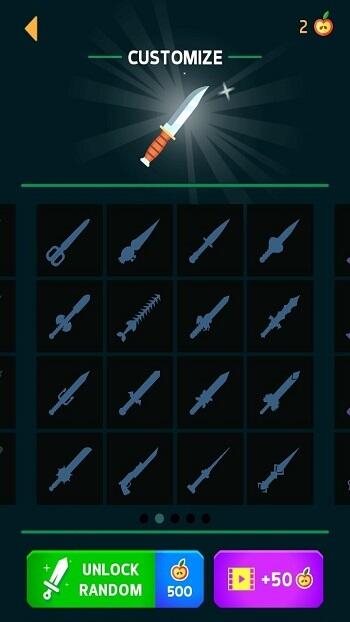 Fun & Engaging
This game is the perfect game to bond with your family. If you have siblings and friends, bring them together and play this lightweight game on your devices. Plan out the throws and have fun. With simple mechanics and game control, this game is perfect for everyone. While this game does have ads after each level, you can get rid of those ads with a one-time purchase. This game is the perfect leisure activity you can enjoy wherever you go.
Conclusion
Knife Hit is a game with stunning graphics. With a one-time purchase, you can enjoy this game ad-free. This game is perfect for offline playing as well. Knife Hit is the best lightweight game with a 61MB size. So what are you waiting for? Download Knife Hit now!!