Download Kingdom Rush APK, an enjoyable Tower defense game. Devise a  plan to protect your Kingdom and remove evil forces from your towers with your powerful magic.
Kingdom Rush
Kingdom Rush is an incredible tower defense game developed by Ironhide games for both Android and iOS mobile devices. It is a mobile game that will have you engrossed for hours as you control the mightiest heroes and lead a large army to glory.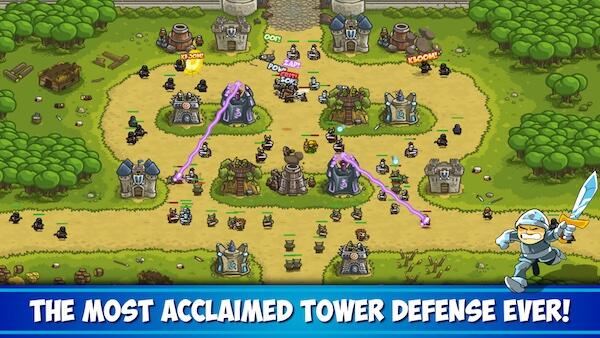 Like other tower defense games, each level follows a set course with strategic places by the sides where the player may place towers. Waves of foes will appear along the way, and it is the responsibility of the player to ensure that towers are used to eliminate the enemies before they get to the finish line.
Detailed Description of Kingdom Rush
Kingdom Rush is a collection of tower defense games available for free download. This game is based in a fancy unsettled world. And in it, you can make use of multiple tower upgrades and abilities to tailor your game plan as you battle across woods, hills, and slums.
To save the Kingdom from evil grasp, you must engage your foes with fire, call in support, lead your army, gather fairy warriors, and battle mythical beasts.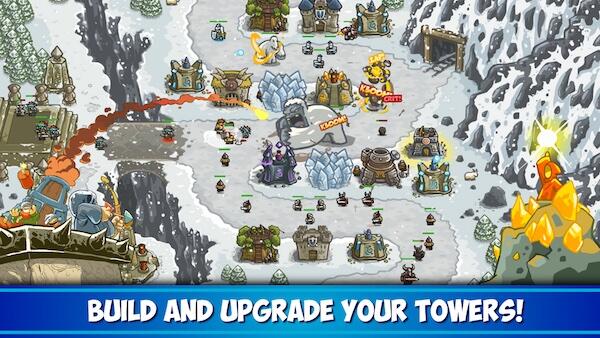 You keep playing as time goes on because it is a timeless strategy game with a manageable degree of challenge and no annoying learning curve to make it boring over time. Every stage of the game has assigned paths and areas the player can strategically erect towers on the sides. When enemies show up during the journey, the player must make sure that the towers are utilized to crush the adversaries before they get to the end line and destroy you.
The core of an adequate level strategy is where you place your towers because different adversaries in the game have resistances to particular sorts of harm. Similar to other tower defense games, the enemies don't just vanish without first giving a fight. You must fight them and fight them furiously with your powers, people, and tactical skills. There are spells available to players.
These spells restore over time as the game progresses. One of them is the meteor spell, like a tsunami, which summons a rain of fire to destroy your adversaries. Another is the reinforcements spell that sends two gallant soldiers to your enemies' road, thereby blocking and doing extreme damage to their defensive line.
Players are rewarded with gold for destroying invaders, which can improve towers, inflict more harm, and acquire more health. The more challenging modes come after completing a campaign stage, and the player has eighteen or more lives remaining out of the initial twenty given. These are the heroic Mode and the Iron challenge. They are immediately activated while the player gets only a single life. Allowing a single enemy to survive to the defense point will result in a loss, so you must come up with solid strategies to avoid this and come out victorious. Or else you die.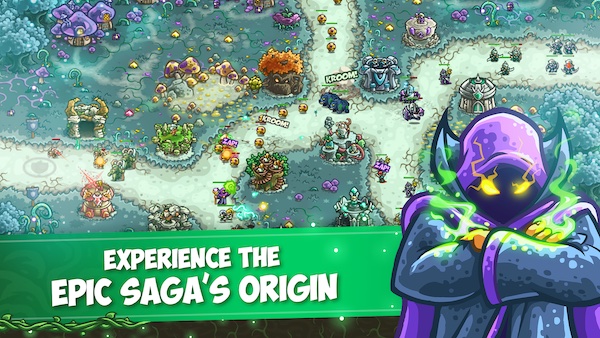 Many would ask about Kingdom rush origins. This particular one is the third installment of the all-around praised offline tower defense franchise, which has won recognition from both top gamers and even media outlets.
The more exciting part is that there are no obtrusive commercials; there is hardly any interruption by ads while enjoying the game, which is honestly the best way to have advertisements in a game. The gameplay is sensational and adequately unique for the game it is.
Amazing Features of Kingdom Rush
Kingdom Rush gameplay has familiar features but is extremely stimulating. There is an invasion underway in your fantasy territory, and you get a mission briefing before you start the next level explaining the antagonist armies to be confronted. It adopts characters from the movies Lord of the Rings and Warcraft.
You're The Boss!
In Kingdom Rush, you're just the boss; every other character in the game listens to your every command. Their lives depend on you, and your charge would be to formulate quick strategies to protect them and your Kingdom at all costs!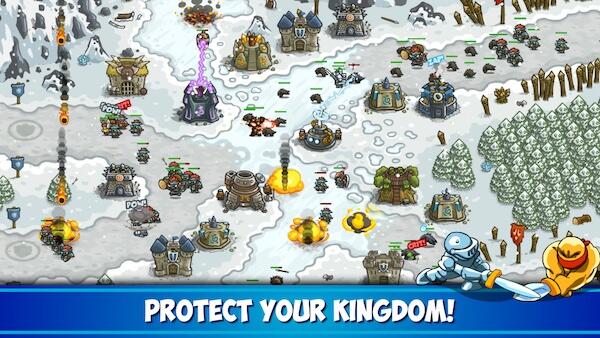 With being the boss comes all the controls you can get with ultimate magical powers to maim the evil wizards trying to attack you. At your command, you can have your sorcerers summon elementals of the earth to defeat your enemies.
Different Challenges to Conquer
One of the things that make the game so immersive is the fact that you have different enemies to challenge and defeat. You're not only going to fight wizards. Variety is the spice, as they say. You have a variety of enemies, from goblins to demons to mountain trolls, and this making it more enjoyable as you progress.
Extra game modes
Adding to the fun challenges you'd be facing in this game are extra game modes to test your tactical skills.
With each of the modes, you'd be exposed to different challenges and tasks that you'd be so bent on completing once you start.
In-game Currency
To obtain some in-game currency, you must click a button to play an ad. There are also optional pay-to-win methods to access kingdom rush unlimited money.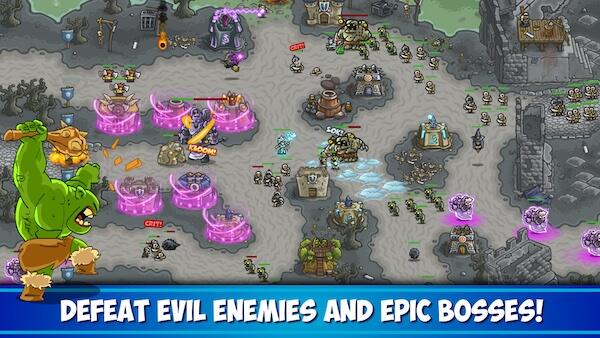 You'd also be gifted 3 stars when you win each level of the game. You can use these stars to upgrade your towers and skills.
Conclusion
Greetings from Kingdom Rush! Enter the fray in this timeless Tower Defense game.
Kingdom Rush is a game you shouldn't pass up because of its superb visuals and meticulous degree of detail. Behind all these is a beautiful game you'll come to love when you play it. The fun challenges you'll be exposed to and the tactical skills it'd draw from you are few among the many reasons Kingdom Rush is a lovable game.


Join Telegram Group
Download Kingdom Rush APK, an enjoyable Tower defense game. Devise a  plan to protect your Kingdom and remove evil forces from your towers with your powerful magic.