Download Jurassic Survival APK and experience a top-notch Jurassic World survival game. To survive in the face of dinosaurs, arm yourself and construct your shelter.
About Jurassic Survival
At the beginning of this game, you'll find yourself in the middle of an unknown sea after narrowly surviving a disastrous shipwreck. You're alive but lost on an island that doesn't even seem to be on the world map. The Island looks terrifying, and you can hear the thunderous and terrifying roars of beastly creatures you can't seem to fathom.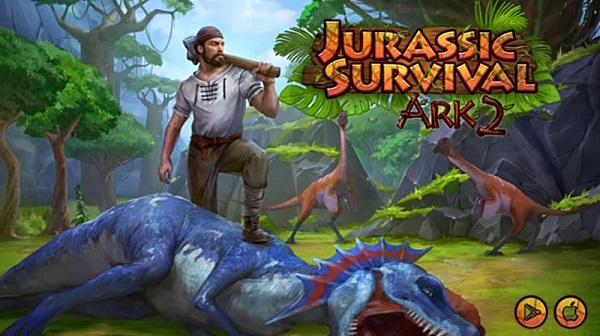 You have to consider surviving before even daring to explore the Island. You finally discover mysterious predators live on the Island. These are wild predators with enormous sizes and an ever-hungry stomach. You must be as cautious as possible to survive this uninhabitable Island you found.
Game Description
You discovered yourself stranded on a mysterious island with enormous dinosaurs. You need to hunt, gather resources, make items and construct a shelter or you'll die from hunger and the cold. To survive among the Island's ravenous enormous dinosaurs, you must put up your best effort. You start by searching the Island for items that can be used to make destructive weapons. Next, you begin the game wearing only shorts and must collect food, drink, and other necessities to stay alive.
Utilize your tools to improve your ability to complete your assignment. Gather food and building supplies to satisfy your hunger and construct a safe house. Then, get ready for a terrifying night. You'll run into the most dangerous dinosaur species in this game.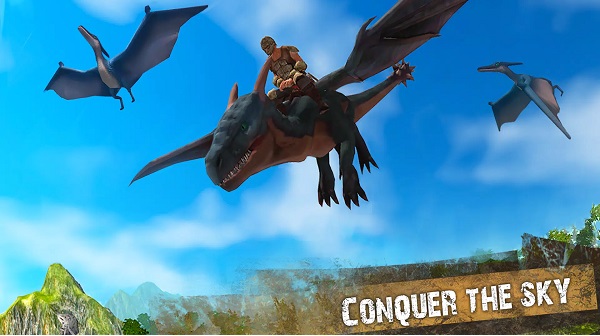 You start with nothing. To construct knives and axes, you can gather various natural materials like wood, bamboo, trees, stones, etc. Next, you'll confront the hazards lurking and the possibility that cannibal dinosaurs may appear at any time. At first, they are simply a few tiny Ornitholestes, but you can take them out with your hand. Their skin serves as the primary component of pants and coats. It's necessary to keep your body warm because the weather in the game is pretty harsh.
You don't need to be tensed up because there will also be other survivors in this game. On this dangerous Island, other survivors are making a valiant effort to fight for their lives. Build shelters and hide from rogue beasts as you battle for your lives with these survivors. Play with other team members or take what you can get. Try out whatever you can, but remember that surviving is crucial.
Gameplay
Jurassic Survival is a fantastic MMORPG with hundreds of regions and items, a robust and enjoyable crafting system, and outstanding graphics.
Gathering materials to create various tools is one of the game's most crucial responsibilities. You can gather things like stones, bamboo, minerals, veggies, meat, vines, and many more from your environment. Then, you can build anything as large as a garden and as small as a workbench with these components. Additionally, there are more contemporary components like USB memory sticks, safety gear like jackets and helmets, and even weapons.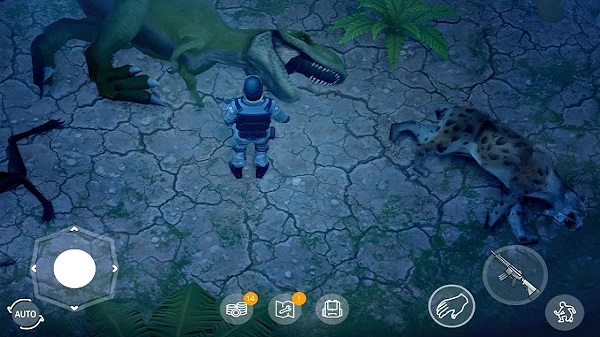 In the starting zone, you build your house. After that, you are free to build it however big or small you want, with windows and doors wherever you place them. So let loose your imagination and create an incredibly elaborate refuge.
Game features
Jurassic Survival has some fantastic features.
Dinosaurs Are Tameable
Any dinosaur may be trained. Although transporting logs on a diplodocus is more accessible, it is not safe. And nothing is more thrilling than unleashing a massive tyrannosaurus on a foe.
Warm, Drink, And Eat
There is plenty of fresh meat, fruit, and water on the Island. All you have to do is take yours and keep from getting eaten.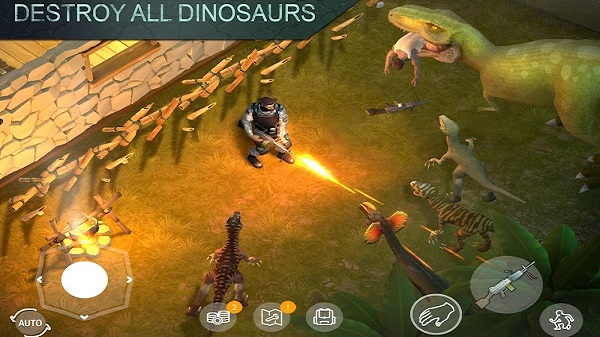 Build A Base For Safety
Pretty basic. Build your impenetrable castle using as many building materials as you can. However, it would help if you exercise caution when choosing the height of your fence because some dinosaurs may be able to simply over it and visit you.
The Key To Success Is Crafting
With a stick, you can have fun chasing lizards. But it would be wiser to build a good weapon and armor, stock up on various tools, and begin hunting a large animal.
Most Durable Forms
Do you believe the only people you'll encounter are dinosaurs and players? Then have a peek inside secret lairs.
Construct A Common Village.
If being a lone hunter is not your style, collaborate with other players to establish a shared settlement. Numerous benefits exist, ranging from raiding the most dangerous monsters to massive standard constructions.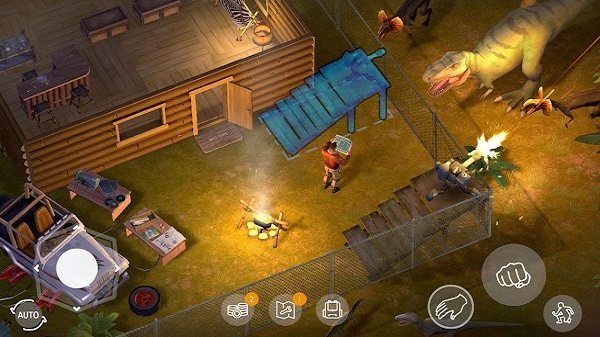 Explore The Island And Collect Beneficial Things
The Island where you find yourself is home to a carnivorous dinosaur and several mysteries. Be brave and dare to test yourself in these mysterious places because there are many things you can benefit from.
Bonuses And Gifts
You'll receive a different task each day, and when you complete it, you'll get gold and money to spend on supplies and other things. You'll be given what it takes to survive on this Island. It would help if you gathered a ton of bonuses in the middle of the ocean, then utilized them to enhance your hero. You must go to whatever lengths to obtain as many bonuses as possible by attempting to successfully perform the tasks you have been assigned since the higher you are, the greater your probability of surviving.
Game Graphics And Sound
Realistic images: Take in the delightful graphical experience, realistic maps, magnificent dinosaurs, and dynamic Jurassic environment. Living on the Island of the dinosaurs will be an unforgettable experience.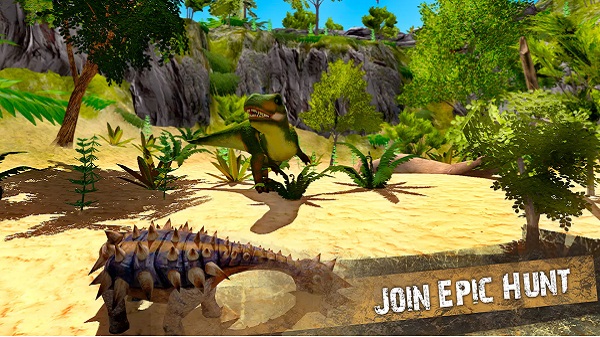 Sound Effect: Gamers in Jurassic Survival can enjoy outstanding and addictive sound effects with thrilling and exciting audio experiences.
Conclusion
Jurassic Survival will undoubtedly become your new favorite Android game if you enjoy playing excellent survival games or have been searching for a fun game with the traditional survival aspects.
One of the most notable survival games right now, the game from Mishka Production publisher, has over 10 million Google Play downloads. Download this game to your phone if you're ready to go on the ancient journey with me. The gaming universe is far richer and more captivating.