Download Jetpack Jump APK, a game where players get to explore the world with only a jetpack on their back – fly high and reach new places waiting to be discovered.
An In-Depth Description of Jetpack Jump
As stated above, Jetpack Jump is a game where players fly high using a jetpack to reach new destinations and places waiting to be discovered. In this game, you will explore the world with only a jetpack on your back, starting at the track field. Ensure that you calculate the right timing to skip, hop, jump and soar into the atmosphere, as this game is all about timing. While flying across the sky, players should use all their jetpack fuel to go the distance and enjoy the ride to the fullest before landing back on Earth. Jetpack Jump is a simple but addictive game guaranteed to have you playing for hours.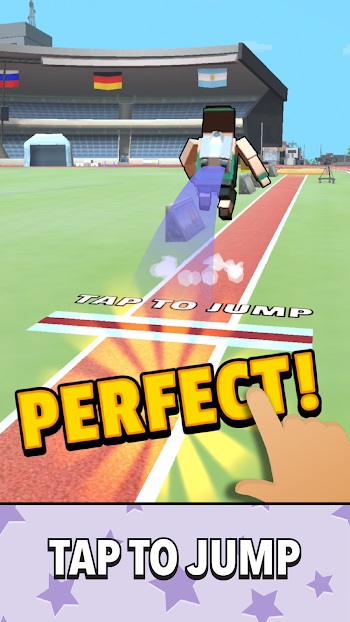 Jetpack Jump is the perfect game for anyone looking for a relaxing but addictive game – something not too competitive but good enough to keep you on your toes. Jetpack Jump is a sports game that is a combination of jumping and distance. Your goal in this game is to beat your total best distance and set new records for yourself – the main character in the game is a talented long-jump athlete with a jetpack on his back. With his Jetpack, he is expected to calculate his movements accurately so he can jump as far as possible.
For you to understand better, you will be controlling a long-jump athlete (a pixelated character) in the Jetpack Jump latest version. When you start a level, your character will begin to move forward, and you will have to tap the screen at the right time so that your character will jump. Once your character jumps, you can activate your Jetpack to reach a further distance. The further you travel in this game and the more records you break, the more money you will get. You can use the money you earn to purchase upgrades – like a boost – that will help you explore different regions and help you finish the next jump.
The Jetpack Jump latest version offers a weekly and monthly paid subscription, allowing players access to more exciting features. When you buy the subscription, you have access to an ad-free experience (it removes non-optional ads from the game), double coins after every jump you make, a booster pet that will give you an extra boost, a gold jetpack that you can use in the game, and exclusive hat you can wear in the game to spice up your style. With this subscription, players have access to even more features than the unpaid version, which guarantees to improve their gaming experience to the fullest.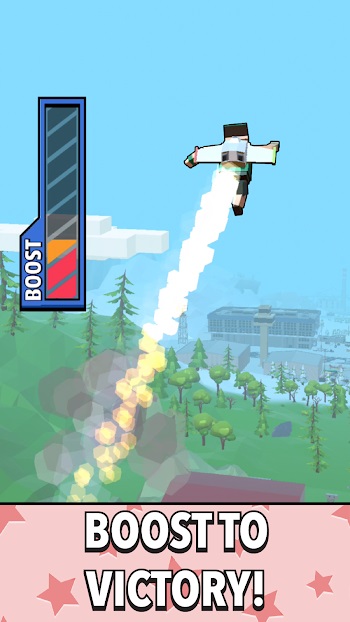 One great thing about Jetpack Jump is that it has short levels – each game lasts for about thirty seconds or less – so you can play anytime you want, and anywhere you are. It is an exciting game with simple but addictive gameplay, so you can discover its features within ten minutes and play the game for months, even years. Do you think you have what it takes to reach the furthest distance and destinations; how far can you go? Our site offers a straightforward Jetpack Jump download process so you can get right to it.
Features of Jetpack Jump
Now that you know about Jetpack Jump let us look at some of the exciting features this game offers.
Simple Gameplay
As stated above, Jetpack Jump has simple but addictive gameplay – the rules are not the same as the ones you see in long jump tournaments since it combines long jumping and jetpack flying. Jetpack Jump is a loop that includes flying jetpacks, upgrading shoes, jumping, flying, setting new records, and continuing to jump to break your records. It seems pretty boring as you will be doing the same things all over again, but you will find out that once you start playing, you will get addicted.
When you start a level, your character will begin moving forward, so you should tap the screen at the right time so your character will jump. Then, tap the screen again for your character to jump for the second time, then tap the screen for the last time to use the Jetpack. The further your distance, the more coins you will earn after every game.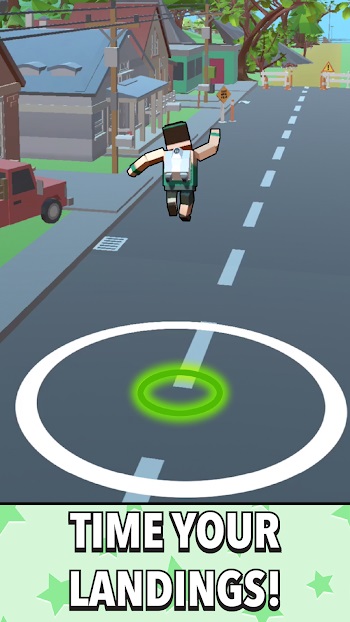 You will not be competing with anyone other than yourself in this game – set challenges for yourself and try to conquer them by beating the previous records you have accomplished. It is much better when you are competing against yourself, and although it may seem too easy, you will surely feel that feeling of excitement and accomplishment when you set new records. Players get to reach new places and destinations waiting to be discovered – you never know where you will land; it could be a farm or a village.
Graphics
Jetpack Jump is a game filled with bright colors that will bring a sense of excitement and a pleasant feeling. The game is a simple but fun 3D graphic style similar to Minecraft; players will get to discover and explore many colorful areas and designs. Players will be controlling a pixelated character, which is very easy as they must tap the screen.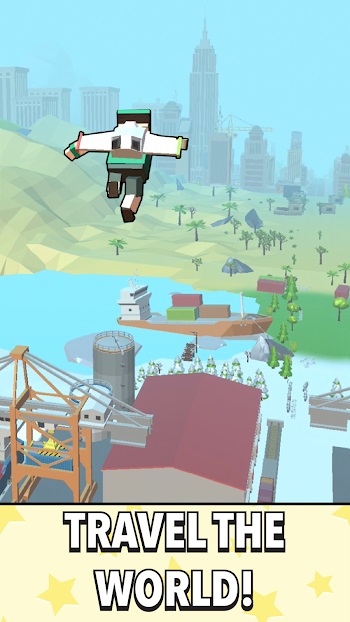 Despite the simple and colorful graphics, players will probably get tired of the game easily as it is monotonous. There is nothing special to look forward to—only the usual jumping, flying, setting, and breaking the previously set records.
Upgrade Jetpack and Shoes
If you want to be able to reach further distances, you will need to upgrade your shoes and Jetpack. This is because your Jetpack will help you fly further, and the shoes will help you jump higher when you upgrade them. You can tap your screen again to go further when flying in the air. You can easily beat your records and set new ones with every game.
Other Features Include:
Players can unlock fun outfits to make their character look stylish while reaching new places and destinations.
Players have access to offline earnings; when you purchase money packages before closing the game, you can earn a large sum of money offline and receive it the next time you play.
There are several different upgrades you can activate to boost your travels.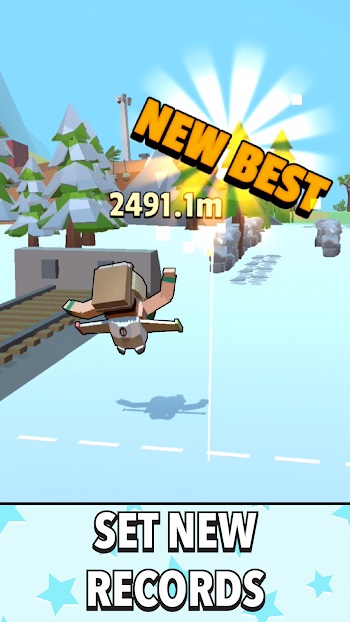 Conclusion
Dive into the Jetpack Jump world and fly to victory – boost your shoes and Jetpack to reach further distances, explore the world and enjoy the ride while you are at it. Our Jetpack Jump download process is straightforward – so what are you waiting for? Hit that download button now!