Download Island APK, an excellent secret app with exciting features. You can isolate, clone, freeze, and hide apps. Use VPN on the Island or different ones on both sides.
An In-Depth Description of Island
Island is a free-to-install mobile app offered by Oasis Feng. The app has received lots of ratings since its release, thanks to its unique features. The app is a sandbox location where users can clone apps of their choice and isolate them from gaining access to personal information not within the confines of the sandbox.
This information includes photos, contacts, call logs, and so on. Data cannot be obtained from the app even if it is granted related permissions. However, device-bound data such as IMEI, SMS, and others can be accessed. Applications that have been isolated can be iced based on demand. With this action carried out, the app icon would disappear, and the app's background acts would be blocked entirely.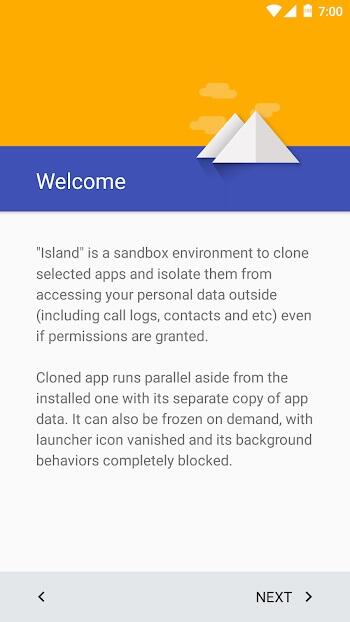 The Island app allows users to perform 2 incredible actions with applications that have been previously installed on your device. You could isolate or clone the app. Isolating the app will enable you to operate it within a virtual space so that your device will not be affected if anything happens. However, cloning the app allows you to run identical applications in a parallel setting.
Asides from these interesting features, users of the app can also freeze any application, completely blocking it from gaining access. You can also hide your applications from prying eyes; this way, be aware of the app's existence on your device. With all the fantastic features of the app, users would be required to encrypt and have their devices deep-rooted. Have no fears, and the app will guide you on how to get your device encrypted.
Features of Island
Check out the features of the Island: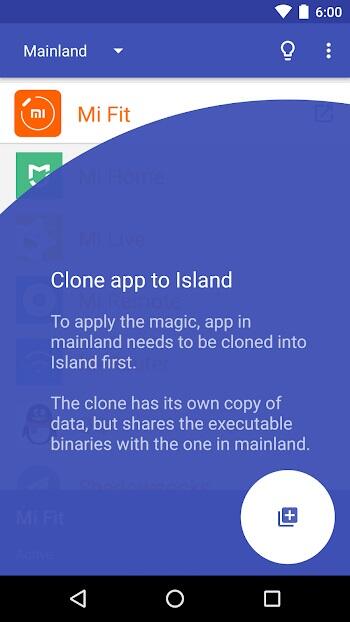 Island Mechanisms
The application utilizes the feature-managed profile on Android 5.0+. This is known as the foundation of Android for Work which is meant to develop the isolated sandbox for applications with their information.
When you get the Island app, note that your application must be cloned for a start. Following that, the cloned app can operate on a parallel nature to the initial one. Without Root, your app would remain frozen by demand on download Island despite signing in various accounts.
By the "Auto-freeze" command, apps can be frozen automatically. Go to the overflow menu and complete this command. Note that the command would work like hibernating a typical application in Greenify.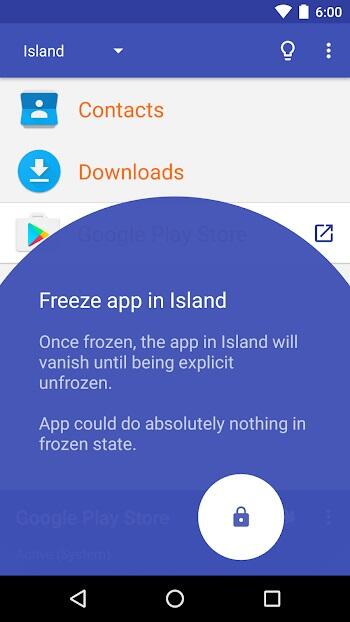 Cases Where The App Is Utilized
Avoid applications thirsty for permission to gain access to your personal info
If applications refuse to function without specifically granted permissions, note that runtime permissions are possibly not the solution. Application clones that run in the Island app would not be able to access creep-around apps and gain access to private data like call logs and contacts. However, they might have access to your location and SMS because of their bind to your device.
Get frequently used apps frozen
In this case, you can clone apps that wake up frequently; clone the apps to Island and get rid of the original app outside of your device. To block out the background running of those apps, you can freeze them completely. Develop a shortcut for launching the app in cases when you need to access it quickly and de-freeze an app.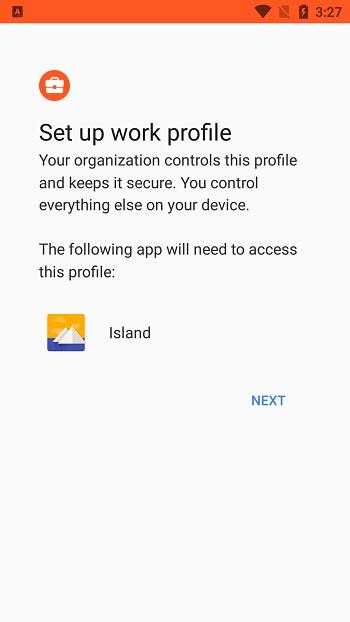 Users can also create 2 accounts on the same application to run on the Island and the device. To do this:
Clone the app to the Island and signup for another account on it. Your fairly used applications can also be archived.
Always keep those apps frozen until there is a need for them.
Keep your private apps from prying eyes as well.
Manual Setup
Island can be downloaded and installed without stress on Android devices that are high-end and launched after 2016. On specific mobile devices, users could get a message saying "incompatible with your device" from Google Play Store. They could also be alerted during the application setup through an error text that reads, "Sorry, your device is incompatible with Island" Whatever the case, the Island app would work on your mobile devices if you manually set it up.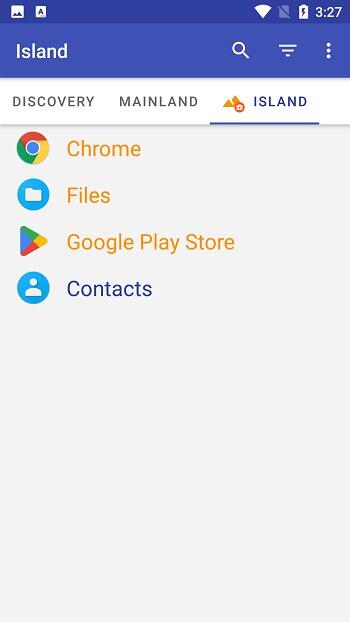 In cases where you want to encrypt your mobile device during the setup and have no intention of decrypting your device, this can be avoided if you are manually set up. Check out the manual setup to know more about this.
Managed Mainland
In standard configuration, the Island app exclusively manages applications that have already been installed on the Island application. During the advanced configuration called "Managed Mainland," applications beyond the Island orbit are equally under the jurisdiction of the Island download app. Whatever application, for instance, can be frozen without having them copied to an Island location. Managed Mainland is mainly only suggested for experienced users.
Final Thoughts
Download the Island application if you wish to clone, hide, or freeze your applications and separate them from your devices. Enjoy all the features of the app and have fun with your mobile devices.