Download and install InternetGuard APK and be able to not only browse the internet freely and safely but also manage your data consumption and protect it from background apps.
Description of InternetGuard
InternetGuard is an Android app that provides its users with both advanced and simple ways to guard access to the internet. You do not have to root your phone to be able to carry out this, as it is common in the past. Instead, personally grant or deny access to web addresses and applications, especially regarding your mobile connection or WiFi.
Advantages of Blocking Access to the Internet
Sometimes you may not have enough internet data and want to ration it for a specific time. Still, unfortunately, you are unable to do this because you have some applications running in the background and consuming your data. It does not matter where these applications are closed or not; they are always functioning in the shadows and lapping up your data. This can be frustrating – especially when you are well aware of the websites you have visited, and you begin to wonder how it is possible for your data to have been so exhausted in such a small amount of time. This is why the importance of protecting your data cannot be stressed enough. However, the following are the advantages you can gain from blocking access to the internet: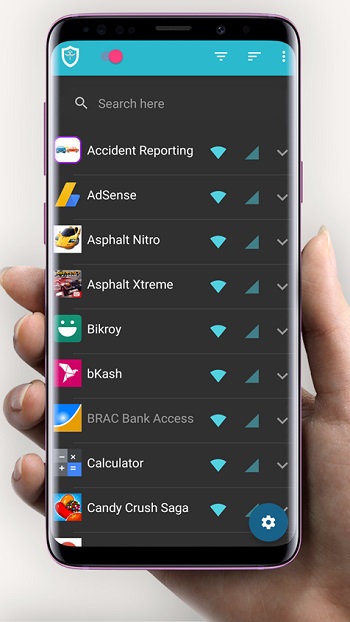 Reduce Your Date Usage: You will significantly reduce the amount of your data consumed when you block access to the internet. Naturally, some websites and apps invade your data without seeking permission, and these elements are often hidden so that you won't even know that they are sucking you of your data. Therefore, by blocking access to the internet, you will render these elements powerless and reduce the level f data usage.
Save Your Battery: It is a known fact that the internet consumes battery life, and when you continue to use the internet for a long time, there is a chance that your battery will become weaker. In addition, while you might be trying to save your battery, some background apps might still be running – thus not only stealing your data but also putting the life of your battery at risk. Therefore, by blocking access to the internet, you will be saving both your data and your battery.
Increase Your Privacy: One annoying thing about using the internet these days is the invasion of privacy. Your space is no longer your space. Besides the fact that some harmful websites and apps may be stealing important information, they are also capable of changing your identity; that is, you can not only be hacked but also cloned. Some websites look safe enough to visit but are dangerous. The safety they present might be a virtual front, and unsuspecting visitors are at risk. But when you block access to the internet, InternetGuard will notify you when you are about to visit these harmful websites. Also, there is the issue of ads – another annoying thing on the internet. On many occasions, when browsing the internet, you must have noticed ads popping from anywhere when you do not request them. This is another invasion of privacy that you can prevent simply by blocking access to the internet, thus disabling the chance of these ad companies from harassing you any further.
The Excellent Features of InternetGuard
The following are what you can enjoy by downloading this app on your mobile device: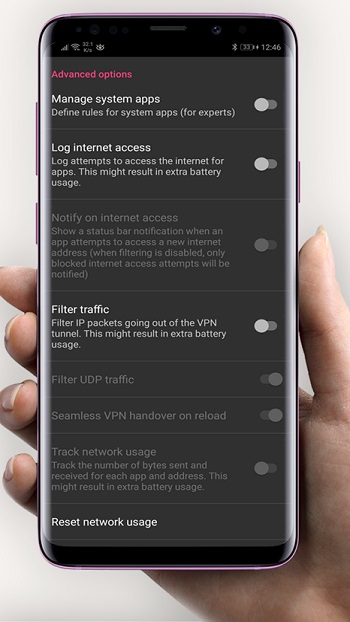 Simple to Use: InternetGuard is completely easy for you. Its interface is seamless, and there is no complication with its usage. You will immediately get the hang of it within a short time of using it, and the directions are pretty straightforward.
No Root Required: Unlike other apps in the same genre as InternetGuard, this particular app does not require you to root your device. It is understandable why some people would not want to root their device because that would only void their warranty. This is why the developer of InternetGuard has ensured that you can protect your internet usage and phone data without rooting your device.
Log Out all Ongoing Traffic: When you activate this feature, the app automatically logs you out from all working websites, including those working in the background without your knowledge. Besides that, you also have the chance to filter access attempts –you will be notified whenever a site or app is trying to gain access to your internet. From there, you can select the particular website or app you want running on your mobile device.
Allow/Deny Individual Addresses Per Application: Sometimes, we find some apps on our phones that we can't remember installing. Most of these apps find a way to install themselves on our phones without our knowledge, and they are usually harmful apps that either steal your information or infect your mobile device with viruses. In addition, these apps rarely function without the use of the internet. And so when you have the InternetGuard app on your phone, you will be notified about the intentions of such apps, and so you can do the necessary things. If you think the apps are beneficial to you, you can give them access to your internet; otherwise, you can just block them off. When you block them, you will be completely rid of them. That means they will never gain access to your internet or data as long as you have InternetGuard installed on your mobile device. It is like having hack-proof security on your phone.
Display Network Speed Graph in a Status Bar Notification: With this app, you can see your internet speed on the status bar's notification side. That means that you will have to continue monitoring the steep and usage of your internet. You can always stop when you reach a certain level you have planned already.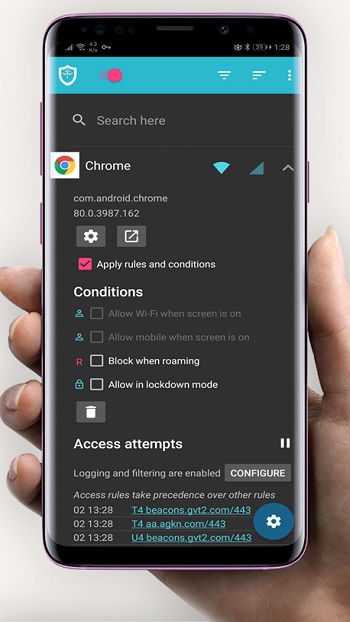 Other features include the following:
Material design theme, both light and dark
Optionally record network usage per address or application
Optionally block system applications
Optionally block when roaming
Optionally allow when screen on
Multiple device users supported
Tethering supported
IPv4/IPv6 TCP/UDP supported
Android 5.0 and later supported
No calling home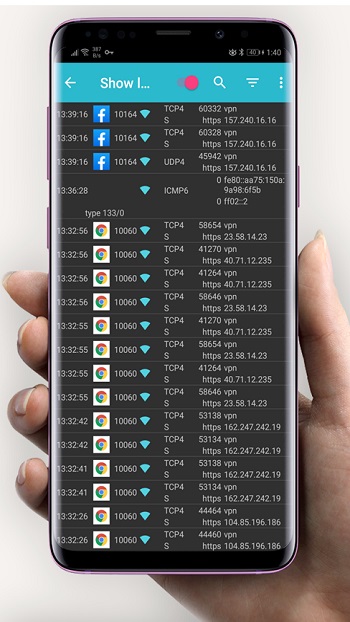 Conclusion
Nowadays, safety on the internet is dependent on the user. If you want to browse the internet safely, you have to take steps to ensure that. Nobody can do for you what you can do for yourself. Therefore, you should not hesitate to download InternetGuard if concerned about your internet use.