Download Idle Ants APK and get your chance to explore the fun world of the ever busy ants. The insects are looking for a master guide and it might just be you!
About the Idle Ants Game
Idle Ants is a fun and relaxing game suitable for recreation and learning. The game was developed by Madbox Games and released on the 27th of October, 2020. It is available on Android and iOS devices and can function most effectively on devices with operating systems of Android 6.0 and above. In addition, it has a moderate size and does not take up much of your storage.
It is a simulation of the life of the ants, one of the fascinating creatures on Earth. Players get to live, build and grow the colonies alongside the ants while watching them eat and forage for food. The game is perfect for players of all ages, with cool gameplay and friendly. Due to its easy play mode, idle Ants is quite simple to warm up to. The game functions with simple instructions and operating methods and can be a great way to relieve stress or pass the quality time.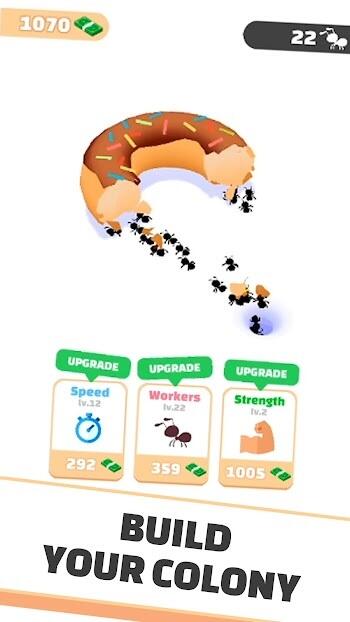 Idle Ants identifies as a satisfying and casual game and is simple to operate. The player directs an army of ants and watches them disassemble, carry, move and eat pieces of food from the environment to their nest. Help them consume everything they can, eliminate obstacles and build your little colony to thrive and flourish.
What the Game Entails
The basic task of the player is to command and direct the affairs of the ants and help them grow and build a standard colony. The ants have to forage for food and bring them back home safely.
At the beginning of the game, there is only one ant to play with. This ant is quite slow and is burdened with finding and bringing all the food. You have to direct the ant to bring food home nonetheless. When food is returned to the nest, it automatically gives the player a monetary reward and, in turn, helps the player create more ants for the tasks. There must be a certain amount of food to be gathered to create an ant. As more and more food is collected, the player creates more ants to speed up the work. The cost of food required to create an ant increases as more ants are created. When the player has recruited as many as twenty ants and gathered enough money, they can create a queen ant. The queen ant births more ants to add to the colony.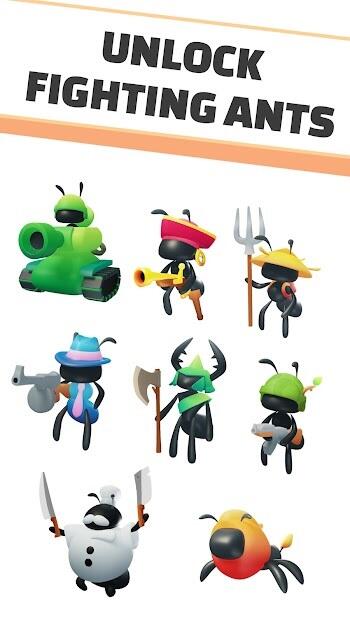 The food to be collected by the ants come in a weird variety. From collecting foods like cakes, cookies, sweets, hotdogs, hamburgers, fruits, and other familiar foods, the ants destroy and decompose other 'foods' like bugs, currency notes, and even airplanes as the levels advance. In the beginning, however, the initial ants start with leaves as food. The levels also come in new and different location settings to increase visual pleasure.
The ants are quite slow and are not strong and sharp enough, so the game makes provisions for the upgradation of the characters. Three main points can be upgraded: speed, strength, and worker increase. The upgrades can be done when the player has amassed enough gold coins to be able to purchase an upgrade.
The speed and strength options are quite self-explanatory. However, the worker increase is a purchase to get more worker ants. There are many different types of workers like laboratory scientists, fighters, guards, geologists, etc. These perform different unique tasks to speed up the growth of the colony. The workers are necessary as there are different tasks to be performed in a colony, other than fetching food, and even the items to carry get heavier, hence the need for strong workers. The player will have to harness the potential of each worker ant to the fullest to expand and concretely establish their colony.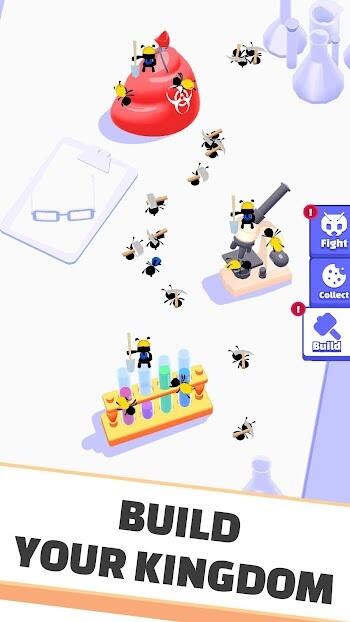 As the player progresses, they can move off and start a new colony elsewhere when their original colony is already firmly built and equipped. A well-built colony will contain a queen or queens and have also met certain conditions already stated in the game. When the player moves off to start in a new environment, they gather experience points from all their various locations. When you gather enough experience, you will have the more practical knowledge to survive in new living conditions. However, when you migrate to start a new colony elsewhere, the previously built colony will still function and generate income for you. It is a process of world domination. Spread the ants!
Features of Idle Ants
- Warm and visually pleasing graphics. Idle Ants is a cartoon-styled simulation game that provides a cool and calm setting. The general background of the game is white, with colorful characters here and there.
- Easily accessible and understandable gameplay.
- Offers both online and offline gameplay.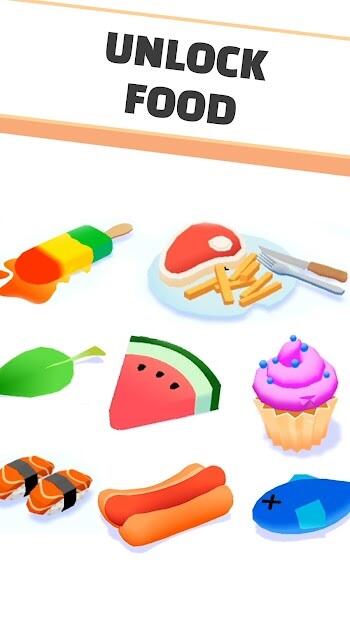 - Offers in-app purchases.
- Game can be enhanced by watching ads. In addition, watching short ads can provide the player with monetary rewards and boosts.
- Available on a variety of mobile devices.
Conclusion
Idle Ants is a unique game with a relaxing and natural concept. Watching the ants eat and directing them can produce therapeutic effects. The game will be greatly enjoyed by players who enjoy casual cartoon animated games.
The game also provides a creative insight into the life of ants and their colonies. The player has to be very tactical and prudent in spending their money and resources so as to quickly claim colonies in different environments and create special worker ants. Idle Ants is suitable for players of all ages and is completely free, so if you're looking for a casual game to provide fun and ease, Idle Ants should be top of your list.