Download Hybrid Animals APK now for access to a game that is far from normal. Do you need some unique gameplay to add spice to your life? This game has it!
About Hybrid Animals?
Hybrid Animals is a 3D game that lets you combine animal characters to create unique creatures. The game world is full of material you'll need to make your adventure a fun reality. The creatures you make will battle other creatures to fulfil quests and achieve goals.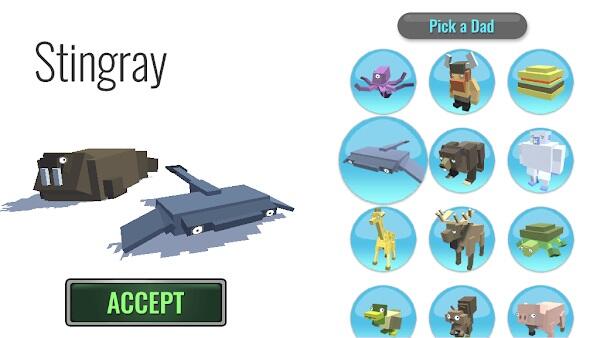 In multiplayer mode, you can battle your friends online with the aid of the creatures you have made for this purpose. Explore Hybrid Animals' gameplay as you read through and learn how exciting it is. All of this is completely free! As expected, there are in-app purchases.
Gameplay
Playing Hybrid Animals involves three things; creating, exploring and battling. The creation screen makes the first appearance when you open the game. Creating creatures requires a mum and a dad. The special powers and names of your creatures depend on their parent animals.
The world of Hybrid Animals is rich with harvest-worthy items, treasure chests and rare items. Explore and gather what looks useful. When you collect these items, you can use them to create materials.
For example, with the proper recipe, you can create a crafting bench which aids you in crafting more complex items. In addition, you can build houses and a town and unlock the other secrets of crafting in the game.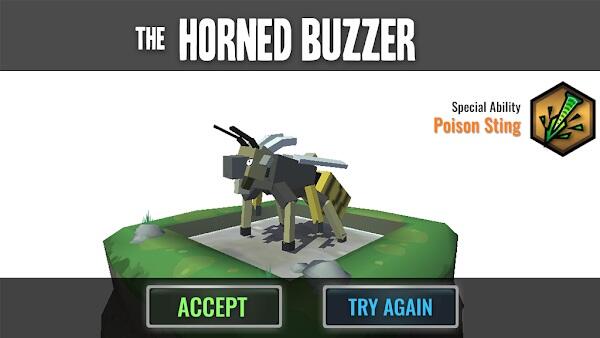 Hybrid Animals are not just fun and pretty animals. There are bad creatures that want your head. Using your loyal creature companions, you'll have to battle the creatures that are not so nice. You'll come across them as you explore and need to fight when they attack.
Intriguing Creature Variety In Hybrid Animals
The word 'creatures' refers to the entire population of animals and hybrids in the Hybrid Animals game. They include:
Wild creatures are the hostile creatures that spawn around the game world. They are usually hybrids with dissimilar parent animals.
Player Creatures: These are creatures the player roleplays as. The animal perks are the products of the benefits gotten from the parents.
Non-Player Creatures: NPCs or Non-Player Creatures are random creatures around town that may help with your travels. They function as food sellers, decor traders and information carriers.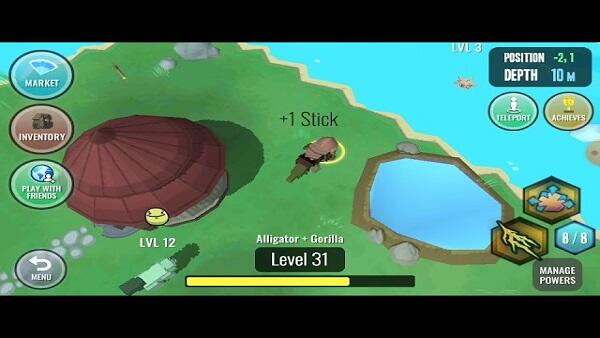 Ghosts: Ghosts are also wild creatures. They randomly spawn where a normal wild creature should have. They are rare occurrences. They take the form of the creature replaced but with a light blue, almost transparent hue. Ghosts have the same sizes and behaviours as the creatures they replace.
Hybrid Animals has other special creature characters. For example, vengeful spirits appear in the Underworld, a mini world in this game. They are usually the same in size, appearance and behaviour as the original creatures but have a red, transparent appearance. Some of them are armed with weapons and armour.
There are special parent animal characters. A peculiar one is the angel animal which represents a religious figure named Jesus Christ. There's also a politician animal representing former US president Donald Trump.
Creature Behaviours In Hybrid Animals
There are four classes of behaviours exhibited by creatures in Hybrid Animals. First, different faces are displayed above the creatures based on the behaviour that is being portrayed at the moment.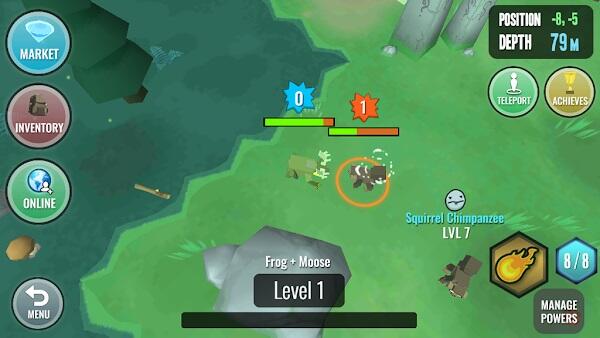 The first one is fearful behaviour. It is depicted with a scared face icon in the colour blue. Creatures in this class will run away from you when you approach them. They keep running until their health points decrease to a certain point, and they have to fight to avoid death. After that, they defend themselves by making feeble attempts at attacking.
A grey, unimpressed face represents neutral behaviour. It almost looks displeased. The creatures act displeased and keep to themselves if left alone. If approached, they will not attack. However, when you begin to attack them, they reciprocate the action.
Damage to your creatures makes neutral creatures even more aggressive. It causes them to keep attacking the player creatures for some time before returning to where they were before you approached them.
Creatures with the red angry face icon above their heads exhibit aggressive behaviour. Mere approaching will cause them to chase and attack you. Therefore, it is advisable to attack them from a distance. This will cause them to chase you once they notice your focus on them, but they eventually get tired and end the chase.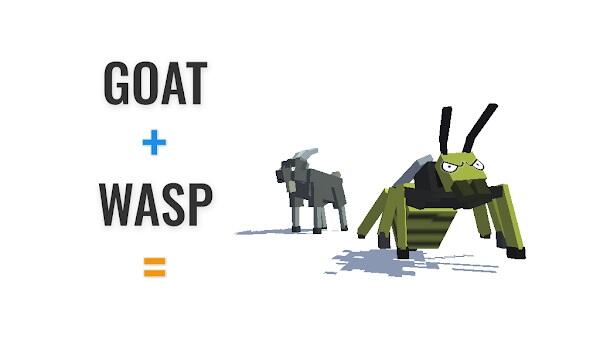 Friendly behaviour faces only appear on companions. Companions are special creatures that are on your side. They attack wild creatures that show hostility or aggression towards the player.
How To Create A Hybrid Animal
Hybrid Animals start with default animal options. These are animals available to you when the game begins. For example, the dads are displayed in blue bubbles, while the mums are in pink. You don't have much at the beginner level, so simple and uncomplicated animal hybrids are the way.
To make use of other animals, purchase them at the Mutant Market. This is a condition for being able to make use of them. These are the 'premium' animals. They are displayed in gold bubbles.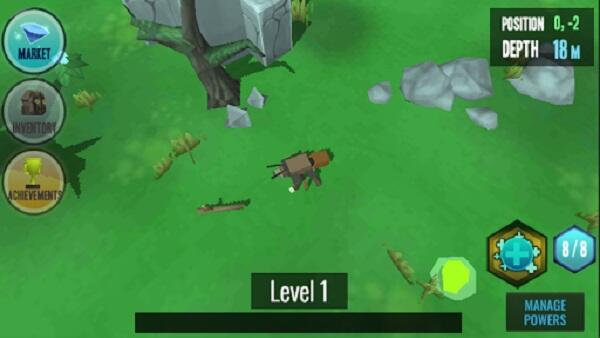 To create a hybrid animal, select the dad and mum animals on the creation screen. Save your creation, and you have a new player creature. Note that the parent animals may not always be animals. Some of them are planes, angels and other human or humanoid figures. Each 'animal' also has a prefix and suffix attached to aid in the description of its hybrids.
Conclusion
It sounds simple enough. Pick two animals, merge them and watch them morph into a hybrid of the parents, complete with combined attributes and appearances. It is as simple as it sounds. Hybrid Animals as you engage in battles with creatures, smash XP icons, craft items to aid your adventure and have fun while doing all of these. You also get to have pets in the game.
Imagine being able to play a game that does not have the average battle and bloodshed theme. You don't have to imagine anymore. With Hybrid Animals, you can enjoy the cuteness of the animals and the thrill of battle simultaneously. The 10,000,000+ downloads are proof that the game has good content, so you see, all of this is not just bluff.


Join Telegram Group
Download Hybrid Animals APK now for access to a game that is far from normal. Do you need some unique gameplay to add spice to your life? This game has it!