Download Hungry Dragon APK to become a fire-breathing beast. Collect treasures, destroy villages and towns, and feed on monsters, soldiers, trolls, witches, and others.
About Hungry Dragon
Hungry Dragon is one of the brilliant games designed by Ubisoft. The game mirrors the ancient myths and stories that surrounded dragons. So, dragons are brought back to life and allowed to roam the world, exploiting villages and burning anything in their paths. The game gives players control over a flying, fire-breathing Dragon and also feeds on anything edible they can find.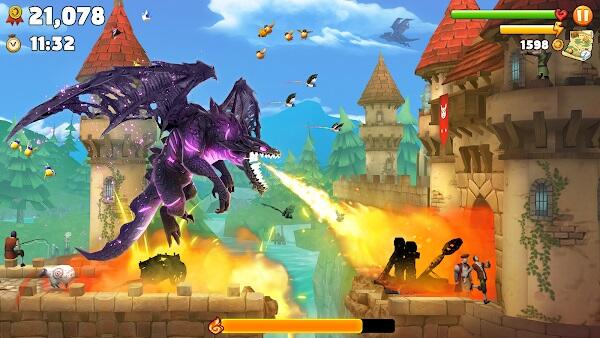 So the dragons can feed on anything except what's bigger than them. Players might have to break these down into smaller bits if they want to feed on them. It's an exciting game filled with Impressive 3D designs and ancient towns, villages, and landscapes. With this impressive idea, Hungry Dragon brings a lot of uniqueness into the gaming world.
Although the game settings are two-dimensional, you can freely explore all parts of the towns and villages. Players are also free to go in any direction and discover new areas.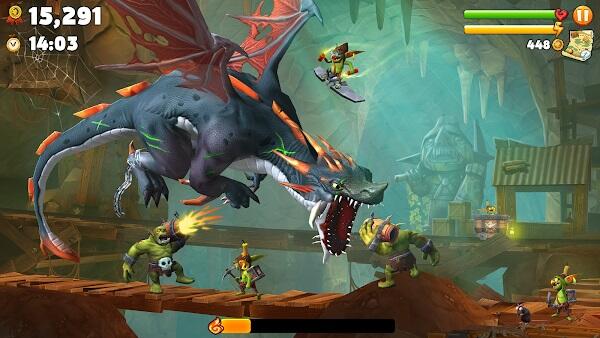 There are caverns, water spots, mines, and other dangerous areas filled with goblins, monsters, and others. The game rewards players who are explorative with their Dragon and able to survive through whatever they go through.
Release The Dragons, Burn Them All
The game has a pretty basic level of gameplay. Right from the beginning, all you have to do is release the Dragon, control the Dragon, feed and live to see another day. You can collect flying dragons of your choice, all with unique characteristics.
You can also unlock amazing dragon costumes to fly faster and wreak more havoc. You will also get better and more ferocious when you equip exotic pets and creatures. Players get better the more time they spend attacking and feasting on townsfolks.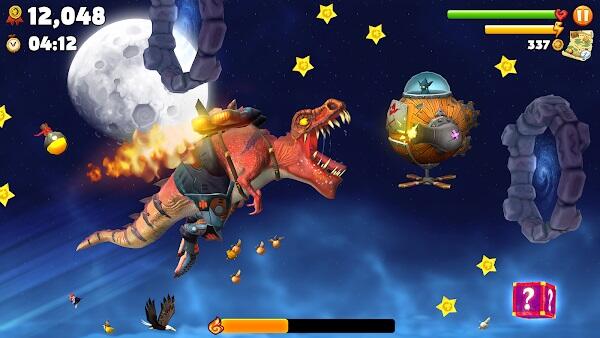 Once you have a dragon and can control it well enough, your mission is to locate villages, forests, hills, and goblin cities you can attack. Smashing through the treasures and obstacles in the hidden areas you discover will reward you handsomely. You also get more scores when you feed on more.
You can activate the fire rush feature to burn anything in your path and destroy a whole village without much of a scratch. Lastly, your must always live to see another day. Even though dragons are impenetrable, they still get weak and can be killed by the monsters. So ensure you protect your Dragon from attacks.
Game Features
Impressive Graphics
Hungry Dragon has impressive graphics that are clean and smooth. Probably due to the ancient settings and the need to make the dragons as beautiful as possible, there is much emphasis on the dragons and how beautiful they can be. The visual effects such as fire, burning, water, caves, and treasures are not entirely realistic but befitting a 2D game like this. There are also tiny details in the game, such as marks on the Dragon's scales, embers of dying fires, etc.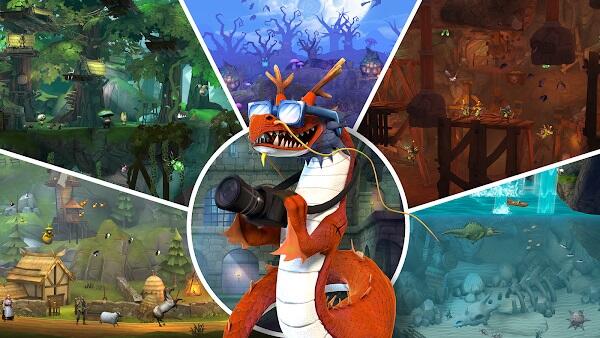 Touch Control
The game has a touch control system that allows players to control the dragons as quickly as possible. Depending on your preference, you can decide to handle the flying dragons with a virtual joystick, which is a beat option if they are flying fast enough since it gives you complete control and faster movements. There is another option to play with the device's accelerometer, which means you have to keep tilting your phone sideways to change directions and control the Dragon in the air.
Simple Gameplay
The gameplay is basic and easy to understand, even for kids. First, you must raise your dragons, train them to fly, then start wreaking havoc on neighboring villages. Your dragons get more significant when you upgrade their sizes, which means they can launch massive attacks and feed on more giant creatures. So you can begin to venture into more extensive territories and locate more dangerous regions to destroy and gain treasures.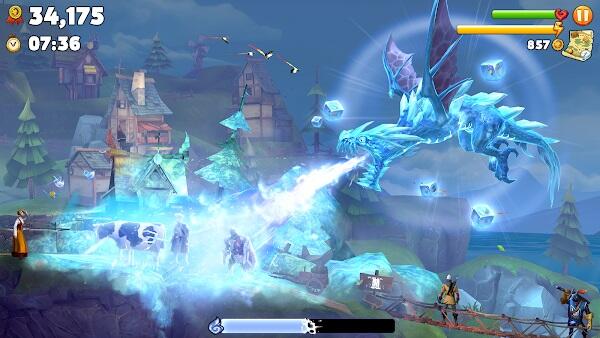 Dragons
Dragons are the game's main focus, so you spend more time with your Dragon than anything else. New players get a free dragon (Nibbler from Tier XS) to play with at the beginning of the game. So, to get more giant dragons, they need to gather more coins and reach the maximum level of their Dragon to unlock the next one, which will be much bigger.
You can also unlock dragons before reaching the max when you use gems, although you must have reached the maximum level for the previous Dragon. Available dragons include Mad Snax, Sparks, Don Drago, Tony Dragone, Blaze, and others.
Size Tiers
The dragons are categorized by their sizes, so dragons of the same size might look different but will only devour anything in the same size as them. The larger your Dragon gets, the larger their diets, attack ranges, and how strong they can withstand attacks from townsfolks and sorcerers. Each size Tiers will be able to break bigger and toucher barriers as you continue to play. Some of the available tiers include Extra Small (XS game default dragon), Small (S), Medium (M), Large (L), etc.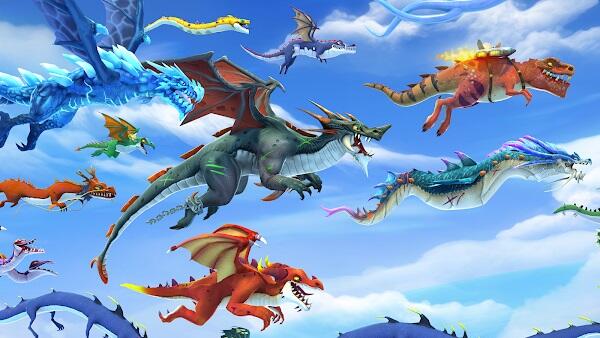 Fire Rush
The fire rush is an in-game feature that offers the fastest score increase. You must have wreaked enough havoc and eaten enough prey to trigger the feature. So when the orange Fire Rush bar at the bottom is full, your Dragon will burst up in a flame-breathing spree, burning anything in its path. The feature ends when the bar empties again.
Dragon Pets
These are additional features that make your Dragon more ferocious. They are pets that follow your Dragon, help you eat prey, and attack towns. In addition, some of them have extra powers that can help you complete tasks faster. You can gain new pets when you open eggs and rank higher than others in the tournaments. Depending on your Dragon size, you can equip up to 4 pets to follow you around.
Conclusion
This is a spectacular game with lots of action, fun, and originality. You can change dragon skins, control the Dragon and go anywhere you want. The game also gives you the freedom to access up to 12 different dragons, unlock new locations and play in tournaments to spice up your gameplay.