Download and install Hero Rescue APK to embark on the challenge of saving the princess abducted by monsters. While Hero Rescue is a rescue game, it is also a puzzle game.
Interesting Details about The Game
This game is both adventurous and entertaining, mixed with challenging puzzles. This game will allow you to become a courageous hero who embarks on the mission to rescue the princess in distress and explore massive treasures. Hero Rescue is a completely free game currently exclusive to Android devices. After downloading this game, you can play it anytime and anywhere you want without internet connections. This game will provide you with interesting experiences due to the attraction of the game's adventurous adventures. There are several moments of fear and anxiety with the game, but overall, playing this game improves your intelligence.
The Plot
This game revolves around the scene with the general concept of a hero rescuing a damsel in distress – the damsel, in this case, is a princess. In Hero Rescue, you play the intelligent hero with lots of courage. The kingdom's only princess is held hostage by monsters living in a faraway castle.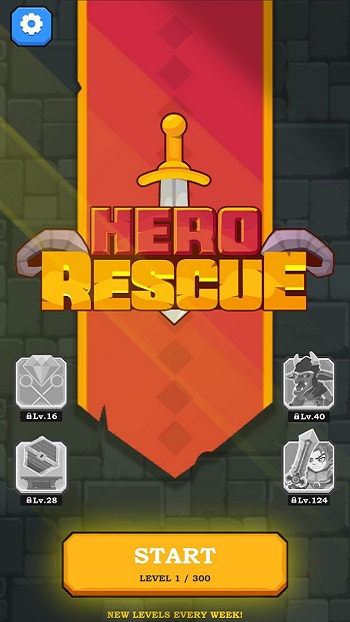 The courageous man embarks on the mission to save the distressed princess while simultaneously trying to locate the hidden treasure. However, this journey is not easy as aggressive monsters stand before the princess, and the environment is fitted with several thousand traps.
The Gameplay
In this game, the building where the princess is held is categorised into four separate sections, and each section is separated with a latch. When you pull the latch, items in the upper area will fall according to the rules of physics. For example, some monsters, treasures, or traps such as water and lava may be contained in some parts of the castle. In this case, you must carefully calculate the most appropriate order or when to remove the pegs.
You lose a life when you miscalculate your movement. As a result, your hero has only three lives on a particular level. However, there is a silver lining; if you eventually use all the lives in a level and fail, there is always an opportunity to replay the same level as often as you can. With this, you can try several new tactics and methods until successful.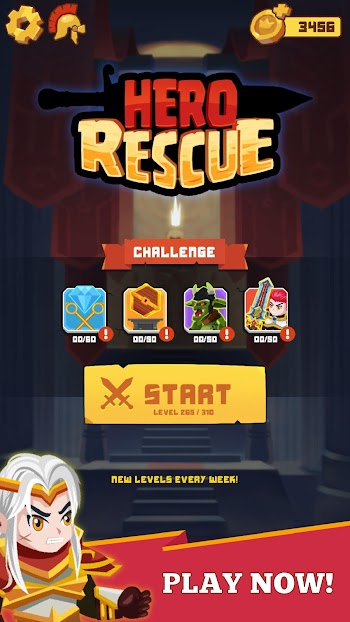 The game's control is also pretty easy. You override all levels by using just a single finger. Playing on your own will introduce more challenges and experiences. However, if you play alongside other people, you will experience double fun, and things will become easier when you overcome challenges.
Challenges and Levels
This game provides you with an unlimited number of levels with several intriguing challenges. The latest version of this game has updated over ten more levels, and all the levels are categorised into easy, medium, and hard.
But if the levels do not satisfy your gaming cravings enough, you can attempt several side mode challenges. These challenges are divided into 10 Block levels, 10 Treasure levels, 10 Tower levels and 5 levels in the Sword.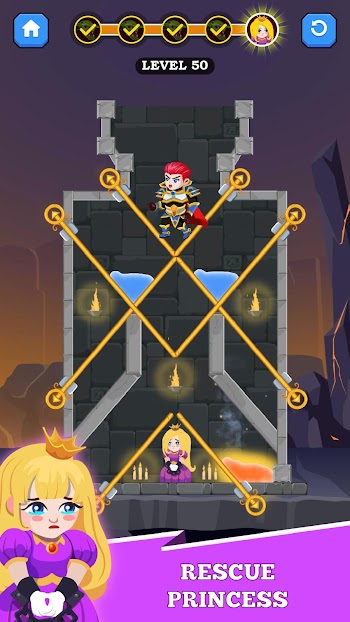 Surely, the level of difficulty in each type varies. But the game system does not combine them into a flow of continuity; therefore, you can select or replay the level you desire.
All in all, the original levels of this game are pretty simple and require a few seconds for completion. However, do not relax; the levels get harder as you further climb up; there are suspicious factors and pitfalls ahead. An unlimited number of levels will test your wits. You can end the levels in several ways, including activating traps, cooling the lava to destroy enemies, and pulling pins to eliminate spiders.
Graphics
When you compare Hero Rescue with other games in the same category, you will realise that the graphics of this game are pretty awesome. The protagonist's design is pretty striking with his red hair and strong armour. The monsters and the princess are also carefully designed classically.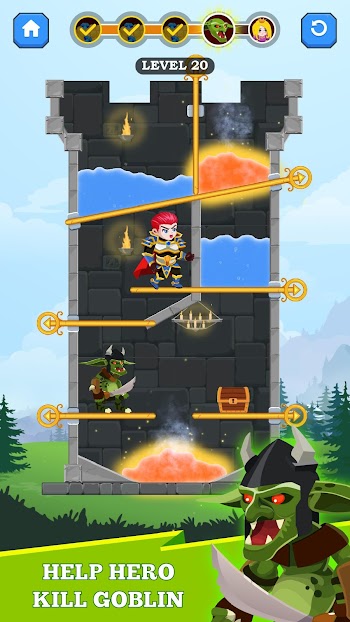 This game also reveals several different scenes, ranging from the icy glaciers to the arid desert and then to the castle in the jungle. Pitfalls and challenges are also designed meticulously, according to the environmental factors on the map, plus the physical properties. That is why the game does not give a vibe of repetition.
No Time Constraints
This is a simple game, and anyone can play and enjoy it due to its straightforward gameplay. Most puzzles always give a feeling of urgency by setting up challenges that involve a player's quickness to solve. Some puzzle games have a countdown timer to apply more pressure on the player. Thankfully, Hero Rescue does not give that kind of vibe.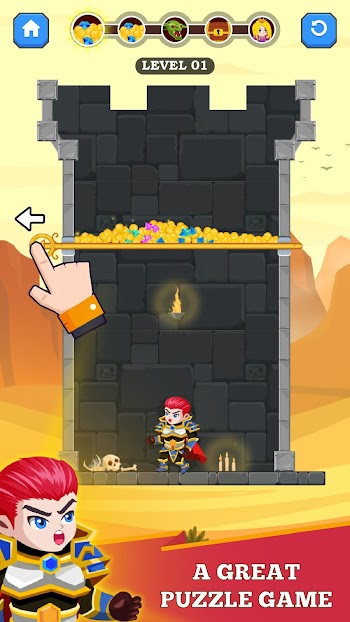 The game may sound easy, but it's not that easy. The game offers some tough challenges that may take you by surprise, causing some errors and losing lives. There may be some time when you need the ads to help you get a new network. Make use of your brain to solve difficult challenges and puzzles.
Advertisement
Sometimes, you will commit some little errors, no matter how carefully you have planned your actions before taking them. Perhaps it's because you have misconceptions about some objects' movement or the enemies' reaction. If the enemies kill you or the princess, you will lose your life, and reviving the life will take half an hour before you can continue playing the game. To revive your life, you can press the back button in the upper right corner of your device's screen. Sometimes, you may be forced to watch a 3-second or 5-second video before. If you hit the back button and manage to save the princess, you will receive the corresponding bonus. But if you hit the back button and are still unable to save the princess but lose your life again, you will have to get used to pressing that Back button and repeating the process until you are successful.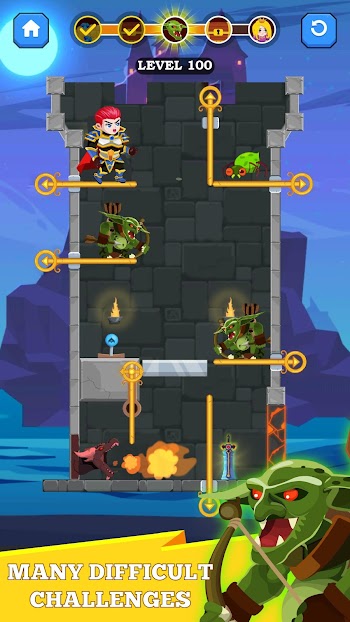 Final Thoughts
This is an addictive, interesting and charismatic puzzle game. Even though there is no coherent context and plot to Hero Rescue, the game is still pretty interesting and quite intellectual, to say the least. If you are searching for a game with interesting puzzles, then you should consider downloading Hero Rescue. The gameplay is pretty seamless and the overall aspect of the game is intriguing.


Join Telegram Group
Download and install Hero Rescue APK to embark on the challenge of saving the princess abducted by monsters. While Hero Rescue is a rescue game, it is also a puzzle game.