Download Dop 2 APK for a unique puzzle gameplay experience. Analyze various creative images to identify which part to delete and solve the puzzles.
About Dop 2 Delete One Part
Dop 2 Delete One Part is an exciting puzzle game full of various challenges and difficult levels to show your skills as a player. The game is packed with puzzles and takes a unique approach to its puzzle-solving steps. You'll have to erase some aspects in a picture to solve the puzzles, which makes it quite exciting. Rather than set different puzzle pieces, you'll have to remove puzzle pieces to play Dop 2 successfully.
You'll have to intently look at various elements in the game to figure out which of them shouldn't be in the picture. Once you manage to guess it right, you'll be able to unlock the next level and face a new image. Failure to get it right means you'll have to replay the level until you do. The game also has a simple game control, which means you must tap on the elements to remove them. So, Dop 2: Delete One Part is also a clicker game; depending on the level, you might have varying challenges you pass.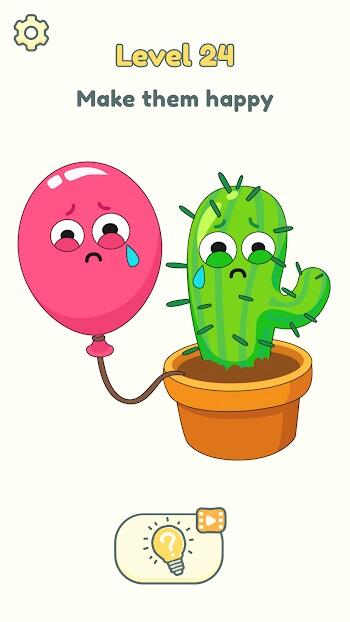 There are many levels in the game; each level is only available when you've completed the previous level. If you've played the first version, you'll already know how the game works since this version is similar to the first. You'll get 2D drawings of various objects and characters and have to analyze and observe each to choose the correct elements to eliminate. The game also has an excellent soundtrack that gives you a soothing gameplay experience and impressive graphics.
SayGames developed the game, and it's free to play for any Android device user. The game is available across multiple countries worldwide, so you can access over 47 languages depending on your preference. However, since the content is rated for anyone below the age o 12, you won't be able to play unless you're older than 12. The game has over 100 million downloads on Playstore, and it's so exciting that the players left a 4.4 review on the same platform.
How to Play
Although it might seem difficult from the introduction, the game is relatively easy to play once you figure out the gameplay. You have to show your drawing ability in part one of the game by completing various images provided in the game. However, part two is the opposite, so you'll have to remove parts of the complete images. What you need to do is ensure you correctly remove the correct part of the picture to solve the puzzle.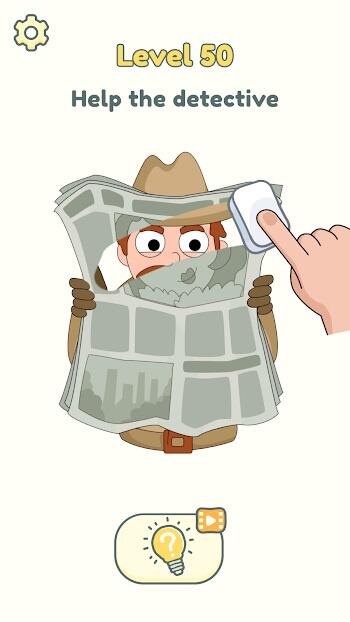 You can swipe your fingers or tap on the screen to remove or delete the parts. Sounds quite easy? Yes, it's that easy! Once you have analyzed the picture and chosen the best place to erase it, you proceed, and you'll win the level if you make the correct analysis. However, if you don't get it right or can't delete it correctly, all the pictures will go back to their original states, so you'll have to start afresh.
Game Features
The game is quite interesting because it combines an element of creativity with puzzle-solving skills. Check out some of the game features below:
Graphics and Sound
Although it's not the best graphics you'll ever see, Dop 2: Delete One Part has quite appealing graphics with its quality in a top-notch range. However, you won't see much of the game's layouts and beautiful colors while playing because you'll spend more time in front of puzzles than on any other parts of the game. So the remarkable graphics has to be complemented on the various puzzle images because the developers created them.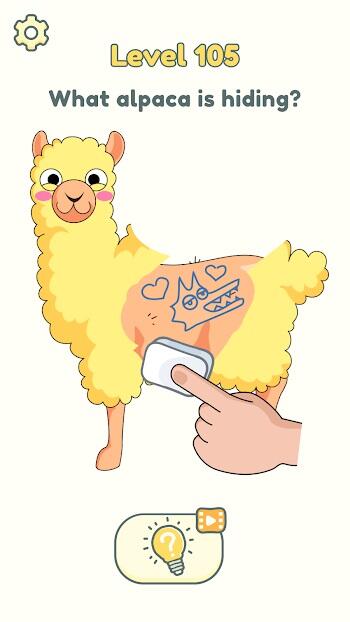 The white background allows each image to be as vivid as possible, and all of them are distinct with creative touches. The game also has an impressive soundtrack in the background. You can choose to listen to this soundtrack or switch it off in the Settings, but you'll undoubtedly enjoy allowing it to create a pleasing experience for your ears and calms your mind down while you enjoy the game.
Simple Gameplay
There is a simplistic approach to the gameplay, and the graphics are minimalistic. You'll be able to find your way around the game as soon as you start playing, so you don't need any tutorial from anyone before you can play. The game interface is also quite simple, and rather thane provide you with different puzzles with vague missions, you'll always be on the lookout for the best part of the image to erase on Dop 2: Delete One Part. If you're able to find one, then the level is complete, and you can progress to the next one.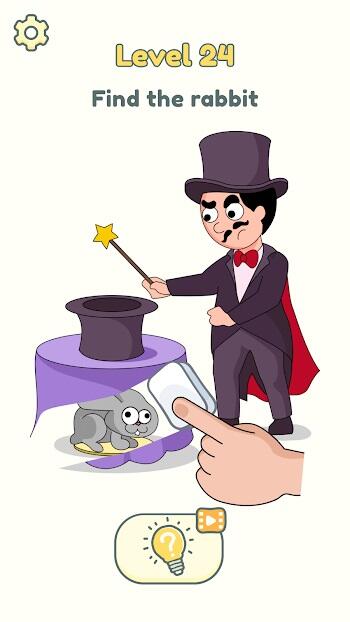 Game Challenges
There aren't many challenges on Dop 2: Delete One Part. The only real challenge is the change in image and the subtle features under each of them. It's pretty challenging to figure out which part of the image you should delete and where the fun and challenges come. You'll have to analyze the image and observe its features to accurately decide what part of it you should delete to reveal the hidden signs.
Puzzle Levels
There are many puzzle levels to solve here. For an average user, the game has unlimited puzzles you can solve because you probably won't go past the library of images. However, the game does have a final level which you can reach with skills and patience by the player.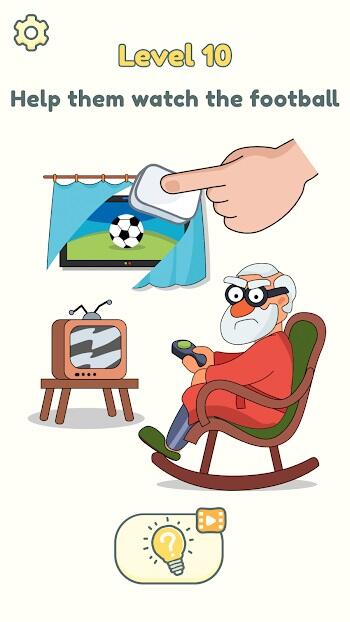 Creative Content
Dop 2: Delete One Part has unique and beautiful images to display in its game. Interestingly, all of these elements were designed by the developers, which means they reflect amazing drawings, and since there are hundreds of them, you can imagine how much you can find creative content in the game.
Conclusion
Dop 2: Delete One Part is one of your best choices if you're looking for a puzzle game that doesn't take too much stress to figure out. You'll be able to enjoy the game's challenges as well as its sceneries while you play.