Download and install Hello Neighbor to find out what is going on in the apartment of the man who just moved into the next house. Break into the house and find out.
Description of Hello Neighbor
One day, a new neighbor moved to your next door. At the initial stage, you already suspect that this neighbour is somehow mysterious; there is that deep feeling within you that something is not right about this stranger, but you cannot place your hand to it. Then, on some occasions, you hear strange noises from this neighbour's apartment every night. You feel something dreadful is happening in this new neighbour's basement.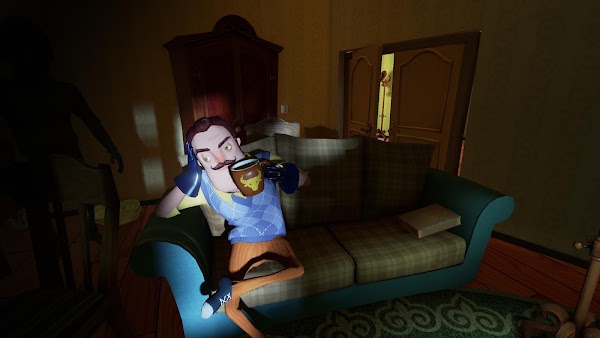 Then when you cannot take it anymore, you decide to sneak into his apartment by breaking in and exploring the basement. You will have this experience when you download the Hello Neighbor game and play. This horror game has been around for a while on PC and Xbox One and was published by tinyBuild. It has been downloadable on both Appstore and Google Play Store for free.
The Mysterious Neighbour
Every human being has an instinct of curiosity, that itch to know and find out. This instinct has made this world an easier place to live today. Curiosity has been the origin of science and the mother of technology. We are often curious about how nature came to be or why things are the way they are. In this game, curiosity defines the major character, just like what pushes the protagonists in horror movies – the need to find out about things. In Hello Neighbor, however, you are role-playing the part of a guy sneaking into a neighbour's new home to discover his mystery.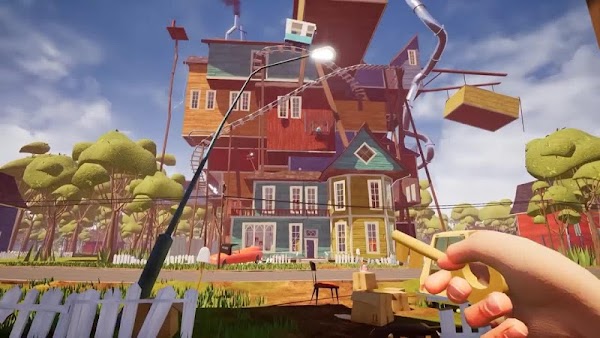 In your investigation, you must not allow this neighbour to discover you, because you are done for if he does. The neighbour in this game is an Artificial Intelligence that can quickly find and store information. If you gain entrance into his apartment through the window, you won't be able to go back out through the same window because it would be barred with strong nail boards when you return to the spot. If you gain entrance by climbing the wall from behind the apartment instead, what will welcome you the next time shall be a wall fitted with barbed wire.
Thankfully, the game allows you to use objects in the apartment, which will help take the attention of the neighbour away from you in case you are found out. You have several places in the house that you can hide in, such as the cabinet or bed. One crucial thing you must not forget is that you should not repeat an action you have performed before because behind the funny appearance of this neighbour is a smart, cunning person who can remember many things. Also, the game will offer you some puzzles to solve.
Escape the House
Well, there is a slight similarity between Hello Neighbor's content and a popular horror movie titled The Burbs (a movie that starred Tom Hanks). Currently, Hello Neighbor is divided into three important scenes, and you will encounter a series of challenges from each scene.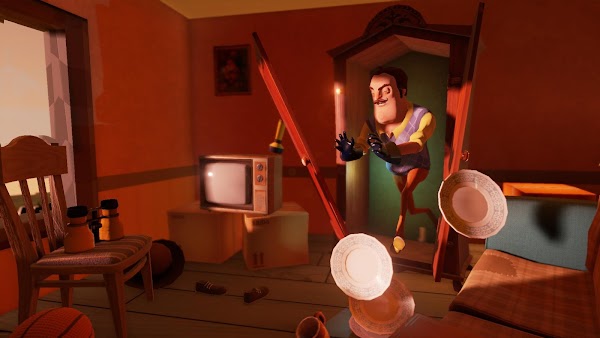 In the first and third scenes, your mission is to break into the apartment, or rather, unlawfully infiltrate the house and discover what's happening in the house. At the second scene, you will have to find your way off the house tightly guarded by strict door systems and fences. Always remember that in the house is a neighbour who won't be happy to see a neighbour dare sneak into his home. Your guess is as good as mine if you let this extremely pissed neighbour catch you.
Graphics are Different from a Horror Game's
Several things contribute to making this game unique, and its graphics are part of those important things. Unfortunately, several players have allowed themselves to be deceived by this game's bright, colourful graphics. Although Hello Neighbor is a horror game, the atmosphere is not extremely gloomy, bloody or gory like Granny. However, the graphics of this game might make new players think this game is for kids – well, they would find out how incredibly wrong they are after a few minutes.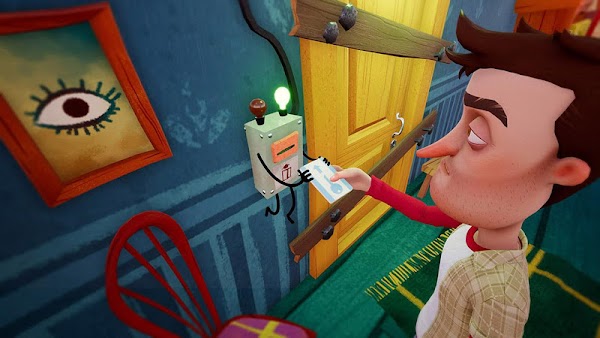 What occurs in the game, no matter your age or inclination, will put a little fear in you. Each second and every minute a player spends in the neighbour's hour puts great tension in the player's heart. In some way, while exploring the neighbour's house, you can't help feeling like you are a thief breaking into the home of the next door neighbour. And if you are discovered by this neighbour, feeling like a thief would be the last thing on your mind, especially when you discover that this neighbour is not someone normal. Perhaps he's an alien, or a killer.
Having a Good Combat Strategy
There are several impressive ways to gain entrance into your neighbour's house without being caught, such as entering through the front door or jumping through the window. You must also create a reasonable plan to avoid unnecessary risks and prevent your neighbour from finding out. However, while you carry out the mission in this game, you should not employ the same strategy several times because that will cause you to be more trapped.
Hide Carefully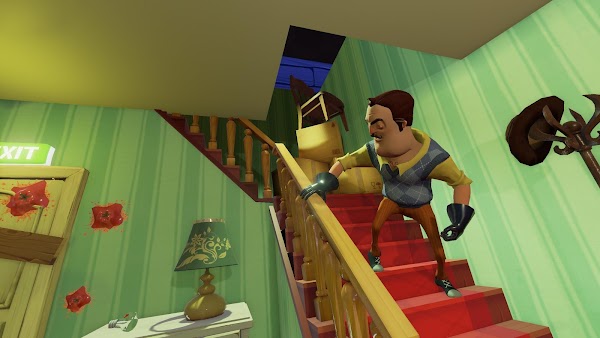 After gaining entrance into the neighbour's apartment, you should take extreme caution in all your actions and gestures. If you commit even a small mistake, the neighbour will discover and chase after you. You have to be careful when you are completing the missions and challenges presented by this game, and if you are eventually discovered, you should try to escape as fast as possible, or you have the choice to hide in a secret location to keep the neighbour on your tail away. Then you can come out after a while to complete the task of finding out the neighbour's secrets.
Last Take
Even though Hello Neighbor has no horror graphics or sound, the game can still make you so scared that you want to get out of the house as soon as possible. This game is a game for the brave. Therefore, if you want to find out how courageous you are, you should download Hello Neighbor.