Download the GuitarTuna APK app to improve your guitar skills and tune your guitar strings to the perfect pitch. With this app, you become a pro in guitar tuning.
GuitarTuna
GuitarTuna is an app for anyone who is a guitarist or looking into becoming one. No experienced musician loves the sound of a detuned guitar, and no matter your level of experience, tuning a guitar by ear might not be easy. Hence an interactive app was set up to help with this called GuitarTuna. You can always use it on your smartphone instead of paying for it.
GuitarTuna is a free app that helps you tune your acoustic or electric guitar. It is the most popular tuning app, which is available on all mobile devices. GuitarTuna is an interactive mobile app that tunes your guitar and teaches you how to play the guitar.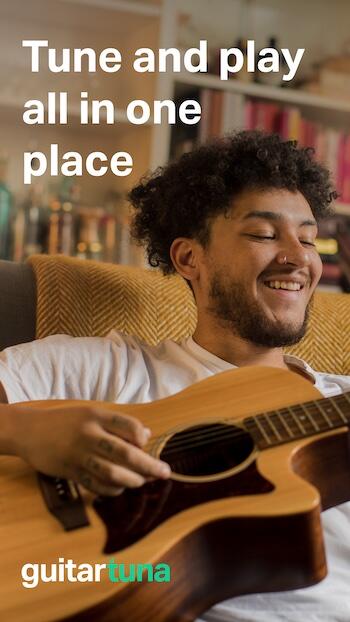 Aside from tuning your guitar, it also lets you adjust string instruments, bass, or ukulele. The app determines the string deviation and displays which direction it needs adjustment. GuitarTuna is free and easy to use with a great interface.
GuitarTuna has left its users always coming back. This is because of its great features and functionalities.
GuitarTuna Description
GuitarTuna is a free guitar tuning app developed and created by Yousician Limited. The app allows you to pick a string on your guitar and tune it to the preferred pitch. Also, it teaches you how to play the guitar. Developers - Yousician discovered that smartphones have decent microphones; hence they have used them to make the GuitarTuna app. The app is easy to use; its control is understandable. GuitarTuna has a tuning fork that allows its users to generate tines between 1 and 22,050hz. This app offers exceptional and awesome features, which makes anyone go for it over other apps. It is easy to access its features. There is an entire chord library available on the app, where you find several diagrams there.
GuitarTuna detects the strings you have picked and how much tuning it requires. This app listens to the chord you are playing and automatically displays it and how much tune it needs. There are majorly two fields on the GuitarTuna app. On the right side, there's something that looks like a polygraph- a lie detector. On the left side, there is an image of the headstock of the guitar with the letter; this represents each string indicated on the tuning knob of the guitar.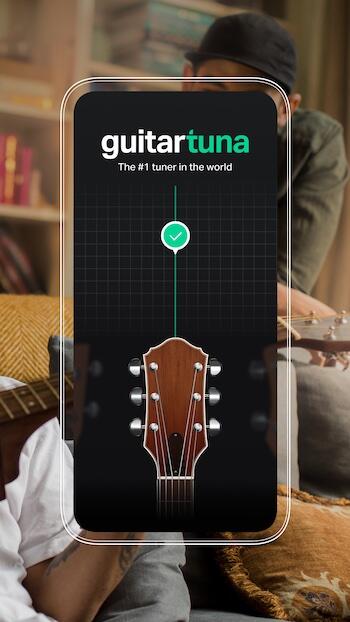 While using the GuitarTuna, set the tuner to auto, then pick a string. As you select a or each string, the turning knob on the left lights up. Afterward, you will notice the graph on the right-side drawing either red ink or green ink.
Note that whenever the ink is red on the graph, it indicates that the string is out of tune and needs to be tuned. On the other hand, if the in is green, your string is perfect, and it's in the right tune, then you are good to move on to the next string. This Is perfect and effective.
GuitarTuna has great specifications, which makes it suitable to use. Here are some; ion of standard tuning, quality song chords and lyrics for guitar, practice tools for ear training, chord library, games and for trainers, and chromatic tuner. A very clean, interactive, and customizable user interface, all of which make it easy to use.
Features of GuitarTuna
GuitarTuna has several features that distinguish it from other tuning apps. Below are some;
Audio Technology
GuitarTuna has a great technology imbibed in it. It is built on the world's most developed audio recognition algorithm. Yousician developed the app for the modern smartphone microphone.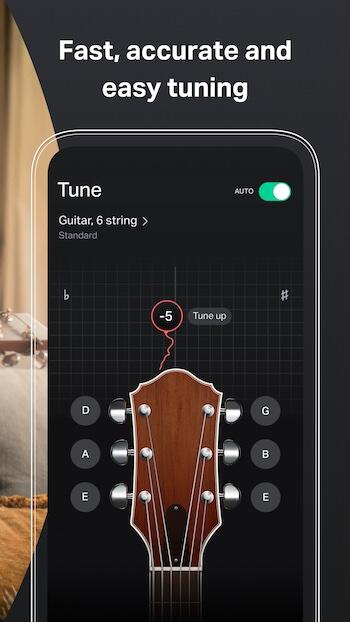 It is perfect for complete beginners and professionals. Simple and intuitive to use.
Learn to Play Guitar
Here is another feature on GuitarTuna. Aside from tuning your guitar with the app, you can learn to play guitar quickly without the distraction of videos, music, or books
Library of Chords, Songs, and Tunes
This is another feature you enjoy on GuitarTuna; there is a wide range of various songs, chords, and tunes on the GuitarTuna. This will improve your musical skills and guitar-playing experience.
Advanced Practice Tool
As said earlier, GuitarTuna teaches you how to play. On GuitarTuna, several tools help your learning process, such as;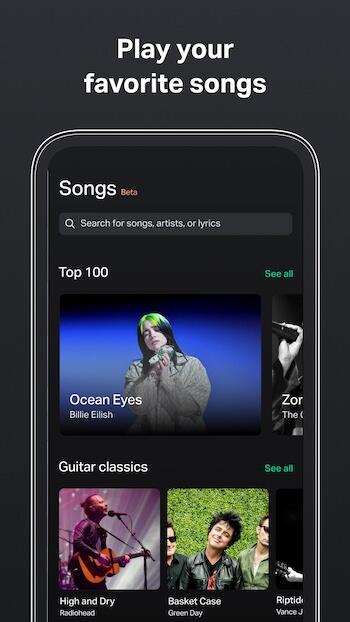 Metronome - Set your tempo and customize the time signature

Chord games - Learn and master chords by ear
Explore top songs from different genres.
Conclusion
GuitarTuna is an excellent app for musicians and learners. It is simple to learn and accessible. The app is perfect for tuning the guitar and learning how to play. GuitarTuna has a great user interface making it easy to use. The free version is available on all mobile devices. Download the latest version of GuitarTuna and enjoy the awesome features it entails.