Download and install Gravity Rider to enjoy another level of gaming. In this game, a player will race other players using modern and unique motorcycles.
Description of Gravity Rider
Gravity Rider Zero is a motorcycle racing game that will keep you fixated on the screen of your game for hours. When you are playing this game, you will be so enthralled that you won't know how much time you have spent playing it. Gravity Rider Zero is a pretty addictive game, and you should not start it if you have something very important to do. This game provides rough racetracks built from the future, and you also have access to high-end motorcycles with new and powerful engines.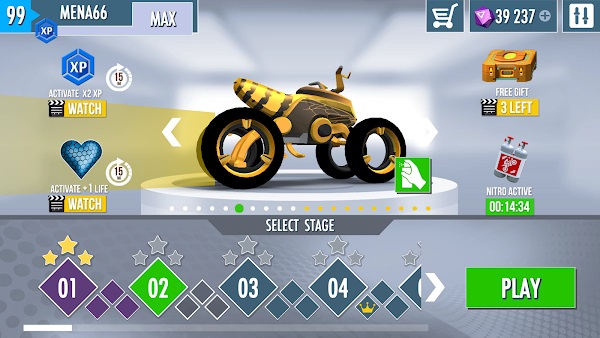 One nice thing about this game is that there are several modes and levels that you can select from. It is an excellent game for both beginner and professional riders and gamers. You can pick a certain level where you will have the chance to test your driving skill while you compete with several other drivers. Each level has many traps and unique terrains; try to see if you can make it through them. When you are victorious, you will earn some bonuses that will give you the chance to upgrade your motorcycle and also unlock new maps and motorcycles. Try to gain 3 stars in every level you play and become a master driver. You can constantly upgrade your motorcycle with special colours and accessories to make it perform better.
Select a New Race
When you play Gravity Rider Zero, you will be allowed to select the new cars available in the collection of the game. You will also see constant hints that will guide and familiarize you with the challenges. The game will guide you through the basic steps you need to take at the start of the game. This will help you become familiar with the speed rigor and keep you from unnecessary surprises. You can also attempt some more challenging terrains if you want to go far in the game.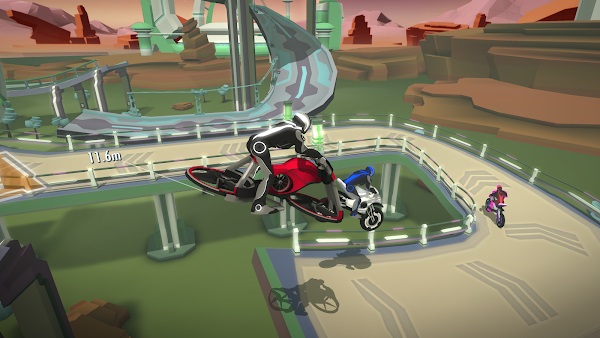 After selecting the motorcycles you prefer, you can also select a new race. These races will go a long way in helping you assert your true ability, including showing your racing skills. New stages will provide you with several challenges and difficulties you must overcome to proceed further.
Driving Challenge in Space
Gravity Rider Zero has very simple gameplay; nothing complicated about the game. The developers have created such a way that it is very easy to understand, and people of all ages can play this game. You must control the motorcycle's movement and ensure you don't fall while driving. The control system is pretty easy and basic. However, you would be wrong if you mistake this for an easy game. At the start of the game, you will pass through a mental preparation that will assist you in dealing with the difficulties ahead of you.
The motorcycles of this game have no shock absorber upgrade or the chance to increase the efficiency of the motorcycle engine. Instead, they are all based on common physical principles. The roads are designed with accurately defined turns and slopes. Also, you must apply your wits when driving through the abyss; then, your tactics will also play a major role in deciding whether you win the race.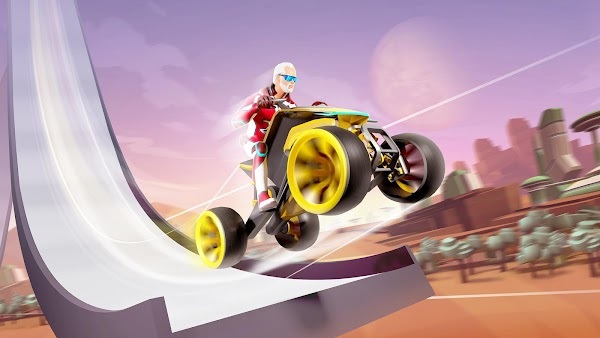 Discover a Series of Challenges
The design of the modern racetracks available in the game will give you a series of difficulties. These tracks are designed with pretty steep slopes, and you will encounter obstacles like lasers, spikes, traps, etc. In this game, you must apply caution while driving and possess the right flexibility that will allow you to master dire situations courageously.
The high slopes can make you take heart-stopping jumps. Also, the sharp spikes on the roads should be avoided; otherwise, they will knock your car off the track. The lasers, too, are not good for your eyes because they will affect your vision and keep you from seeing the road. However, there is always a solution for everything, as long as you apply the right wits and cleverness. For example, you can carry out a moderate acceleration uphill, then reduce your speed while going for gentle landings. The other traps you will encounter on the way are not significant as long as you understand how you can tilt your motorcycle and make high jumps to avoid them.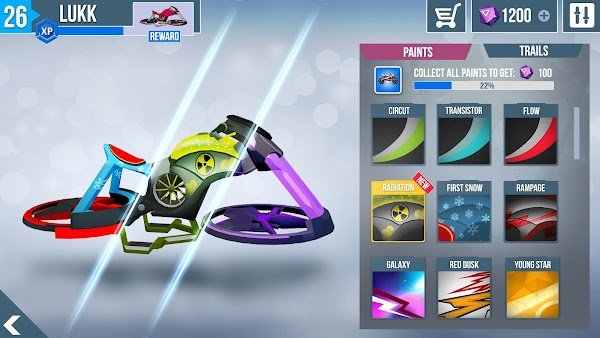 However, in performing such rigorous and extreme driving styles, you will first have to master the basic driving operation in this game. Tilt your mobile device's screen to control the vehicle's direction and make use of the arrows to accelerate or decelerate. While racing, you should mind the other racers using the same road as you; they can either be behind you or in front of you.
When you are successful in one level, you will pass through another challenging level. To improve your skill, you need regular practice. Always keep your eyes peeled for any challenge on the racetrack.
Encounter Several New Friends
When you begin to play this game, you will encounter several new friends, people that you have never met before. These friends share your passion and can even be your challenger to help you improve your skills. Some of these people could be on the same playing level as you. If you are an amateur, you will probably meet an amateur like yourself, and you might encounter professional, high-class drivers too. Accept the challenges and see them as a way for you to improve your skills.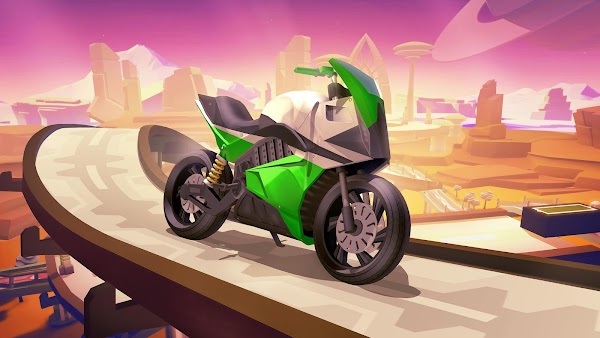 A wonderful feature of this game is that you can select opponents on the same playing level as you. You also have the chance to select your terrain. When you win a game, you will earn some gifts, which will encourage you to take on a new journey.
Conclusion
This game was created for two major purposes: to experience real obstacle racing and provide you with new and unique trips. The developers of this game paid attention to the small details, thus providing players with subtlety and the most realistic feeling. With Gravity Rider Zero, there is no boring moment. Download this game and relax to enjoy a new gaming experience.


Join Telegram Group
Download and install Gravity Rider to enjoy another level of gaming. In this game, a player will race other players using modern and unique motorcycles.