Download Grand Gangster APK to dive into the exciting world of adventure gaming. Survive the game streets by putting your smarts and weapons to work here!
About Grand Gangster
Grand Gangster 3D is an action game that places you in a ruthless world of crimes and criminals. You must survive the streets using everything available to you. From weapons to vehicles and upgrades, you have all you need at your disposal.
Grand Gangster 3D is an exciting game, howbeit dangerous. It's relaxing to know that it is not real, and all the danger starts and ends inside the game. The 3D visuals will make you feel like you're in the game, immersing you in the happenings and exploration.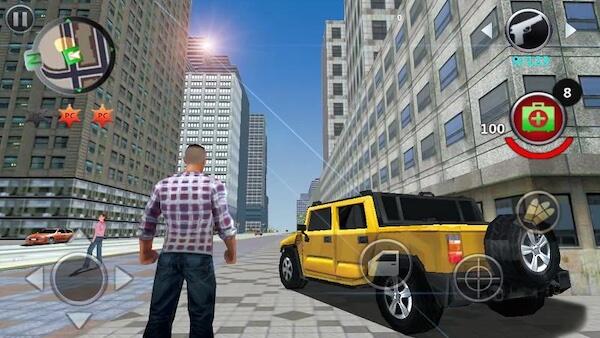 This game offers adventure, action, and a chance to explore the sinful streets of Sin City. News flash; you're not one of the good guys. In Grand Gangster, you're a criminal too. You're driving and shooting down random people most of the time. This can be illegal in some situations, so you'll have to face the police.
Gameplay Basics
Grand Gangster 3D offers Grand Theft Auto-like gameplay with simpler controls. It is all the GTA goodness made into a form you can fit into your pocket. The game world is a sandbox in which you must swipe your fingers across your device screen to move.
In Grand Gangster 3D, you can assume ownership of vehicles by hijacking them from their original owners. To do this, run to the driver's side of the car, and tap the car door icon that appears. The game's controls work differently when you're driving. The arrow signs control the wheel, and the pedal buttons affect the acceleration.
To shoot, tap the character you want to hit and click on the Shoot button. An icon at the top-right part of your screen shows the weapon in your hand. Sometimes, it switches to bare weapon-free hands. But, of course, you must keep checking, so you're not caught unawares.
Although it is a sandbox game, it is not just aimless driving and shooting throughout. There are missions to complete. The map has points all over through which you access your missions. Driving is advised because of the game's slow running speed. It's easier to escape situations or attack people when you're in a vehicle.
Grand Gangster 3D Missions
Grand Gangster 3D's gameplay is built around the missions. Read the fine print when spending your cash or points on bonuses. Focus on bonuses that will aid your success in the chosen mission. There are five mission types: Skill, Road of Fury, Survival, Route, and Shooting.
Skill missions test your driving. They include obstacle courses that go hard on your driving skills. For example, you must hit every blue diamond on the course to complete the mission. They also involve skinny bars placed some feet apart. You must position your vehicle carefully and precisely, so you don't hit them instead of driving over them.
Prepare to meet the sloped ramps too. You have to slow down before going on these, or you'll flip over and fail your mission. The good thing about skill missions is that failing a segment does not automatically equal failing the entire course. You can click on the 'Again' button to restart that segment.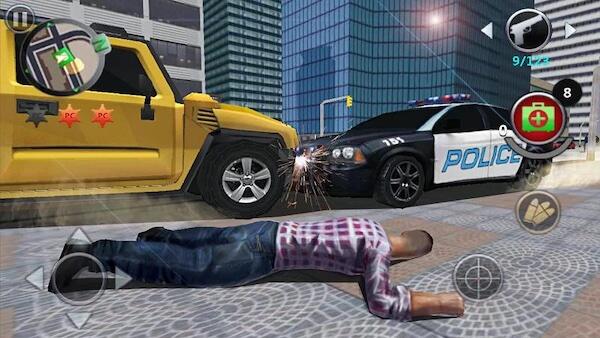 Road of Fury missions have you trying to run over as many pedestrians as possible in a set time. Top tips include hitting the pedestrians head-on so they're completely knocked out, driving at top speed to hit multiple people at a time if they're together, and focusing on the spawn patterns.
In Road of Fury missions, the pedestrians don't appear until you're close to their spawn points. As you play the mission, the spawn pattern becomes clearer, and it's best to drive at top speed when approaching those points. Note that medium speed or hitting the people from an angle will only wound them or move them to the side of the street.
Survival missions are exactly what they sound like; an attempt to stay alive. Gangsters come at you from four sides. You cannot afford to focus on defending one side at a time; it'll result in your death. So instead, stand in the middle and spin around to see where the enemy is.
As soon as you catch a glimpse of enemies from any side, start shooting before they get closer to you. Pro tip: enemies hardly ever spawn from the same side twice in a row. You can also move while shooting. This will enable you to take out enemies while dodging their attacks.
In Route missions, you must make it to multiple destinations along a course in a short time. Therefore, the restrictions are not so serious, and you can drive on the grass or sidewalk and avoid the troubles of the roads. However, you still need to hit the checkpoint markers at intervals in the middle of the road.
In Shooting missions, the game wants you to kill as many people as possible with the aid of a gun. Unfortunately, the aiming system is not the best, so the success of your shots largely depends on the level and type of weapon you use.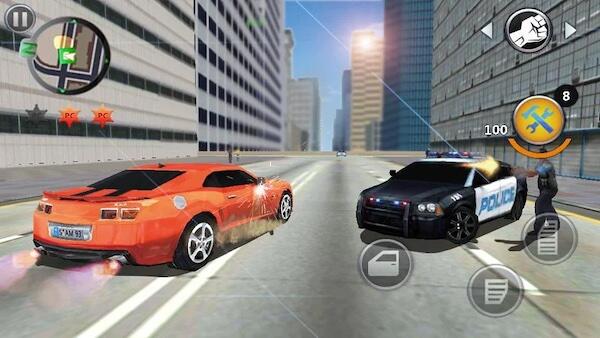 It is important to always have your ammunition loaded and ready. Fist fights waste time and can go wrong in so many ways. It's best to avoid them. Beginner levels do not have access to the best weapons.
You'll have to make the best use of the mediocre ones you get. For example, the basic machine gun fires well but has a high miss rate. It gets better when you get to high levels, though.
Conclusion
Grand Gangster 3D is powered by Doodle Mobile Limited, a leading developer of games for Android devices. The Asian software company is famous for making engaging games optimized for the Android operating system. They also work with third-party developers to co-create delightful games that keep users entertained.
Grand Gangster 3D is a great way to experience the thrill of playing an action-filled game like Grand Theft Auto. Only, this time, you can play on your phone, wherever you are. In addition, Grand Gangster lets you do away with the limitations of playing games on your laptop.