Download GFX Tool for PUBG APK latest version to get the best gaming experience. GFX Tool taps into the full graphics, visuals, and performance potentials of PUBG mobile.
All About GFX Tool
What's PUBG without GFX Tool? But, of course, it's still a functional game without the beautiful scenery and smooth gameplay. PlayerUnknowns's Battlegrounds (PUBG) is a popular video game on mobile devices. It has a staggering 500 million downloads on Google Play, making it a giant in the gaming world.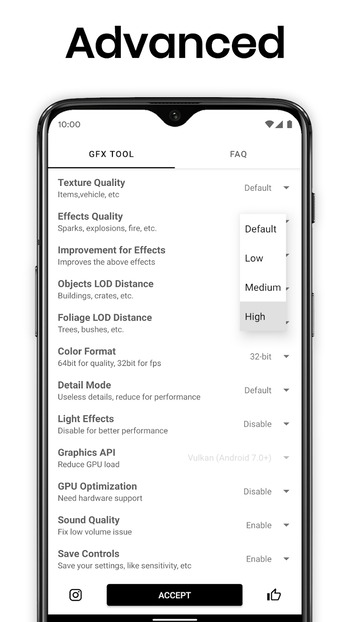 It's one of the most epic, thrilling, and fiercest online battle royale games worldwide, with high-quality graphics and gameplay. However, it's nearly impossible to enjoy the game without some touch using GFX Tool. The game's configurations sometimes require many tweaks before mobile devices can handle them.
So GFX Tool is a complementary app that helps intervene and customize the game settings to suit your device and remove the lag. The app enables you to unlock HD graphics, improve the game performance, and drill down on locations that enhance the pictures and gameplay. There are many GFX options for PUBG mobile, but GFX Tool is one of the best options you can download.
Why Use GFX Tool for PUBG?
PUBG mobile is a decisive game, so you need a powerful tool like GFX to maintain the balance. Here are some reasons millions of PUBG players prefer to use this tool as a third-party option for boosting the game performance.
It allows you to optimize the game resolution to fit your device, making PUBG ideal on any device.
Works with any version of PUBG mobile so you can use GFX Tool with the Beta, Indian, Chinese, Korean, and any other version of the game you play.
GFX Tool boosts the overall graphics appearance of the game, making a difference in the before and after effects of the game.
Switch between different styles in the game, such as choosing between a Realistic or Dynamic view during gameplay. It allows you to play around and see which one works best for you.
It optimizes visuals and quality of game image, environment, objects, and even enemies. So players can experience better quality when they play.
Adds realistic touch such as shadows, shadow distance, and moving shadows to improve the natural appearance of the game.
You can also optimize the game graphics and GPU to speed up the processing and improve the game performance.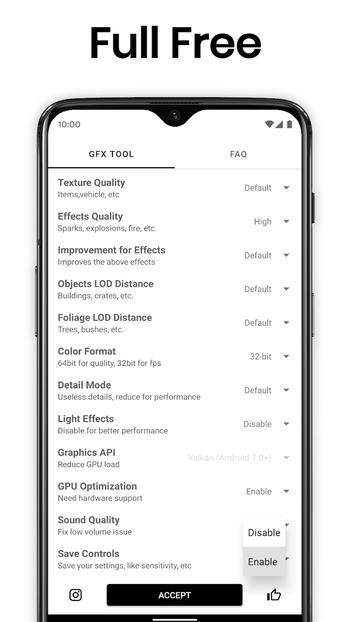 Other benefits of using the GFX Tool include:
Customizable FPS Levels
Toggle On/Off Anti-aliasing effects
Manage Color Effects
Save Controls
Change Game Styles
Customize Zero Lag
Increase Battery Efficiency
PUBG GFX Tool Features
GFX Tool Features
If you'd like to know what features you'll be getting from this app, below are some of the incredible cards the GTX Tool has up its sleeves:
Change Resolutions
GTX Tool allows you to adjust the game's resolution up to 1080p. Since the game has high requirements for screen resolutions, you might have issues running it. So, by changing the resolution with GFX Tool, you'll be able to expand the ability of mid-range phones to run smoothly and get access to all features. In addition, the feature makes your phone seem like it meets all the requirements, and therefore you can access the high frame rate that ensures brilliant game resolution.
Unlock HDR Graphics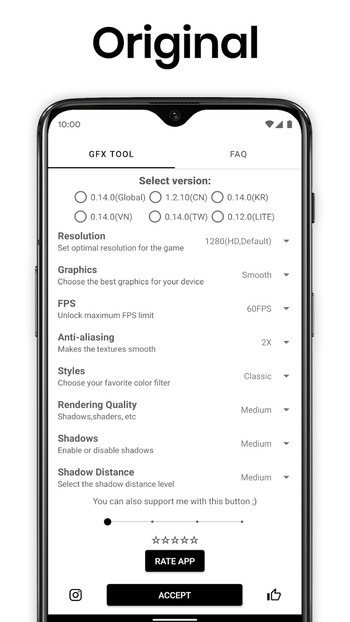 There is also an option to manage the HDR graphics on low-profile phones. This feature works similarly to the resolutions, only that it's concerned with the graphics and not the screen. Since you might have sorted the resolutions, you'll still need to sort the graphics, which is what unlocking the HDR graphics settings does. In addition, it improves your device's image recognition, which means you get sharper visuals.
Control Shadows
You can set the shadow's distance and movement with this powerful tool. The app lets you turn on or off the shadow effects depending on your preference. You can also change the shadow distance to produce a more realistic view. Lastly, you can enable or disable the shadows you get from moving objects in the game. These are basic settings users sometimes like to manage on PUBG mobile.
Set Anti-aliasing Effects
The Anti-aliasing effects determine the texture and how jagged objects are in the game. So you can change how this looks with GFX Tool. Generally, these settings can intervene in the appearance of the players and objects' movements, gunshots, explosions, lighting, and other game effects.
Change Game Styles
Depending on which suits your taste, you can change between different game styles. However, unlike games like Call of Duty, which allow you to make immediate changes to the game graphics and appearance settings, PUBG doesn't. So, with GFX Tool, you can choose five styles to play with. These include Classic, Colorful, Realistic, Soft, and Movie, each denoting an appearance related to their names.
Unlock FPS levels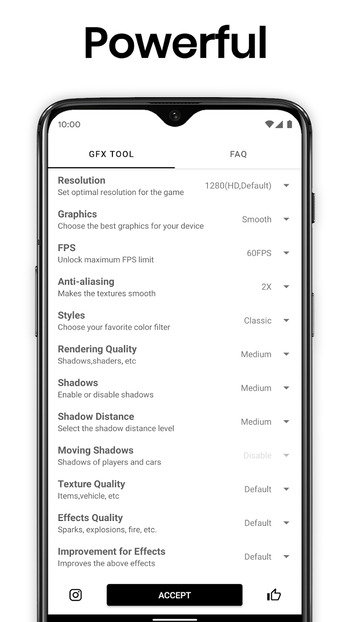 All the objects and players moving in the games are made of static images (frames), so for smooth gameplay, you need to be able to process many frames per second. GTX Tool allows you to unlock more frames per second, improving the game's speed and visual effects. Although using the maximum FPS settings is not ideal, you have other FPS levels to choose from (60 FPS recommended).
Manage Graphics API and GPU Optimization
You can also manage the game graphics API, though you only have two options here. You boost the game's graphics quality by selecting Vulcan or performance by choosing OpenGL. So GTX Tool allows you to choose between the two options. The GPU settings can also be enabled (if you use a compatible device) to perform better.
Zero Lag and Battery Efficient Modes
PUBG mobile demands large space and consumes battery quite fast. So you can use the GFX Tool to adjust the lags and reduce the battery consumption rate. Toggling on the Zero Lag and Battery Efficient mode helps you limit the frame lag, so your game doesn't hang or face bugs while you play.
Conclusion
GTX Tool is useful to get the best out of your PUBG mobile experience. The app is your best bet for the smoothest experience when playing the game since it has several features and settings to improve gameplay. The most exciting news is that the app is relatively easy to use, and you don't need any professional or technical assistance to get it running.