Download Genshin Impact APK and explore a fantasy world on your mobile phone. The exciting video game offers a wide range of characters and fluid gameplay.
In-Depth Description of Genshin Impact
Genshin Impact is one of the most popular games among anime lovers since it was released on mobile in September 2020 by COGNOSPHERE PTE. LTD. The game features a fantasy theme and is set in the ever-growing world of Teyvat. This allows players to enjoy different environments and enemies that keep the gameplay fresh, so you don't have to worry about repetition.
The game offers a lot of hidden mysteries for you to uncover and seasonal events aside from the main gameplay that will keep you engaged. There is a wide cast of characters available at Genshin Impact for you to play with, each with unique abilities.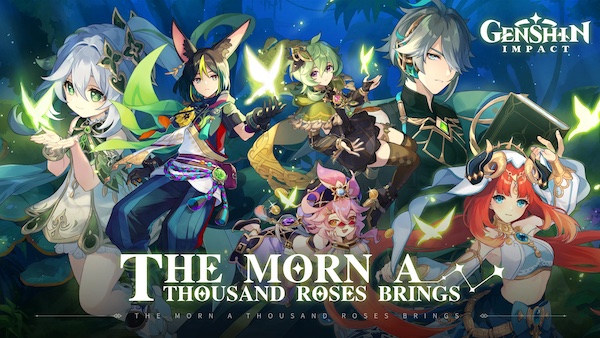 You can even mix and match the different characters to increase your chances of winning while you play. Anime lovers enjoy playing this game because of its beautiful fantasy world. The game features daily quests and monthly events that you can participate in, offering you loot for your characters.
Genshin Impact is an open-world game that allows you to explore different areas of Teyvat. You can explore the world for hours on end without getting bored. This doesn't mean there isn't action or combat, as this mobile game offers plenty of that, with unique elements that feature in every fight scene.
Unique and Engaging Gameplay
Genshin Impact has pretty interesting gameplay for all players to enjoy. The game starts with you and your sibling arriving at Teyvat from another world, separated from an unknown god. Your powers are taken away, and you're put to sleep. Once you wake, the world is now very different.
Now, you must explore Teyvat to find The Seven, which are the gods of each element. These gods hold the answers you are looking for. You can also explore the world, join forces with other characters and uncover the secrets of Teyvat.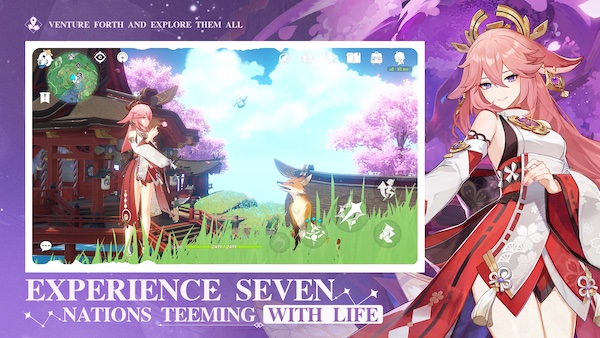 The gameplay offered by Genshin Impact is quite innovative and exciting and will keep players hooked from the start. The game starts with a fight between you and an unknown god. You will choose between a male or female character.
The main purpose of Genshin Impact is to find your sibling who has been trapped and cursed by an unknown god. But while fighting the god, you are cursed and thrown into Teyvat. Now, you must retrieve your powers and fight against monsters while looking for the unknown god.
Innovative Characterization
Genshin Impact keeps you company with different characters from every level. You start with Paimon, who assists you in various tasks and can unlock characters as you travel through Teyvat. You can also control your different characters and switch to anyone when fighting your enemies. Switching from character to character is instantaneous and can be part of your combat tactics.
When you reach Adventure Rank 16, you can also fight against enemies in a team of four. Every character comes with certain characteristics and unique attributes despite being under the same elements. When choosing your group, you should consider their features and select the right team for your enemies.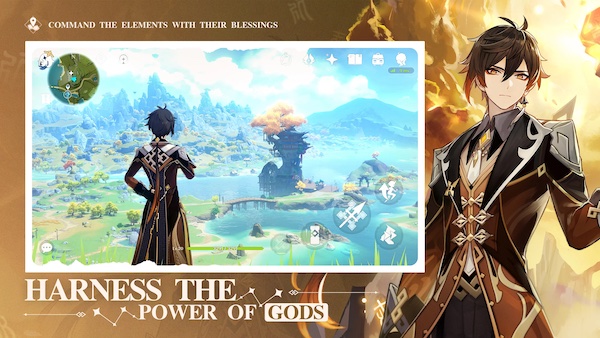 As you fight and travel, you can run out of health points. When this happens, simply stop and go to a campfire to cook food. You need to stop at the right time when you see an orange bar and cook with your team.
Immersive Graphics in Genshin Impact
One of the highlights of Genshin Impact is how immersive the graphics are. The visuals, graphics, and animations are well-done, making you feel like you're watching an anime instead. With the lifelike design of the enemies and characters, the graphics bring the gameplay to life and will suck you in.
Players might worry that the game's graphics won't look as good on mobile as on your console or PC. But, the developers did a great job designing the game's graphics and controls to fit a smaller screen, as long as you fit the device requirements.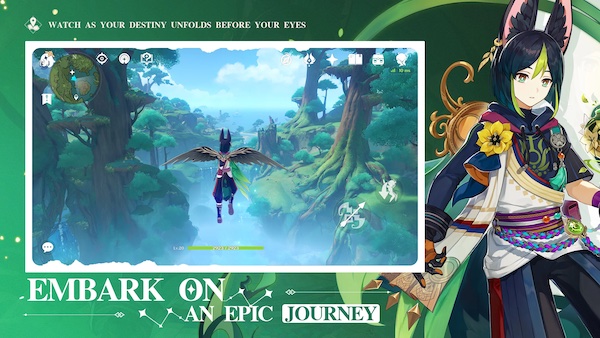 The game also does a great job with its soundtrack, offering you beautiful sounds performed by top orchestras worldwide. This is well timed with the gameplay and combat scenes to offer an exciting experience.
Genshin Impact also allows for cross-platform gaming, saving your game on one device and continuing on another. Keep in mind that this is only possible for PC and mobile phones. If you were playing on your console, you can't continue from where you stopped on mobile.
Game Features to Look Out For
Genshin Impact is packed with exciting game features for players to look out for.
Elemental Combat: Genshin Impact is based on the seven elements, and all of these are featured in your combat. You can learn how to use the different elements, which are Anemo, Hydro, Cryo, Geo, Electro, Pyro, and Dendro, to your advantage.
Massive Open World: The world of Teyvat is massive and constantly growing with updates. You can climb mountains, swim across rivers, and even go underground during your exploration. If you stop to investigate in different places, there are also different things to discover.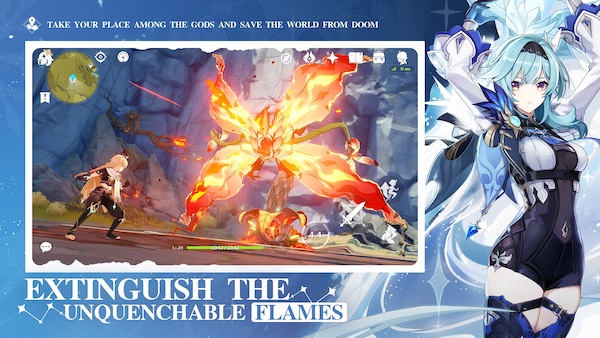 Build a Team: Build a winning team to get past some hard-to-beat enemies and domains. With the diverse cast of characters, you can discover the right combinations and even focus on upgrades to increase your chances of winning.
Journey with Friends: You can team up with your friends and fellow gamers regardless of the platform they are playing from. This allows you to conquer domains, tackle boss fights, trigger more elements, and share the loot.
Conclusion
Genshin Impact is an exciting, open-world game with action and fantasy themes that any player will enjoy. The mobile game is fully engaging and offers immersive graphics and a fitting soundtrack that will bring its unique and interesting storyline to life. The gameplay is fluid, and combat scenes are exciting, especially with the different characters and elements you can access.


Join Telegram Group
Download Genshin Impact APK and explore a fantasy world on your mobile phone. The exciting video game offers a wide range of characters and fluid gameplay.